Ousting Trump Early Incredibly Unlikely
The President of the United States is a national security threat. Can we get rid of him now?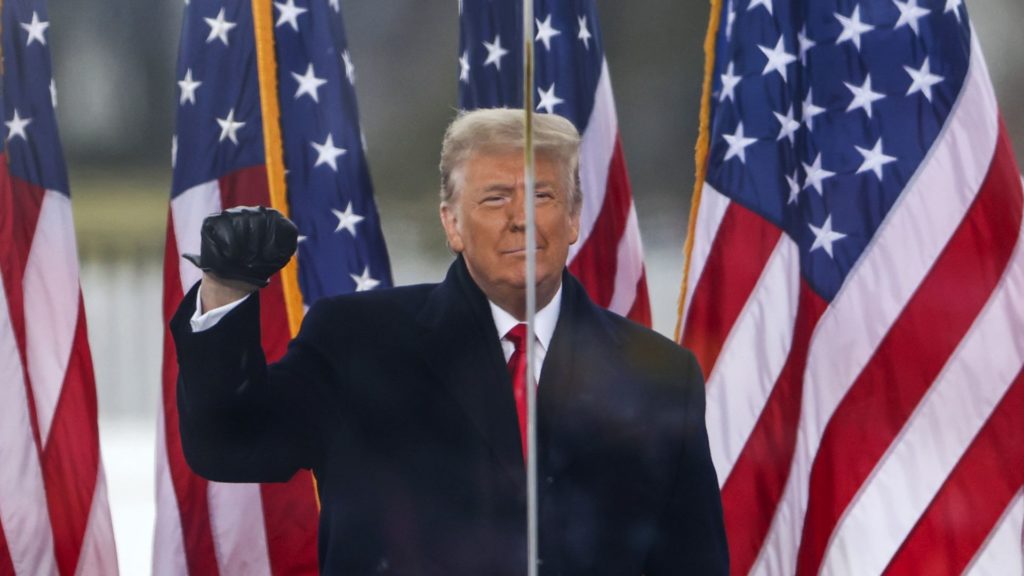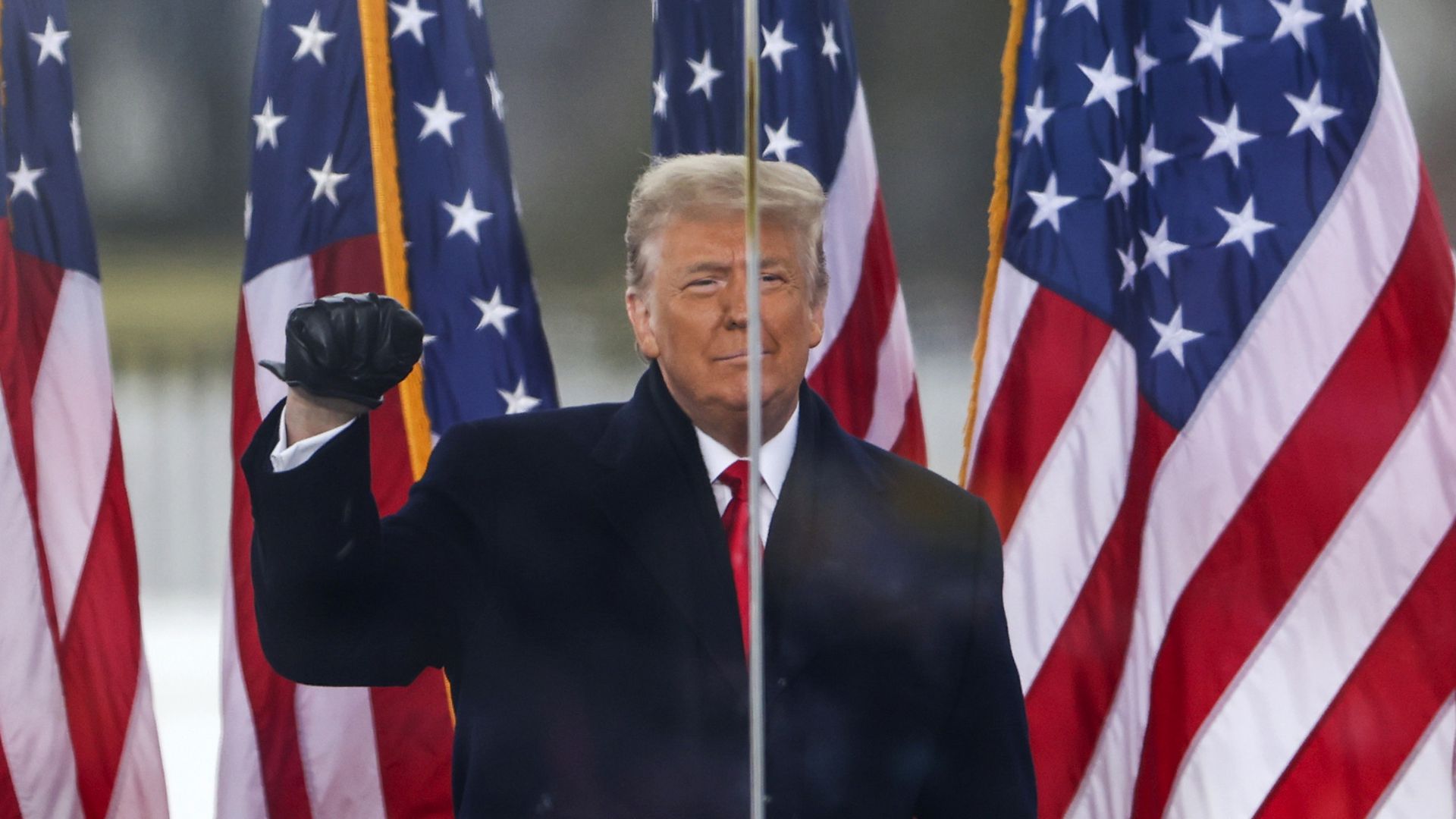 The Washington Post editorial board is making no bones about it: "Trump caused the assault on the Capitol. He must be removed."
PRESIDENT TRUMP'S refusal to accept his election defeat and his relentless incitement of his supporters led Wednesday to the unthinkable: an assault on the U.S. Capitol by a violent mob that overwhelmed police and drove Congress from its chambers as it was debating the counting of electoral votes. Responsibility for this act of sedition lies squarely with the president, who has shown that his continued tenure in office poses a grave threat to U.S. democracy. He should be removed.

Mr. Trump encouraged the mob to gather on Wednesday, as Congress was set to convene, and to "be wild." After repeating a panoply of absurd conspiracy theories about the election, he urged the crowd to march on the Capitol. "We're going to walk down, and I'll be there with you," he said. "You'll never take back our country with weakness. You have to show strength, and you have to be strong." The president did not follow the mob, but instead passively watched it on television as its members tore down fences around the Capitol and overwhelmed police guarding the building. House members and senators were forced to flee. Shots were fired, and at least one person was struck and killed.

Rather than immediately denouncing the violence and calling on his supporters to stand down, Mr. Trump issued two mild tweets in which he called on them to "remain" or "stay" peaceful. Following appeals from senior Republicans, he finally released a video in which he asked people to go home, but doubled down on the lies fueling the vigilantes. "We love you. You're very special," he told his seditious posse. Later, he excused the riot, tweeting that "these are the things and events that happen when a sacred landslide election victory is so unceremoniously & viciously stripped away."
I lack the legal expertise to assess whether Trump's words yesterday constitute direct incitement of violence under criminal law. The Supreme Court has, rightly, set that bar very high and parsing those rulings is necessarily challenging. But there's no question that he acted, at the very least, with reckless disregard for what would happen and is morally responsible for what followed. [UPDATE: Eugene Volokh, who is very much qualified to make this assessment, agrees.]
Alas, ousting a President is next to impossible. The Democratic House could certainly impeach him again and, indeed, might be able to do that today. There's no Constitutional requirement for a drawn-out process. But the fact that seven United States Senators voted to double down on the stolen election nonsense after their workplace was stormed makes me incredibly skeptical that there are 67 who would take such drastic action. And the Senate is in fact required to hold a trial. Realistically, it's not feasible even if the votes were there given that Trump's term expires in 13 days.
That leaves the 25th Amendment. Vice President Pence and what's left of the cabinet could act today to remove Trump and the Democratic-controlled House could simply refuse to take up the matter over the next two weeks. That was a wild fantasy before yesterday afternoon. It's merely highly improbable now.
Pence himself may be amenable:
U.S. Sen. Jim Inhofe has been in Congress 34 years and in politics more than 50. As mayor of Tulsa, he once had garbage dumped on his lawn by angry residents.

But it's unlikely anything matched what he experienced Wednesday when the U.S. Capitol was stormed by people apparently intent on keeping President Donald Trump in office.

[…]

Inhofe hedged on who he thought might be to blame for what happened, but he allowed that Trump did not do enough to stop it.

"He's only put out one statement that I'm aware of," Inhofe said. "This was really a riot. He should have shown more disdain for the rioters. I don't want to say he should have apologized — that's not exactly accurate — but he should have expressed more disdain."

Instead, Trump directed his disdain toward Vice President Mike Pence, who refused to do what Trump wanted him to do — illegally refuse to accept the final election results in his role as Senate president.

By doing so, he may have alienated one of his most steadfast allies.

"I've known Mike Pence forever," Inhofe said Tuesday night. "I've never seen Pence as angry as he was today.

"I had a long conversation with him," said Inhofe. "He said, 'After all the things I've done for (Trump).'"
That sounds more petulant than defiant, frankly. But, as much a toady as Pence has been, he did step up to firmly resist Trump's insistence that he somehow declare the votes invalid. Blatant disregard for the Constitution, apparently, was a bridge too far. So it's at least conceivable that he'd be willing to vote to remove Trump.
And, apparently, there is at least some rumbling in the cabinet. ABC News:
There have been discussions among some members of the Trump Cabinet and allies of President Donald Trump about the 25th Amendment, which would be a vehicle for members of the cabinet to remove Trump from office, multiple sources with direct knowledge of the discussions tell ABC News.

It is unclear how extensive these conversations have been or if Vice President Mike Pence is supportive of such action. Many have been horrified by Wednesday's events and Trump's encouragement and lack of engagement to call in resources to stop the protesters, the sources said.

Trump has only 14 days left in office, but some lawmakers want his presidency over sooner, calling for his impeachment in the wake of Wednesday's violence on Capitol Hill that left at least one woman dead.

Rep. Ilhan Omar, D-Minn., announced that she's drawing up articles of impeachment, tweeting: "We can't allow him to remain in office, it's a matter of preserving our Republic and we need to fulfill our oath."
Honestly, Omar's early call for impeachment—which I endorse as a matter of principle—likely makes it harder for the cabinet to oust him. The report goes on to cite other Democratic Congressmen calling for impeachment or 25th Amendment action. Again, that really doesn't tell us anything about what the cabinet might do.
CNN ("Angry Republican leaders float removing Trump from office") provides more hope:
After violent pro-Trump protesters stormed the US Capitol on Wednesday, a growing number of Republican leaders and Cabinet officials told CNN that they believe Donald Trump should be removed from office before January 20. Four of them called for the 25th Amendment to be invoked, and two others said the President should be impeached.

"He has to be impeached and removed," said one current Republican elected official.

A former senior official said the President's actions were egregious enough to remove him even with such a short time left in his tenure.

"I think this has been a huge shock to the system," said the former official. "How do you keep him in place for two weeks after this?"
On the one hand, this is encouraging. It demonstrates that some Republicans recognize the magnitude of what unfolded yesterday. But the fact that they're too cowardly to put their name to it—even the one out of government!—does not exactly inspire confidence that cabinet officials who would likely face death threats for their action will put everything on the line.
Still,
Some Cabinet members are holding preliminary discussions about invoking the 25th Amendment, a well-placed GOP source told CNN.

The discussions are ongoing but it's unclear if there will be enough Cabinet members to result in Trump's removal. The conversations have reached Capitol Hill where some senators have been made aware of the discussions, the source said.

Within minutes of protestors breaching the Capitol on Wednesday afternoon, Republicans were revisiting the idea of removing Trump from office, a choice that nearly all of them passed on making a year ago during last year's impeachment trial.

The forceful denunciations of Trump are also unprecedented. Former President George W. Bush, who has kept a low profile, released a strongly-worded rebuke Wednesday evening calling the "insurrection" at the Capitol a "sickening and heartbreaking sight." While not mentioning Trump by name, Bush said he was "appalled by the reckless behavior of some political leaders since the election and by the lack of respect shown today for our institutions, our traditions, and our law enforcement."

Mitt Romney, the Utah senator who was the only Republican to vote to convict the President on an article of impeachment last year, went further, calling the President a "selfish man" who "deliberately misinformed his supporters" about the election. Romney also called the attack on the Capitol an "insurrection" and blamed Trump, saying he "stirred [supporters] to action this very morning."

Wyoming Republican Rep. Liz Cheney, a member of the House leadership, echoed Romney's anger and frustration at Trump. "There is no question that the President formed the mob. The President incited mob, the President addressed the mob," said Cheney on Fox News. "He lit the flame."

And Sen. Tom Cotton of Arkansas, an otherwise staunch ally of Trump's, was unsparing. "It's past time for the president to accept the results of the election, quit misleading the American people, and repudiate mob violence," Cotton said.

Other Republicans on Capitol Hill were furious as well with the President.

"The President needs to call it off," Rep. Mike Gallagher of Wisconsin told CNN's Jake Tapper. "Call it off! It's over. The election is over."

Rep. Adam Kinzinger of Illinois dismissed Trump's Wednesday afternoon tweet asking rioters at the Capitol to "remain peaceful."

"That's cowardice," Kinzinger told Tapper. "He needs to stand up and say, I lost the election, let the count go ahead."

But as Trump seems unlikely to make those concessions, two longtime Republican activists and allies of the White House said the President must go.

"Pence should move against him on the 25th Amendment," said one.
"They need to invoke the 25th Amendment immediately," said the other.
So, on the one hand, we have strong condemnation from the most recent past Republican President. One who, unlike Trump, was elected to a second term. And we also have the most recent pre-Trump Republican Presidential nominee and the daughter of the most recent pre-Trump Vice President. Ordinarily, that would be a sign of huge momentum. But they've all long past signaled that they're more loyal to the country than Trump. They are, for all practical purposes, the enemy camp.
Axios has a similar report ("Republicans consider drastic options to stop Trump") adding little additional insight. But they close with a crucial point:
The bottom line: No House or Senate Republican leaders are yet championing these ideas — and it's too soon to know whether those talking about them are just letting off steam after a shock to the democracy, or whether a critical mass exists to proceed.
Mitch McConnell has in fact shown some backbone in recent days, trying to head off this showdown. But he's several days late and dollars short. House Minority Leader Kevin McCarthy was actually quite forceful yesterday afternoon on CNN, but even he stopped short of blaming Trump more the obliquely.
I just see too little evidence that Republican leaders have the courage to defy Trump in such a spectacular way. And, even if they did, they may well calculate that ousting him would actually stoke the conspiracy theories further and do more damage than good.
I fear we are simply stuck with Trump for another 13 days.
UPDATE: David Priess and Jack Goldsmith have a very good backgrounder on all of this at Lawfare. In particular, they clarify that,
With his incitement of the attack on the Capitol building, Trump cleared the hurdle of "high crimes and misdemeanors," which, along with treason and bribery, is a constitutional trigger for impeachment. Articles of impeachment could be finalized within minutes and voted on with minimal debate. The Senate could then immediately convene to try the president. The Constitution requires " the Concurrence of two thirds of the Members present" for conviction. It does not, however, require a lengthy trial or specific procedure, even though Congress has developed elaborate rules to govern—and elongate—the impeachment and trial process. The Senate played fast and loose with its own rules to facilitate Trump's acquittal a year ago and could do the same in the other direction if its members had the will to secure a quick conviction.
But they agree with my assessment that it's incredibly unlikely to happen. We also agree that,
. . . Trump's unhinged post-election behavior, his manifest inability or unwillingness for weeks to distinguish reality from fiction about the results of the election, and his detachment from exercising the basic responsibilities of the office, would meet the "unable to perform" standard of the 25th Amendment.