Pittsburgh Synagogue Shooter Indicted On 44 Federal Counts
The man responsible for the deaths of eleven people in a Pittsburgh synagogue has been indicted on 44 counts by a Federal Grand Jury.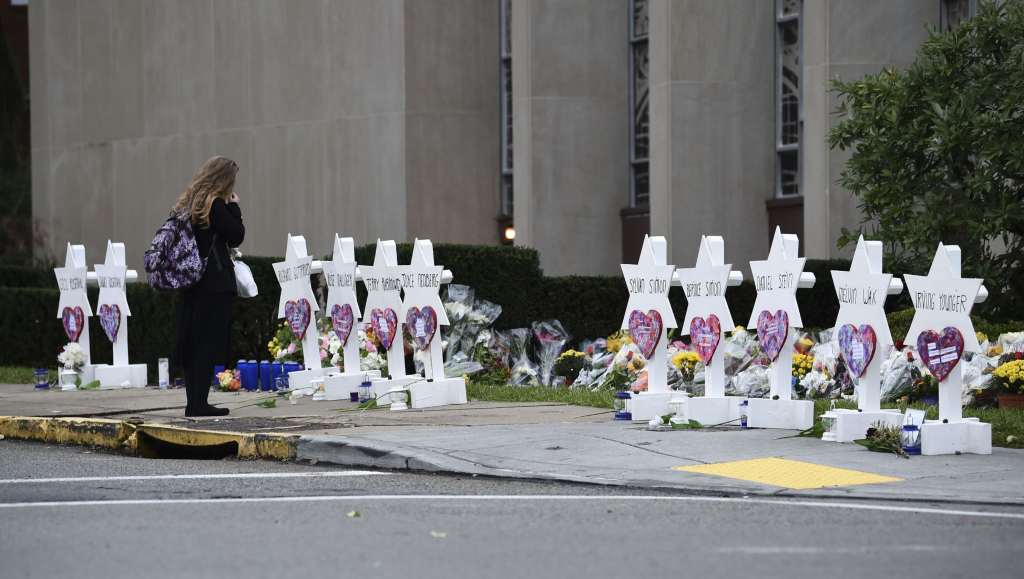 Robert Bowers, the shooter who killed eleven people and wounded six others at the Tree of Life Synagogue in Pittsburgh last Saturday, has been indicted on nearly four dozen counts, including Federal hate crimes and charges that could make him eligible for the death penalty if he is convicted:
A federal grand jury on Wednesday indicted a man who the authorities say killed 11 people in a Pittsburgh synagogue while spewing anti-Semitic slurs on 44 counts, including hate crimes. He could face the death penalty.

The indictment, handed up by a federal grand jury in western Pennsylvania, charges Robert Bowers, 46, with 11 counts of obstruction of free exercise of religious freedom resulting in death, and 11 counts of using a firearm during a crime of violence.

The maximum penalty Mr. Bowers could receive if convicted is death, or life without parole plus 535 additional years of imprisonment.

"Every American has the right to attend their house of worship in safety," Attorney General Jeff Sessions said in a statement on Wednesday. "The defendant in this case allegedly murdered 11 innocent people during religious services and injured four law enforcement officers. These alleged crimes are incomprehensibly evil and utterly repugnant to the values of this nation."

Scott W. Brady, United States attorney for the Western District of Pennsylvania, said in a statement on Wednesday: "Today begins the process of seeking justice for the victims of these hateful acts, and healing for the victims' families, the Jewish community and our city."

In a rampage that has been described as among the deadliest against the Jewish community in the United States, the suspect — armed with a Colt AR-15 rifle and at least three handguns — stormed into the Tree of Life synagogue on Saturday and opened fire indiscriminately, the authorities said. Among the injured were several law enforcement officers.

The assailant fired for several minutes and was leaving the synagogue when law enforcement officers met him at the door. According to the police, Mr. Bowers exchanged gunfire with officers before going back inside and barricading himself in a room. He eventually surrendered.

Wednesday's indictment came as many were gathering together for funerals and shivas in the Squirrel Hill neighborhood, home to many in Pittsburgh's Jewish community as well as several synagogues, kosher restaurants and bakeries.
More from The Washington Post:
The suspect in a grisly shooting that left 11 people dead at a Pittsburgh synagogue was charged Wednesday in a 44-count indictment accusing him of federal hate crimes.

Officials say Robert Bowers, 46, of Baldwin, Pa., drove to Tree of Life synagogue armed with Glock .357 handguns and a Colt AR-15 rifle. The indictment charges that while inside the synagogue, Bowers made statements indicating his desire to "kill Jews."

In a statement announcing the indictment, Attorney General Jeff Sessions said the alleged crimes "are incomprehensibly evil and utterly repugnant to the values of this nation. Therefore this case is not only important to the victims and their loved ones, but to the city of Pittsburgh and the entire nation."

The indictment charges Bowers, a truck driver, with killing 11 people, and for each of those victims he faces separate counts of obstruction of free exercise of religion resulting in death and of using a firearm to commit murder during a crime of violence.

He also faces charges of attempting to kill people exercising their religious beliefs and civil rights charges related to injuring several police officers who responded to the attack.

The charges carry a possible death sentence, and the Justice Department has said previously that federal prosecutors in Pittsburgh had initiated the process to seek such a punishment. The case, though, must still be reviewed by Justice Department lawyers specializing in capital cases, and the final decision will ultimately be left to the attorney general.

The attack was the deadliest on Jews in U.S. history — killing worshipers who ranged in age from 54 to 97. Among those slain were two brothers who had attended services each week since boyhood, a doctor who led Torah studies and a research assistant who took turns as a front-door greeter. The indictment listed each victim only by initials.

Little is known about Bowers — aside from an allegedly deep capacity to hate. Neighbors said he seldom had visitors at his apartment in Baldwin, though he exchanged greetings with passersby. Online, though, he posted anti-Semitic and racist rants, comparing Jews to Satan and using slurs to refer to women who had relationships with black men.

Bowers also faces number of state charges filed over the weekend, including 11 counts of criminal homicide. Allegheny County District Attorney Stephen A. Zappala Jr. said Tuesday his office sought to have Bowers arraigned on the state charges but was denied by federal authorities. Zappala said that he would prefer that local residents "sit in judgment" of Bowers in a trial but would let the federal case proceed and put the state charges on hold for the time being. The district attorney has signaled he is likely to also pursue a death sentence for Bowers.
While it's ordinarily true that the Federal Government defers to the state and local authorities when it comes to proceedings such as this, it is not unprecedented for the reverse to happen. In the Boston Marathon bombing, for example, the Federal Government proceeded with its charges against Dzhokhar Tsarnaev before the State of Massachusetts, which has concurrent jurisdiction in the matter and also indicted the Defendant on murder and related charges. Tsarnaev was, of course, convicted by a Federal Jury and sentenced to death while the state charges remain pending and may never actually go to trial depending on the speed with which the appeals in Tsarnaev's Federal case go. This same thing happened in the wake of the Oklahoma City bombing of the Alfred Murrah Federal Office Building. In that case, Timothy McVeigh and Terry Nichols were initially tried and convicted in Federal Court before proceeding in state court. McVeigh was sentenced to death, while Nichols received life in prison without parole and was later convicted in state court and ultimately also sentenced to life in prison without parole on those charges. The same thing happened to Dylann Roof, the shooter in the Charleston Church shooting and Roof was ultimately convicted in Federal Court and sentenced to die by the Federal Jury.
In any case, the case will now proceed forward as any ordinary Federal criminal case would, with the caveat that we'll have to wait and see if the decision to seek the death penalty is approved as required by Justice Department rules and signed off on by the Attorney General. Under the circumstances, though, I suspect that this will basically be a pro forma decision. Under the circumstances, while I oppose the death penalty this seems like exactly the kind of case that prosecutors would wish to go forward with given the facts of the case. If they do, then it's likely that Bowers' defense team will follow a strategy not dissimilar from what we saw in the Boston Marathon case where the focus was not so much on seeking an unlikely acquittal but on averting a death sentence in favor of a sentence of life in prison. Whether that succeeds or not will depend on what, if any, mitigation they are able to present to the jury during the guilt phase of the trial. Whatever the outcome, though, it's safe to say that Robert Bowers will never see freedom again, although his damage has already been done.
Here's the indictment:
United States v. Robert Bow… by on Scribd