Polling Shows Mostly Bad News For Trump
It's still early in the election cycle but there's plenty for the President to worry about.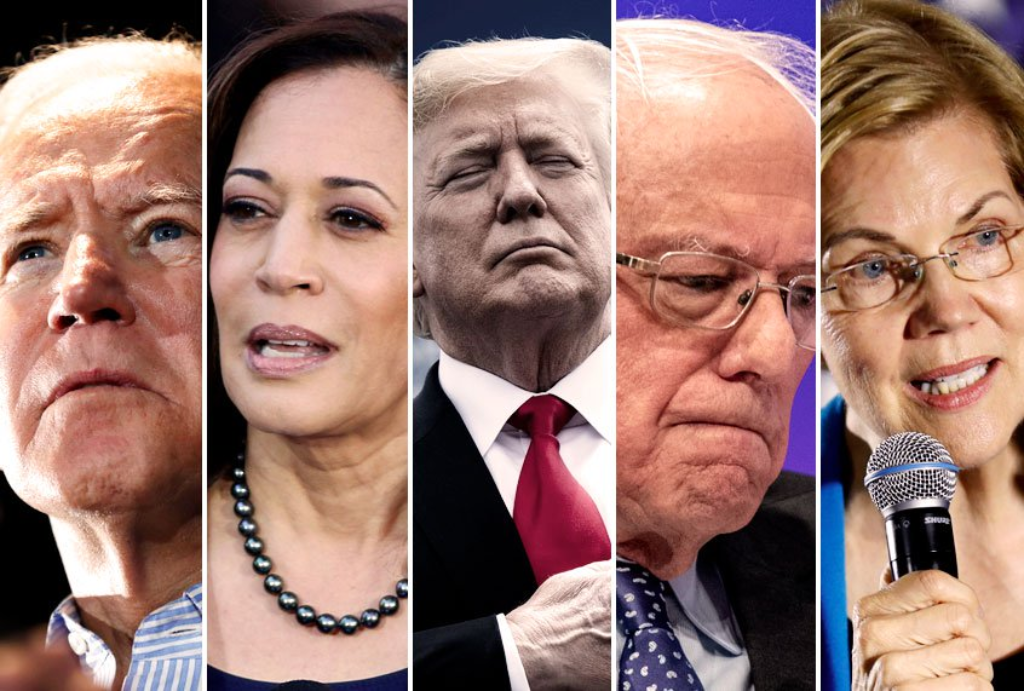 Two polls released late last week reveal in stark terms the extent to which President Trump faces an uphill battle in his bid for re-election regardless of who the Democratic nominee might be. While it's still early and there's still more than enough time for the political climate to change, this news ought to make the Trump campaign nervous.
First up, the latest ABC News/Washington Post poll, which has been one of the polls that has actually occasionally held some good news for the President, shows Trump doing badly in a number of hypothetical 2020 matchups:
President Trump overcame formidable odds and discouraging poll numbers to win the White House in 2016. More than a year out from the 2020 election, it appears he might have to repeat that performance to win a second term, according to a Washington Post-ABC News survey.

The new poll tested Trump against five potential general election challengers, and in four of those cases, the president trails, significantly or modestly. He does worst against former vice president Joe Biden, but also runs well behind Sen. Bernie Sanders (I-Vt.), and slightly behind Sen. Elizabeth Warren (D-Mass.) and Sen. Kamala D. Harris (D-Calif.). Against South Bend, Ind., Mayor Pete Buttigieg, Trump is numerically behind but the gap is within the range of sampling error.

Among all adults, whether registered to vote or not, the president never tops 41 percent support. Among registered voters, he does better, but his highest level of support against any candidate is 44 percent. In 2016, he won 46 percent of the popular vote to Hillary Clinton's 48 percent, but nonetheless won an electoral college majority by narrowly winning three northern states that had gone to the Democrats in the previous six elections.

Of all the Democrats tested against Trump, Biden currently does the best, aided by significant support from women. He is ahead of the president by 15 points, 55 percent to 40 percent, among registered voters. Among all adults, he is at 54 percent and Trump is at 38 percent.

The pattern continues with the other candidates. Sanders runs ahead of Trump by nine points among registered voters and 12 points among all adults. Warren has a seven-point edge among registered voters and an 11-point lead among all adults. Trump also trails Harris by seven points among registered voters and is 10 percentage points back among all adults. The Buttigieg-Trump margin is the closest, with registered voters splitting 47 percent for the South Bend mayor to Trump's 43 percent, and adults overall tilting 47-41 in Buttigieg's direction.

The margins in these hypothetical tests have moved at least slightly in favor of all five Democrats matched against the president since a July survey. At that time, only Biden was running ahead of Trump by double digits among registered voters, while the others were within two points of the president.
Trump also faces a widening gap when it comes to measuring whether or not voters life the candidates or not:
By another measure — favorability — the president's rating in the new poll stands at 40 percent positive and 57 percent negative. Those kinds of results also often foreshadow major problems for an incumbent seeking reelection, but Trump proved impervious to such barriers when he was elected in 2016.

At the time of that election, his unfavorable rating stood at 59 percent among registered voters. He was helped by the fact that Clinton's unfavorable rating was identical to his, as they were the two least popular nominees in modern history.

At this early point, none of the potential Democratic nominees tested suffer from similar scorn. In the Post-ABC survey, Biden enjoys a net positive favorable rating of 16 points (53 percent favorable, 37 percent unfavorable). Sanders has a net positive rating of 12 points (51 percent favorable, 39 percent unfavorable).

Both are rated favorably by at least slim majorities of Americans though neither has taken the kind of incoming attacks that the eventual Democratic nominee can expect during what may be a long nomination battle and later with Trump as a general election opponent.

Warren, Harris and Buttigieg are less well known nationally and have favorable ratings that are either modestly positive or roughly even statistically. No Democrat tested currently has an unfavorable rating of more than 39 percent, and none is as high as Clinton was at this point in 2015.
The latest CNN poll has similar bad news:
Six in 10 Americans say President Donald Trump does not deserve to be reelected, according to a new CNN Poll conducted by SSRS, and more now say he's doing a poor job than a good one of keeping important campaign promises.

Overall, the poll paints a picture of a President who has done little to improve negative impressions of him or his work during his time in office. Across several questions asked early in Trump's time in office and asked again now, the poll finds little positive change and deep partisan polarization.

The 60% who say the President does not deserve to be reelected is similar to the 63% who felt that way in November 2017. That outpaces his most recent predecessors at a similar stage in their presidencies. In October 2003, a CNN/Gallup/USA Today poll found that 52% of Americans thought George W. Bush did deserve reelection, and Gallup's polling in 2011 found the share saying Barack Obama did not deserve to be reelected stood in the low 50s.

(…)

In one encouraging finding for the President in the poll, there has been a slight increase over the last two years in the share of registered voters who say he deserves to be reelected, from 35% in November 2017 to 39% now.

And among those who are most enthusiastic about voting next year, the share who see the President as deserving of a second term is higher, at 43%. Still, even among that group, 55% say he ought not to be reelected

Compared with early this year, more overall now say that the President has changed the country for the worse. Among all adults, 80% say the President has created significant changes in the country, up from 76% who felt that way in early February. That includes 45% who say the President has changed things for the worse, up from 37% who said so in the survey earlier this year. Thirty-three percent say Trump has changed the country for the better and 2% said the change hasn't been for better or worse or were undecided about what the change meant.

That shift comes mostly from independents and Democrats. Among Republicans, 73% say the President has changed the country for the better — that stood at 70% in February. Among independents, the share who say Trump has changed things for the worse shifted from 35% in February to 47% now. Among Democrats, that share has increased from 62% to 69%.

Further, 51% say Trump is doing a poor job keeping important promises he made during the presidential campaign and 43% say he's doing a good job. That's a reversal since April, when 50% said he was doing a good job and 46% a poor one. That change comes almost entirely among independents, 51% of whom said he was doing a good job keeping his promises in April, that now stands at 38%.

The President's volatile summer — including several sudden shifts on policy on guns and trade as well as stubborn defenses of demonstrably untrue statements — has not led to a worsening of public trust in official communications from the White House. Overall, 71% say they trust only some or nothing at all of what they hear from official White House communications, about the same as the 68% who felt that way in late 2017. Just 9% say they trust almost all of what they hear from the White House, and another 19% say they trust most of it.
Obviously, these polls are far too early in the election cycle to be definitive. Indeed, it is worth noting that polling this far out for other incumbent Presidents largely proved to be inaccurate. In the case of President George H.W. Bush, for example, the polls for most 1991 showed him being incredibly popular due to the success of the Persian Gulf War. In several cases, that led many top Democrats, including New York Governor Mario Cuomo, decided against entering the race. Similarly, President Clinton's poll numbers at this point in his Presidency, which came just shortly after the Republican Party's historic takeover of both the House and the Senate, indicated that he would be vulnerable. President George W. Bush, meanwhile, was still enjoying the artificially high poll numbers he achieved in the wake of the September 11th attacks, the start of the Afghanistan War, and the start of the Iraq War. Finally, polling in 2011 showed that President Obama was potentially vulnerable and those numbers continued into the early months of 2012. We all know how fortune turned out for each of these Presidents, and that means we should take these numbers with a grain of salt.
That being said, these poll numbers are another piece of evidence in support of the argument that the President faces an uphill battle in 2020. Taken together with his recent job approval numbers, which show that a potentially slowing economy is starting to have its impact on public perception of the President, they demonstrate just how vulnerable he could be in 2020. It's possible, of course, that the President could pull off another victory like the one he had in 2016, winning in the Electoral College even though he loses the popular vote, the difference between that race and what we're likely to see in 2020 could not be more apparent. One of the main differences is that the President is not likely to face the same kind of Democratic opponent that he did three years ago.
As I've noted before, in many ways Hillary Clinton was the perfect opponent for Trump because she was almost as disliked personally by the public as he was. Because of this, it was hard for her campaign to make an effective anti=Trump push. Add into this the Clinton's campaign to focus on working-class voters in the Midwest, and Trump was given just enough room to pull off the unlikely win that he received. These factors are unlikely to be present in 2020 regardless of who the nominee ends up being. No doubt, the Trump campaign will go intensely negative on whoever the Democratic nominee will be, but such a campaign is unlikely to have the same impact it did in 2016. So, while it is still a long way to Election Day — still 413 days away as of today — numbers like this should worry the GOP.