Public Remains Largely Opposed To Impeachment
The Mueller hearings don't appear to have moved the needle of public opinion when it comes to impeachment.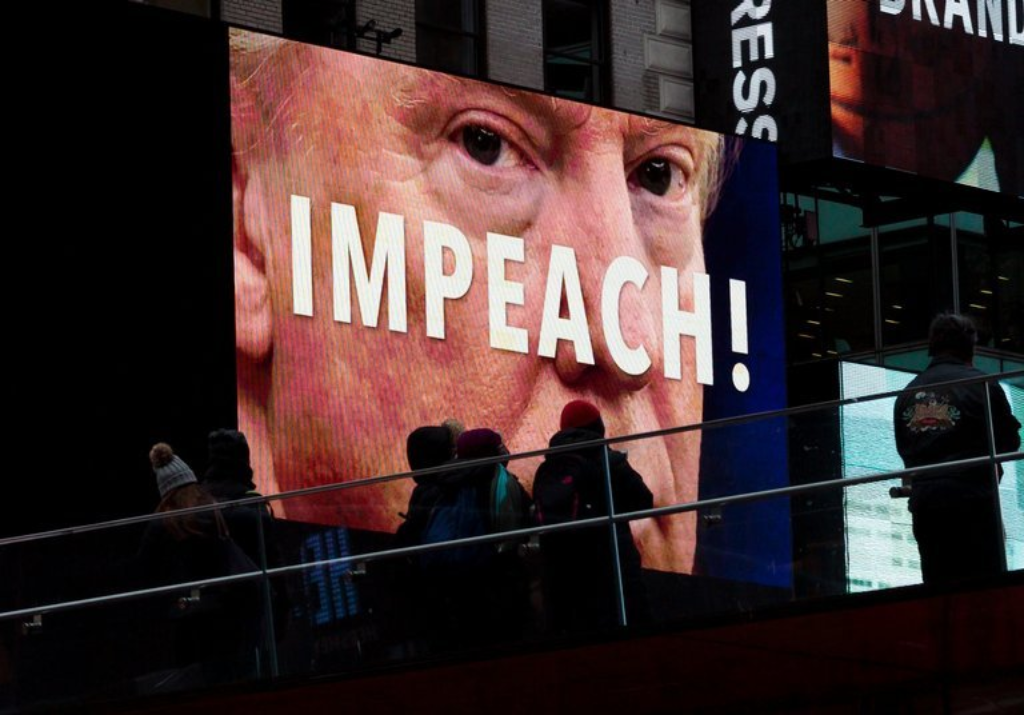 The first poll released in the wake of former Special Counsel Robert Mueller's testimony before the House Judiciary and Intelligence Committee shows little change in public opinion when it comes to whether or not the Democratic-controlled House of Representatives should pursue impeachment against the President:
A new POLITICO/Morning Consult poll, conducted immediately after former special counsel Robert Mueller's congressional testimony, shows little impact on support for impeaching President Donald Trump, with a plurality of voters still opposed to beginning proceedings that could result in Trump's removal from office.

Only 37 percent of voters say Congress should begin impeachment proceedings against Trump, according to the poll, which was conducted Thursday. More voters, 46 percent, say Congress should not begin impeachment proceedings. Sixteen percent of voters are undecided.

"Robert Mueller's testimony did little to change public opinion around impeachment," said Tyler Sinclair, Morning Consult's vice president — who also noted that, in the previous POLITICO/Morning Consult poll, conducted last Friday through Sunday, 38 percent of voters supported launching impeachment proceedings, while 50 percent opposed it.

But while public sentiment overall continues to lean against impeaching the president, the POLITICO/Morning Consult poll also underscores the quandary facing House Speaker Nancy Pelosi and other Democratic leaders: Democratic voters are strongly in favor of impeachment, with 64 percent supporting it, combined with 18 percent who oppose it.

Democratic support for launching impeachment proceedings contrasts sharply with Republicans (6 percent support, versus 86 percent oppose) and independents (34 percent support, versus 42 percent oppose).

While Mueller's testimony on Wednesday did not immediately move the needle on impeachment, other measures suggest the investigation into Russian interference in the 2016 presidential election continues to dog Trump. More than four-in-10 voters, 42 percent, say they believe Russia influenced the 2016 election, and another 22 percent say Russia tried to affect the election but failed. Only 17 percent say they believe Russia did not try to influence the election.

While Trump had claimed since the release of Mueller's report that it exonerated him — a claim Mueller rebutted on Wednesday — only 35 percent of voters say Mueller exonerated Trump. Four-in-10 voters, 40 percent, say Mueller didn't exonerate Trump, but fully 25 percent say they don't know if Mueller exonerated Trump.

Voters are also split on whether Trump's campaign worked with Russia to influence the 2016 election: 43 percent say that it did, while 39 percent say that it didn't. Mueller's report said it found insufficient evidence to sustain any charge that the campaign conspired with Russia.

But nearly half of voters, 49 percent, think Trump tried to impede or obstruct the Russia investigation — more than the 35 percent who say they don't think so. Sixteen percent of voters don't know whether Trump tried to obstruct the investigation.

Four-in-10 voters say the conclusions from the Mueller investigation will not impact whether or not they vote for Trump in the 2020 election, while 29 percent say they are less likely to vote for Trump, and 17 percent are more likely to vote for Trump.
Another poll from ABC News and Ipsos show that there has been little movement in public opinion on the issue while the expected partisan differences remain:
Following more than six hours of questioning of former special counsel Robert Mueller before two different congressional committees, Democrats and Republicans remain largely splintered on impeaching President Donald Trump, even as nearly half of Americans show little movement on their support or opposition to the move, according to a new ABC News/Ipsos poll.

The poll, conducted using Ipsos' Knowledge Panel, asked Americans about the former FBI director's testimony Wednesday in consecutive hearings before the House Judiciary and House Intelligence committees.

Whereas for Republicans, only 3% said they were more likely to support impeachment, 42% said they were less likely, and 54% were unchanged. Independents were split, with 26% saying they are more likely to support impeachment and 29% saying less likely. 45% of Independents said they feel the same as they did prior to Mueller's testimony.

Among those who read, saw or heard about Mueller's testimony, 47% said it made no difference in their views about impeaching the president. The public hearings had opposing impacts based on partisanship: among Democrats, 48% said they are more likely to support the process of impeachment that could ultimately lead to Trump's removal from office, 8% said they are less likely to support impeachment and 44% said they feel the same as they did prior to Mueller's testimony.

An overwhelming majority of Americans — 71% — said that they had either read, seen or heard about Mueller's testimony this week, the first time he publicly answered questions about his 22 months-long investigation into Russian interference in the 2016 presidential election and possible obstruction of justice by the president, which culminated in a 448-page report.

But a majority of Americans expressed little confidence in the country's ability to stave off potential foreign attacks on U.S. democratic institutions in 2020, after Mueller testified that Russia's effort to interfere in 2016 "wasn't a single attempt … they expect to do it during the next campaign."
While these are only two polls taken over a short period in the immediate aftermath of the hearing on Wednesday, it is consistent with previous polling on the impeachment issue and with the assessment that many, including myself, have made that the hearing weakened the case for impeachment. Even before Mueller's testimony yesterday, polls have shown that the American public is generally not supportive of the idea of impeachment. A recent ABC News/Washington Post poll, for example, found that 59% of Americans do not believe that Congress should go forward with an impeachment inquiry. A smaller percentage, just 37%, support moving forward with impeachment. Not surprisingly, these numbers vary depending on political party, with 61% of Democrats supporting impeachment while the vast majority of Republicans oppose the idea. Among independents, the level of opposition to impeachment is roughly the same as in the public as a whole. This is consistent with earlier polling which has indicated that the American public does not want to see Congress pursue impeachment at this time. Additionally, reports on the ground continue to show that Congressional Democrats who talked to constituents back home have found little support for immediate moves to impeach the President even among Democrats. Instead, these voters want to see Congress focused on health care reform and other issues of importance to the average voter.
These new numbers on impeachment are consistent with the general impression I was left with after Mueller's testimony last Wednesday that the former Special Counsel's testimony had mostly likely weakened the case for an immediate move to impeachment. Indeed, Democrats have largely left the question of whether or not they intend to move forward impeachment up in the air when they left town for a six-week-long summer vacation. While they are moving forward in court with the steps necessary to enforce subpoenas and obtain other documents from the Trump Administration, it's likely that this legal process will take months to resolve itself and could take longer if the Administration decides to appeal any adverse decisions that may be entered against it, or if its necessary for Congress itself to appeal an adverse decision. This legal process could take months, and by the admission of Congressman Jerrold Nadler, the Chairman of the Judiciary Committee, and others it would be next to impossible for the House to proceed with impeachment without access to the documents in question. Given all of that, there's a strong possibility that Congress may not be able to begin, never mind conclude, an impeachment investigation before the calendar changes to 2020. At that point, the entire prospect of proceeding with impeachment becomes even more doubtful.
Leaving aside the timing, though, without at least some public support for proceeding with impeachment, it seems clear to me that Democrats would be taking a huge political risk in moving forward. It may be possible that the impeachment process itself would change public opinion on the matter sufficiently that moving forward makes sense. It also seems likely, though, that the public will continue to be both unenthusiastic and divided on the issue and that an impeachment that will most likely end with acquittal by the Senate would end up backfiring on Democrats.