Republican Congressmen Keep Talking About Impeachment
For a party that says its not interested in impeachment, the GOP sure keeps bringing it up.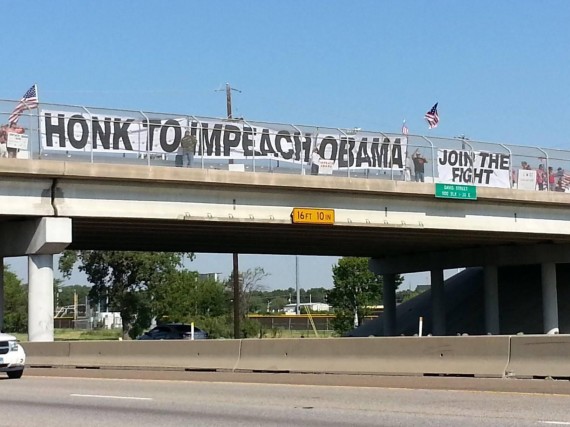 Despite insisting that impeachment is an issue that Democrats are exploiting for fundraising and other political purposes, Republicans still seem to be bringing up the idea of impeachment quite a lot. Recently, for example, Iowa Congressman Steve King suggested that impeachment would be the only alternative if President Obama issued additional Executive Orders on immigration:
Rep. Steve King suggested on Sunday that Congress should begin impeachment talks if President Barack Obama moves ahead with an executive order that could defer deportation for millions of illegal immigrants.

"I think, then, we have to sit down and take a look at that. Where would we draw the line otherwise?" the Iowa Republican said on "Fox News Sunday." "If that's not enough to bring that about, then I don't know what would be. We've never seen anything in this country like a president that says 'I'm going to make up all immigration law that I choose, and I'm going to drive this thing regardless of the resistance of Congress.'"

King's comments come after House Speaker John Boehner (R-Ohio) said last week that impeachment was off the table following a vote to sue the president over claims that he overstepped his executive authority when delaying a key health care overhaul provision. Democrats have called the lawsuit political theater in an election year, an action meant to drum up support from a Republican right wing hungry for a confrontation with the White House.
Then, yesterday, North Carolina Congressman Walter Jones spoke out against the House lawsuit against the President and argued in favor of impeachment:
Republican Rep. Walter Jones thinks Speaker John Boehner's lawsuit is a waste of taxpayer money — he says the impeachment of President Obama would be a better option.

"I am one that believes sincerely that the Constitution says that when a president, be it a Republican or a Democrat exceeds his authority and you can't stop the president from exceeding his authority, then we do have what's called impeachment," Jones said on the Talk of the Town radio program Monday. "Thank Alexander Hamilton. He felt that the Congress need to use this process to get the attention of a president. And if the president had lost the public trust then move forward in that area. We recently had a vote to go to federal courts. I did not vote for that. I was one of five."

Jones was indeed one five members of the Republican-controlled House who voted against a resolution last week authorizing Boehner to sue Obama; the suit will claim Obama abused his powers by bypassing Congress in delaying the employer mandate in the Affordable Care Act.

The resolution, which passed 225-201, was also opposed by Republican Reps. Paul Broun, Scott Garrett, Thomas Massie, and Steve Stockman.
Then today, Buzzfeed's Andrew Kacyznski reports on comments made last week by Texas Congressman Bill Flores that a "fair number" of House Republicans would like to impeach the President:
Texas Republican Rep. Bill Flores thinks that "a fair number of folks" in the House of Representatives would be willing to vote to impeach President Obama, but that such a vote would be meaningless because it would fail in the Senate and hurt House Republicans politically.

"If you were to ask many folks in the House is the president violated the law and will he be worthy of impeachment, I think a fair number of folks would say yes," Flores said in a telephone town hall on July 30. "Well then you say, 'OK, what do you do?' Well, then you turn back to the Constitution. You look at Article 1, Section 2, Clause 5 and there is says the House of Representatives will have the sole power of impeachment. You say okay, so, what happens then?"

Flores said the process of two-thirds of the Senate having to vote at a trial to impeach the president in order to remove the president from office would most likely fail.
"I think all of use would agree there's no way you get two-thirds of the Senate," Flores said.

"So what would happen if you did that and you failed? Well, first of all you haven't accomplished anything because you're not gonna change the president's behavior if he hasn't been convicted," Flores said. "In all likelihood the media would side with the president and would help him turn his situation around just like the situation that happened with Bill Clinton back in the '90s."
To be fair, Flores does go on to note that impeachment would not succeed in the Senate and that even attempting it would harm Congress, which is much the same thing that the Republican leadership and other political observers have been saying all along. However, his comments, along with those of Jones and King and other Republicans, tend to put the lie to the idea that impeachment is simply something that Democrats and the White House are pushing as a meme to rile up their own base. Obviously there is some level of support for the idea inside the Republican Party itself or we would not keep hearing comment like this, or news such as the South Dakota Republican Party endorsing impeachment at their recent convention. Thanks to the polls, of course, we already knew that a majority of Republicans support the idea of impeaching the President even though the majority of Americans are opposed to it. Additionally, it is obvious that the lawsuit gambit that House Republicans are currently pursuing is designed as much to placate the wing of their party that is most supportive of impeachment. They have tried to placate this wing of the party before, of course, such as during the debt ceiling showdown in 2011 and the run-up to the government shutdown last year, and we know how that ended. In the end, House leadership found itself backed into a corner and forced to take a course of action that they knew could not succeed thanks largely to the pressure exerted by the most vocal wing of their party. There's no reason to believe that the same thing could not happen with respect to impeachment. The question that Republicans have to ask themselves is whether this is a force that they can control over the next two and a half years, or whether it's something that will overwhelm them under the right circumstances.