Majority Of Republicans Support Obama's Impeachment
A lot of Republicans dislike the President enough to think that he should be removed from office, but will that make impeachment more likely to happen?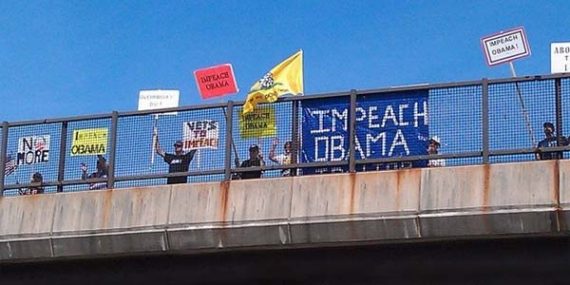 The idea of impeaching President Obama, which has largely been a fringe issue on the right for the last several years, has gotten new prominence in the media thanks in no small part to Sarah Palin's call last week that the President should be impeached over the way he has handled the issue of immigration reform and the allegedly porous southern border. While that call has been largely rejected by party insiders, some have wondered whether the party leadership would be able to resist the persistent call of the base to move on the issue, especially if Republicans gain control of the Senate and, as most legal analysts suspect it will, the lawsuit that the House of Representatives plans to file against the President ends up going nowhere. Under the right circumstances, as I've discussed before, Republican leadership could find themselves in the same trap they ended up in heading into the showdown last October; unable to resist the pressure of their own party's base to do something they know is politically suicidal.  One possible clue as to how this issue could play out going forward can be seen in two new polls, both of which show a majority of Republicans supporting impeachment, even though a majority of Americans do not.
First up, there's a poll from a new Rasmussen poll that puts support for impeachment among likely Republican voters at 58%:
Critics of President Obama have called for his impeachment and for lawsuits challenging his executive actions, but most voters nix both ideas. Better, they say, to elect an opposition Congress.

A new Rasmussen Reports national telephone survey finds that 32% of Likely U.S. Voters think President Obama should be impeached and removed from office. Nearly twice as many (58%) disagree and oppose his impeachment. Ten percent (10%) are not sure. (To see survey question wording, click here.)

By comparison, 39% of Americans favored impeaching Obama's predecessor, George W. Bush, in July 2007, while 49% were opposed.

Fifty-two percent (52%) of voters believe it would be bad for the United States if some members of Congress seek to impeach Obama, and even more (56%) think it would be bad for the Republican Party if an impeachment effort is made.

Twenty-six percent (26%) say it would be good for the country if some in Congress try to impeach the president, while 13% say it would have no impact. Similarly, 24% feel it would be good for the GOP, but 12% think it would have no impact.

(…)

Fifty-eight percent (58%) of Republicans think the president should be impeached and removed from office. Eighty-seven percent (87%) of Democrats and 52% of voters not affiliated with either major party disagree.

One-in-three Republicans (32%), however, believe it would be bad for their party if some members of Congress seek to impeach Obama, a view shared by 77% of Democrats and 55% of unaffiliated voters.

Fifty-two percent (52%) of GOP voters agree with 53% of Democrats and 60% of unaffiliateds that electing an opposition Congress is the better way to halt or change the president's policies.
The results are similar results in a recently released YouGov poll:
Last week former Alaska governor and Vice Presidential hopeful Sarah Palin called for the impeachment of President Obama, saying he is a "lawless, imperial president". Citing the use of military force in Libya, the IRS's investigation of right-wing groups and the recent migrant crisis at the border she called upon Congress to begin investigating the President in preparation for impeachment. The call has been widely rejected, however, including by the Republican Speaker of the House of Representatives John Boehner, who is currently launching a lawsuit against the President because of his allegedly excessive use of executive power.

The latest results from YouGov show that 49% of Americans do think that President Obama has exceeded the constitutional limits of Presidential authority. 89% of Republicans say that he has, along with 52% of Independents but only 16% of Democrats agree. 67% of Democrats, along with 25% of Independents and 6% of Republicans, say that he has not exceeded the constitutional limits on his authority.

Attitudes towards the potential impeachment of President Obama are, overall, similar to attitudes towards the potential impeachment of President Bush in 2007. In 2007, 36% of Americans said that Bush had not abused his powers, while 39% say that same about Obama. Similarly, 32% say that Obama should be impeached and removed from office, while 34% said the same about Bush in 2007

Perhaps predictably, these attitudes towards the impeachment of Bush and Obama differ significantly according to partisan affiliation. Most Democrats (54%) supported impeaching Bush in 2007, while 68% of Republicans today think that it would be justified to impeach Obama. Overall, 35% of Americans say that impeaching Obama would be justified, while 36% said the same in a 2007 USA Today/Gallup poll.
Obviously, much of what we see here is simply partisan opposition to a President of the opposing party manifesting itself in the idea that it would be a good idea, at least in theory, for Congress to take the extraordinary step of attempting to remove the President from office, even though its readily apparent that the effort would fail even if Republicans do gain control of the Senate in November. The fact that there were similar numbers of Democrats supporting the idea of President Bush eight years ago, an option that the Democratic leadership not only did not pursue but seemed to actively discourage when they gained control of Congress in 2006, would seem to confirm that. Given that, the fact that there is a large segment of likely GOP voters who favor the idea of impeaching the President probably doesn't mean all that much and may not really influence the likelihood of impeachment over the next two years regardless of what else might happen to stir the partisan waters.
At the same time, though, there are admittedly some differences between the opposition to President Bush among Democrats and the opposition to President Obama on the right. While the anti-Bush "Bush Derangement Syndrome" crowd certainly did exist, it was never my perception that it was ever quite as vehement or widespread among Democrats as anti-Obama sentiment is on the right. To some degree, of course, opposition to President Bush was influenced to a large degree by the outcome of the 2000 election, but given the fact that it was the closet Presidential election in American history and ended in a manner that, at least for some people, never really resolved the matter, that's probably understandable. For much of Bush's Presidency, the nation was fairly united behind him in the wake of the September 11th attacks, though. Even the Iraq War was supported by a high number of Democrats, at least initially. The people who compared Bush to Hitler and other such things never seemed as though they represented a large part of the Democratic Party.
Things seems different on the right when it comes to President Obama. Opposition to his Presidency has been at a fever pitch pretty much from the day that he took office, and the rhetoric against him on the right has been caustic and vehement from the beginning. As the President's term went on, the opposition only seemed to increase, giving birth to the Tea Party movement and a legislative strategy among House and Senate Republicans that seems largely based on gridlock and opposition than anything else. Finally, and this is just a personal observation of my own based on my interactions with people both online and offline, the vehemence of the rhetoric against the President from those who oppose him seems to be both more widespread and more vicious than much of what was heard during the Bush Administration. Rather than opposition, there seems to be real hatred there, of the President for sure but also of his family for reasons that don't always seem to be entirely rational. Obviously, that's not true of everyone on the right, but it's certainly quite prevalent, in no small part because of the influence of the new media. What that means for how this whole impeachment debate may unfold between now and the time the President leaves office, though, is something we'll just have to watch unfold.