Rick Santorum Wonders If Obama Is A Real Christian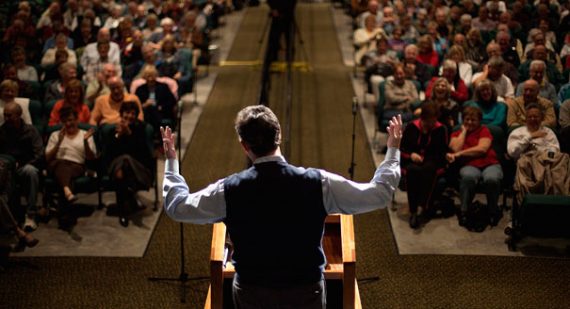 In a subtle but pointed attack, Rick Santorum today suggested that President Obama doesn't follow a true version of Christianity:
COLUMBUS, Ohio (AP) — Lashing out on two fronts, Rick Santorum on Saturday questioned President Barack Obama's Christian values and attacked GOP rival Mitt Romney's Olympics leadership as he courted tea party activists and evangelical voters in Ohio, "ground zero" in the 2012 nomination fight.

Santorum, a former Pennsylvania senator known for his social conservative views, said Obama's agenda is based on "some phony theology. Not a theology based on the Bible. A different theology." He later suggested that the president practices a different kind of Christianity.

"In the Christian church there are a lot of different stripes of Christianity," he said. "If the president says he's a Christian, he's a Christian."

The Obama campaign said the comments represent "the latest low in a Republican primary campaign that has been fueled by distortions, ugliness, and searing pessimism and negativity."
I assume we can expect Santorum and his surrogates to start dragging out the Rev. Wright tapes any day now. In the context of  the Republican race going forward, though, I doubt that this type of thing is going to hurt him very much. Southern Ohio, for example, resembles the south far more than it resembles the industrial Midwest, so appears to social conservatism, evangelicals, and bizarre conspiracy theories about Barack Obama are likely to resonate with at least some segments of the electorate there. Furthermore, with guys like Jon Huntsman and Gary Johnson gone, there's nobody left in the GOP field who is going to criticize Santorum for saying things like this. If anything, they'll endorse and double-down on it.
As James Joyner said in his post this morning, we will learn soon enough whether Santorum's brand of Christianist Theocracy resonates with Republican primary voters.  One of two things will happen. Either his religious zealotry and Michele Bachmann level of craziness on public policy will turn voters off so much that they'll run away from him screaming. Or, his populist message will resonate with voters so strongly that he'll end up riding a wave all the way to Tampa in August. If that happens, I have no doubt what the result will be in the General Election some three months later, the question at that point will be whether Republicans will recognize the mistake they made and begin the return to sanity that could have started with a swift and hearty rejection of the Bush 43 era. Only time will tell.