Romney Needs The "47 Percent" To Win
In order to win, Mitt Romney needs the support of a large segment of the 47% of the populace he wrote off back in May.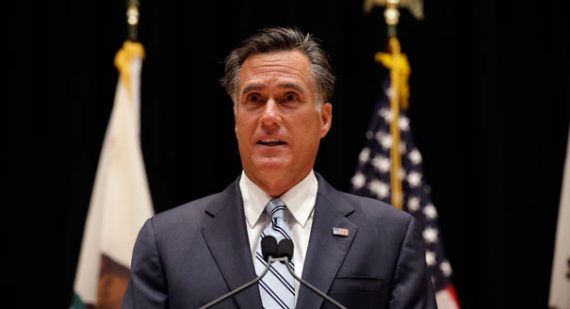 Mitt Romney has tried to explain his comments about "the 47 percent" at a May fundraiser by saying that he was trying to explain to the people who were donating large sums of money to his campaign how he could win the election. For example, during his appearance yesterday on Fox News Channel, Romney put it this way:
Romney, while saying his phrasing was not ideal, stood by the premise of his remarks, which reportedly came from a fundraiser in Florida.

"It's not elegantly stated, let me put it that way. I was speaking off the cuff in response to a question," Romney said, adding he wants to help "all Americans."

But he continued: "It's a message which I am going to carry and continue to carry, which is that the president's approach is attractive to people who are not paying taxes because frankly my discussion about lowering taxes isn't as attractive to them. Therefore I'm not likely to draw them into my campaign as effectively as those in the middle."
I will admit that, on some level, Romney's explanation does make sense. In a deeply polarized nation you don't really win elections by trying to appeal to the people supporting the other guy, you aim for the people in the middle. The problem with Romney's premise, though, is that he, like many conservatives, confuses two different groups of people. It's true that there is a group of roughly 47% of Americans — the actual number according to most sources is closer to 46.4%, but why quibble — that pay zero net Federal Income Tax. Leaving aside the fact that this statistic ignores the reasons why most of them don't pay taxes, or that they by and large do pay other taxes at the Federal, State, and, where applicable, Local level, this is at least accurate. It's also true that there's another group of people, also roughly 47% depending on which poll you look at, that are clearly going to vote for the President in November. For some reason, Republicans seem to think that these two groups are roughly equivalent, even though there's plenty of evidence that there isn't.
Barack Obama draws support from all types of demographic groups, not just people who don't pay taxes. And, Mitt Romney does as well. Indeed, there's a very good argument that Mitt Romney needs the support of the very "47 percent" that he dissed back in May in order win the election:
[T]he divide between "makers" and "takers" is not as simple as Romney put it.

According to the Tax Policy Center, almost two-thirds of those who paid no income taxes did pay federal payroll taxes, which support the Social Security pension program and the Medicare health plan. Many are exempt thanks to lower tax rates and targeted tax breaks that were pushed by Republicans.

Among those who receive government benefits, one-third received Social Security and Medicare – popular programs that are available to all retirees, not just those with low incomes.

Romney will need support of people in both groups if he is going to win.

(…)

Elderly voters have become an important part of the Republican coalition in recent elections, and Romney is struggling to hold on to his advantage among voters age 60 and older.

Romney's lead over Obama among voters in that group was nearly 20 percentage points last week but has declined to less than a 4-point lead this week, according to Reuters/Ipsos tracking polls. Obama leads among all other age groups.

Romney is not likely to win among lower-income voters but he will need to limit his losses among this group in order to carry battleground states such as Ohio. Romney currently has the backing of 37 percent of voters with income under $50,000, according to a New York Times/CBS poll released last week.

Conservative pundit Bill Kristol termed Romney's "47 percent" comments "stupid and arrogant" in the Weekly Standard and warned that they could alienate voters in both of those groups.

A Republican congressional aide said Romney's remarks were "completely boneheaded" and could hurt his appeal among undecided voters. The aide said he did not think support would erode among Republicans, however.
That last part is probably true, but it's not Republican voters that Romney needs to worry about losing because of these remarks. As noted above, Romney gets significant support from large segments of the population that he said he doesn't need to worry about reaching out to, especially the elderly. That's something that's been true of Republicans since the days of the battles against the Affordable Care Act and the 2010 midterm elections. What exactly it is that possessed Romney to make a comment that essentially wrote off a large part of his own coalition is beyond me.
Jamelle Bouie points out another potential problem that Romney's remarks create for another segment of his coalition:
Romney's path to victory depends on an outstanding performance among white voters. Assuming an electorate like 2008's — 74% white, 26% nonwhite — Romney needs 61% of whites to eke out a victory in the popular vote. As Ron Brownstein points out, this would equal the best performance ever for a Republican challenger among this group of voters. In other words, not an easy mark to hit.

Romney's best bet for reaching this target has always been working-class whites. Hit hard by the sluggish economy, these voters were thefirst to leave the Obama coalition — Democrats lost them by 18 points in 2008, and 30 points by 2010. Romney's goal has always been to consolidate those voters and erode Obama's already-tenuous support among whites as a whole. Likewise, on the other end of things, the Obama camp has been devoted to making Romney as toxic as possible to working-class whites, and blocking any gains he might make.

This is why Obama has leaned so heavily on Bain Capital, and why Romney took to hitting the administration on welfare. It's central to the campaigns both sides are waging in Ohio and Wisconsin, and why there was some chance that Michigan would emerge as a toss-up state. In some sense, this entire election has been a contest for working-class whites, as both Obama and Romney fight to make the most out of their positions.

But the 47% remarks strike at the heart of Romney's strategy. The 47% of Americans who don't pay income tax are those who either don't make enough money to qualify, or receive tax credits that offset their liability. This group includes students, the elderly, the poor and a large number of working-class families. Yes, some will not see themselves as belonging to the 47%. But when a politician disparages half the country as unwilling to "take responsibility for their lives," at least some will see these comments as an attack on their livelihoods.
In other words, Romney got it precisely wrong in his talk to his supporters back in May. Indeed, a Gallup poll analysis released yesterday showed that Romney gets a surprisingly high level of support from people in lower income groups. If that support were to decline to any significant degree, it would likely have an impact on his standing in the polls and, presumably, his fate on Election Day. Instead of not needing to worry about the "47 percent" at all because they will be reliable and committed Obama voters, Romney needs to worry about them quite a lot, especially with respect to those white working class voters that Bouie speaks of. Without the support of a substantial portion of that part of the population, Romney can forget about winning a state like Ohio or Wisconsin, and he's likely to have serious problems winning in Virginia as well. There have already been indications that this group was turning sour on Mitt Romney thanks to the Bain Capital ads that Obama's campaign and supportive SuperPAC's have been running quite heavily in states like Ohio. Now that they've put together an ad featuring Romney's "47 percent" comments, I have to wonder what impact that's going to have on Romney's likability, and his chances of winning this election.
I know these comments were never intended to be made public, but they have become public, and Romney may just have shot himself in the foot.