Romney's Ohio Problem
Mitt Romney has an Ohio problem, and little time to fix it.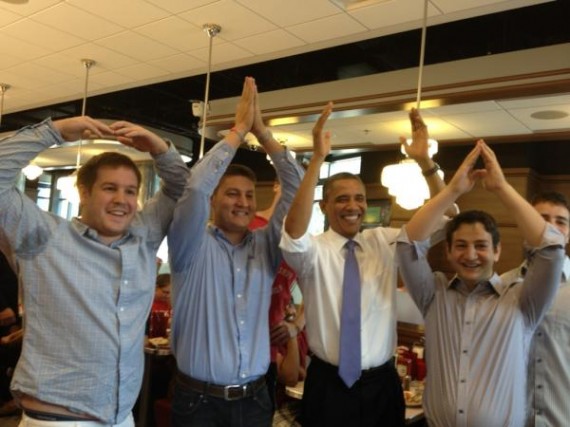 As I already noted earlier today, Mitt Romney continues to trail the President in Ohio, a state that no Republican who has been elected President has ever lost, and that makes his prospects for an Electoral College victory all the more difficult: 
Romney can win the White House while losing Ohio, but it's hard to overstate how difficult that would be. If you play around with POLITICO's swing-state map, you'll find that if Obama wins Ohio and holds Wisconsin and Nevada (he is currently favored in all three states) Romney can pick up Florida, North Carolina, Virginia, Iowa, Colorado and New Hampshire – and still lose.

Ohio isn't the only reason why national Republicans are so pessimistic about Romney's campaign right now, but it is one of the big reasons, and it's why the Romney campaign's continued references to national tracking polls are wide of the mark. Even if Romney managed to move the national campaign 2 to 3 points in his direction, it would probably leave him short of a win unless he improved his position in Ohio by a bigger margin.

And the reality is, the trajectory of the race in Ohio has been set in place for a while. When I wrote in August about the state of the campaign there, Romney was persistently down a few points and had allowed Obama to claim a populist space in the race that Ohio Democrats have exploited effectively since the 2010 elections. That hasn't changed in the last month.

At the risk of sounding like a broken record: none of that means that Romney can't win. What it does mean is that unless he changes the race in Ohio meaningfully and soon, it becomes extraordinarily difficult for Romney to win nationally. In the event Romney becomes president, his turnaround in Ohio will likely be one of the big stories of the last six weeks of the campaign.
This, quite obviously is that Romney and Paul Ryan are starting a multi-day bus tour of the Buckeye State that will take them to all of the state's major population centers, including several areas that had been reliably Republican in 2000 and 2004 but went for Barack Obama in 2008. As NBC's First Read notes, it may be the campaign's last chance to turn things around in the state:
It's hard to overstate it – this may be the make-or-break week for the campaign in the state. If this week's bus tour doesn't move the needle, as the Romney campaign might say, they very well could decide to all but write off the Buckeye State. They won't say it explicitly; they'll go through the motions, but they may have no choice than to try and shore up or make in roads in places like Wisconsin, Colorado, Florida, and Virginia.
Falling behind in Ohio, though, is likely to make things more difficult for the Romney/Ryan team in others states as well. It's hard to see the ticket winning Wisconsin, for example, if they aren't able to grab Ohio, which is made up of much the same white, working class, population that Wisconsin is. Without those two states, its nearly impossible for Romney to win even if he does somehow manage to win both Virginia and Florida. At that point, Obama would have 265 Electoral Vote and would win merely by picking one out of Iowa, Colorado, or Nevada, and he's currently leading in both states. So, Ohio is another one of those states, along with Florida and Virginia, that Romney absolutely positively has to win if he's going to have any chance at getting to 270 Electoral Votes.
As I noted this morning, RealClearPolitics gives Obama a +4.4 point advantage in the state, and Nate Silver gives the President a 75% chance of winning, up from 69% just a month ago:
The Romney campaign is obviously hoping for a turnaround in the state thanks to this bus tour and the media blitz that will accompany it. At the very least, it strikes me that the need to close the gap in the polls and slow down the President's momentum in the state over the next week or two. Otherwise, with early voting set to begin statewide shortly after the first Presidential Debate, he could find the Buckeye State slipping from his fingers. At that point, the odds of victory nationwide are going to become fairly slim indeed.