Rudy Giuliani Worked Behind The Scenes To Pressure Ukraine On Biden
Working as the President's private attorney, Rudy Giuliani has spent months working behind the scenes to pressure Ukraine to investigate Joe Biden's son.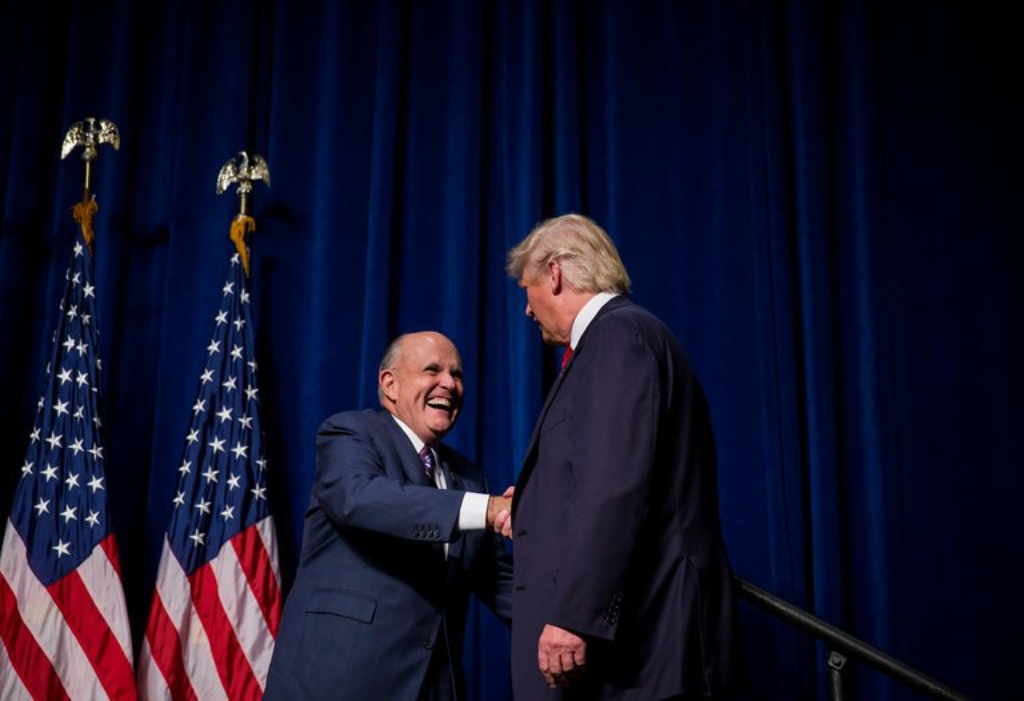 The Washington Post reports this morning on the efforts behind the scenes of President Trump's personal lawyer Rudy Giuliani to pursue what effectively amounts to a shadow foreign policy vis a vis Ukraine, including his efforts to pressure the Ukrainians to reopen a closed investigation of a gas company that former Vice-President Biden's son was involved with:
President Trump's attempt to pressure the leader of Ukraine followed a months-long fight inside the administration that sidelined national security officials and empowered political loyalists — including the president's personal lawyer, Rudolph W. Giuliani — to exploit the U.S. relationship with Kiev, current and former U.S. officials said.

The sequence, which began early this year, involved the abrupt removal of the U.S. ambassador to Ukraine, the circumvention of senior officials on the National Security Council, and the suspension of hundreds of millions of dollars of aid administered by the Defense and State departments — all as key officials from these agencies struggled to piece together Giuliani's activities from news reports

(…)

"Rudy — he did all of this," one U.S. official said. "This s—show that we're in — it's him injecting himself into the process."

Several officials traced their initial concerns about the path of U.S.-Ukrainian relations to news reports and interviews granted by Giuliani in which he began to espouse views and concerns that did not appear connected to U.S. priorities or policy.

The former New York mayor appears to have seen Zelensky, a political neophyte elected president of Ukraine in April and sworn in in May, as a potential ally on two political fronts: punishing those Giuliani suspected of playing a role in exposing the Ukraine-related corruption of former Trump campaign chairman Paul Manafort, and delivering political ammunition against Biden.

The U.S. ambassador to Ukraine, Marie Yovanovitch, became a primary Giuliani target.

Yovanovitch, a longtime State Department Foreign Service officer, arrived in Ukraine as ambassador at the end of the Obama administration, more than two years after an uprising centered on Kiev's Independence Square ousted the Russian-leaning government.

Though she was widely respected in the national security community for her efforts to prod Ukraine to take on corruption, Giuliani targeted Yovanovitch with wild accusations including that she played a secret role in exposing Manafort and was part of a conspiracy orchestrated by the liberal financier George Soros.

"She should be part of the investigation as part of the collusion," Giuliani said in a recent interview with The Washington Post, adding that "she is now working for Soros." Yovanovitch is still employed by the State Department and is a fellow at Georgetown University. She declined to comment.

Giuliani canceled the trip amid an ensuing backlash over his purpose but later met with one of Zelensky's senior aides in Madrid and pressed the issue of Ukraine's helping against Biden.

In a May 19 interview on Fox News, Trump recited repeatedly disproved allegations that then-Vice President Biden had coerced Ukraine to drop an investigation into the owner of an energy company, Burisma, for which Biden's son Hunter was a board member.

The allegations were baseless. Though Hunter Biden had served on the Burisma board for five years — a questionable decision given his father's influential position — he was never accused of any wrongdoing by Ukrainian authorities. The probe had been shelved before any action by the vice president, and the elder Biden's efforts involved removing a prosecutor widely criticized by the West as failing to tackle corruption.
Nevertheless, Trump is alleged to have used his July 25 call with Zelensky to get Ukraine to revive this dormant inquiry and widen it to include possible wrongdoing by Biden.
To say that this is unusual is an extreme understatement. Were Giuliani a White House employee, a State Department employee, or even part of the White House Counsel's office, then one could make a case for his being involved in a shadow foreign policy effort. Giuliani, though, is none of these things, he is a private attorney for Donald Trump outside of his capacity as President. His chief job in that role has seemingly been to be an advocate for his client on cable news outlets such as CNN and Fox News Network. In that respect, his travels to Ukraine and his behind the scenes efforts regarding American policy toward Ukraine and regarding the effort to pressure the Ukrainian government.
Even before the controversy regarding the whistleblower complaint and President Trump's phone call with Ukrainian President Zelensky became public, it was fairly well-known that Giuliani was making frequent trips to Kyiv to meet with Ukranian government officials. It was largely also fairly well-known, thanks to the fact that Giuliani was admitting as much during interviews on cable news, that the purpose of these meetings was to put pressure on Ukrainian officials to reopen an investigation that had been closed years earlier and during which no wrongdoing was found. During his cable news appearances, it was also made clear that the purpose behind these meetings was to pursue the largely discredited allegations against the former Vice-President and his son. Given all of this, it's not entirely incorrect to argue that Trump and Giuliani were working in tandem to pressure Ukraine to cooperate regarding the Biden issue.
Obviously, all of this means that Giuliani is likely to be a witness called before one or more of the committees investigating the President as part of what is now officially an impeachment inquiry. No doubt Trump will seek to block any such testimony on the ground of attorney-client privilege, however whatever conversations Giuliani may have had with parties other than Trump are not covered by that privilege. Additionally, since he is not a White House employee he cannot be covered by Executive Privilege, although there might be an attempt to do so. Given how Giuliani has performed as an advocate for the President on cable news, those appearances could be very entertaining indeed.