The Biggest Obstacle To Ending The Shutdown Is Donald J. Trump
If you're looking for the biggest obstacle to a resolution to the government shutdown, look no further than President Donald J. Trump.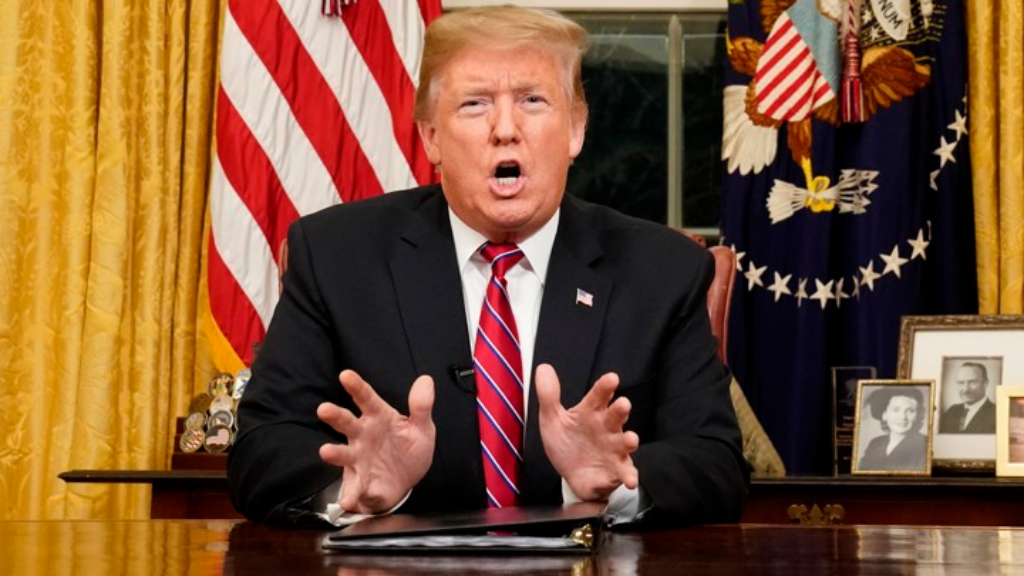 As the government shutdown enters its twenty-third day with no conceivable end in sight, it's quickly becoming clear that the biggest obstacle to resolution is the President of the United States himself:
WASHINGTON — Officially, Republicans blame Democrats for what is now the longest government shutdown in the nation's history. Privately, many concede, the stalemate over President Trump's demand for a border wall has been made exponentially worse by White House ineptitude on Capitol Hill, where two years of contradictory statements and actions have built up a profound lack of trust.

Republican lawmakers and aides worry that Mr. Trump has misunderstood Democrats' incentives to stand firm and that he has deputized the wrong aides to press his case. And they question who — if anyone other than the president — has the authority to resolve the impasse. They describe a dysfunctional dynamic where even senior leaders in Mr. Trump's own party never know quite what to expect from the president.

"It's always difficult when the person you're negotiating with changes their mind — including my wife," said Senator John Cornyn, Republican of Texas, when asked about the consequences of Mr. Trump's penchant for doing so.

Mr. Cornyn noted that in the days before the shutdown began on Dec. 22, he and every other senator had voted for a stopgap government spending measure that omitted wall funding, believing that the president supported it, only to learn later that Mr. Trump had no intention of doing so. The president's about-face — and House Republicans' decision to add $5.7 billion in wall funding to the Senate bill — precipitated the shutdown, which reached Day 22 on Saturday.

"My understanding was that the president was going to sign that, but apparently he changed his mind," Mr. Cornyn said.

Such miscues and abrupt changes of course have become a staple of Mr. Trump's dealings with Congress. The president has now repeatedly undercut Vice President Mike Pence, to whom he has delegated the task of negotiating an end to a seemingly intractable stalemate.

Mr. Pence denied on Thursday that he had ever told lawmakers that Mr. Trump would sign the bill, pressed personally by the majority leader, Senator Mitch McConnell of Kentucky, to keep the government open without funding for the wall.

"I said the president hasn't made up his mind," Mr. Pence said.

But that is not how Republicans remembered it. "He got off to a bad start; he kind of pulled the rug out from under McConnell's feet there with that one," said Representative Francis Rooney, Republican of Florida.

It happened again on Thursday. A group of Republican senators were trying to forge a deal to pair wall funding with legal status for undocumented immigrants brought to the United States as children, often known as Dreamers. Then Mr. Pence told them that their effort would not earn Mr. Trump's support, effectively torpedoing the talks. Members of the group said they recognized that their proposal would rise and fall according to the whims of the president.
The fact that Trump is the central cause of this shutdown isn't really all that surprising given the manner in which he has behaved repeatedly during his Presidency. In 2017, for example, Trump declared victory in the White House Rose Garden when the House passed a health care reform bill only to turn around and call it "mean" a month later. In the days leading up to what ended up being the first of three government shutdowns that occurred in 2018. In early January 2018, the Senate was trying to come up with a way to pass a budget while at the same time dealing with a Democratic caucus that was demanding some action to protect the beneficiaries of the Deferred Action for Childhood Arrivals (DACA) program. Roughly a week before that January shutdown, the President held a bipartisan meeting with Members of Congress and the Senate in which he essentially told them to go back and come up with a proposal to fix the DACA issue and stated that he would sign whatever they came up with. Within a matter of days, Senators Lindsey Graham and Dick Durbin had come up with just such a proposal that appeared to have broad bipartisan support. When they went to the White House to present that plan to the President, though, they found their proposal being rebuffed. This is the same meeting at which the President made his now infamous comments about immigrants from "shithole" countries. It was at that point, that things in the Senate started going downhill and led to the shutdown that ended on Monday. As Senate Majority Leader Chuck Schumer put it over the weekend, negotiating with this President is like negotiating with Jello. After the shutdown was over, as Congress sought to put together a budget deal, Trump again threatened a shutdown in February, but those threats were ultimately ignored. The President's threats of a shutdown were renewed over the summer, and then again after the election as Congress returned to Washington to deal with the budget and other lame duck issues. This has been consistent behavior throughout Trump's Presidency. Even when he makes a clear and unequivocal statement on what he might accept in legislation, it's become inevitable that the White House or Trump himself will walk it back.
We've seen the same thing in connection with this shutdown. In early December, the President told incoming Speaker of the House Nancy Pelosi and Senate Minority Leader Chuck Schumer that he would gladly accept and take credit for a shutdown over funding for his border wall. As the December 21st deadline approached, though, Trump appeared to back away from his eagerness for a shutdown and apparently gave approval to the bill that the Senate passed unanimously that would have kept the government open until February 8th. Just days later, though, after criticism from the likes of Rush Limbaugh and Ann Coulter, and the hosts on Fox News Channel, Trump pulled the rug out from under Republicans and stated that he would not agree to any budget bill that did not include funding for his border wall. Since the shutdown, he has repeatedly undercut his own Vice-President and Acting Chief of Staff, who have presented apparent compromise proposals to Democrats only to see the President repudiate them either in a public statement to the media or via Twitter. It is because of all of this that we find ourselves in the midst of the current shutdown, and it is because of the fact that the President cannot make a decision that negotiation is proving to be impossible.
Whether or not this shutdown, which technically only impacts about one-quarter to one-third of the Federal Government, qualifies as a "crisis" or not depends, I suppose, on your point of view. Compared to previous shutdowns that impacted essentially the entire government, it certainly is having an impact on a far smaller percentage of the Federal workforce and a smaller degree of Federal operations than those other shutdowns. That being said, if you're one of the roughly 800,000 or so Federal workers who are being impacted by this, whether you're one of the "non-essential" personnel who are being told to stay home or one of those "essential" personnel who are being required to work even though there's no prospect of getting paid for your work until some point after the government actually opens back up. The same goes for the countless numbers of large, medium, and small businesses who are Federal contractors, or individuals working in the affected Federal agencies as contractors, who are also being impacted by the shutdown and the lack of pay. In the meantime, of course, these people still have bills to pay, and there are still government functions that are being impacted by the shutdown at the Internal Revenue Service, the Federal Aviation Administration, the Food & Drug Administration, the Transportation Security Agency, the Federal Courts, and countless other agencies. The longer this shutdown goes on, and on that note, the White House is reportedly planning for a shutdown that lasts through the end of February (which would mean up to 69 days), this impact will just get worse. And it will all be Donald Trump's fault.