The Most Important Rule Of Surviving A Political Campaign Is: Don't Quit!
The final delegate count may well be skewed.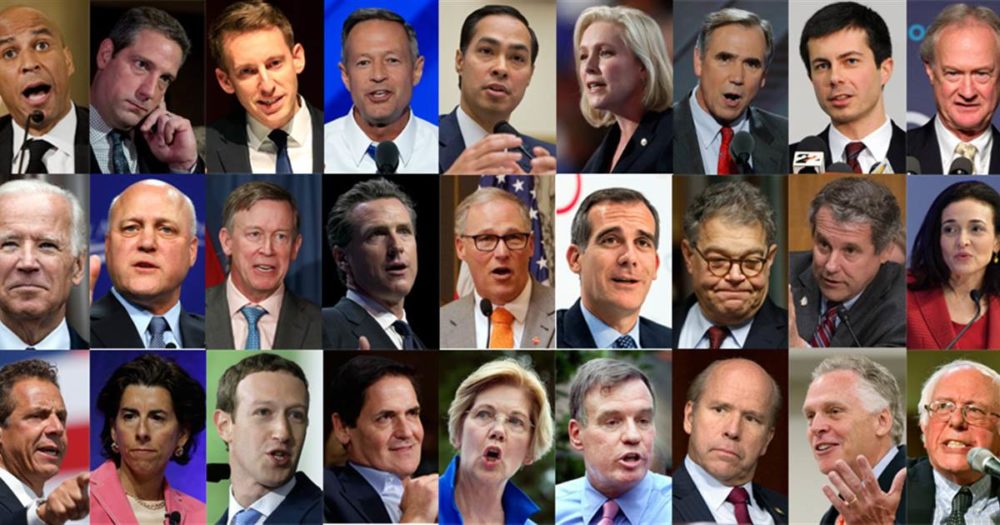 Back in May 2011, Matt Yglesias proclaimed, "The Most Important Rule Of Surviving A Political Sex Scandal Is: Don't Resign!" He's been proven right time and again since. Al Franken's Senate career ended because he resigned under pressure while Brett Kavanaugh is on the Supreme Court because he refused to do the honorable thing. And Virginia's governor, lieutenant governor, and attorney general all survived scandals by simply going to work every day.
It doesn't always work, of course. But resigning always results in defeat.
We may be about to see an analogue to that in the 2020 Democratic nomination fight.
More than a dozen candidates dropped out before the voting even started with the Iowa Caucuses. Presumably, it's because their campaigns ran out of money.
Andrew Yang, Deval Patrick, and Michael Bennet dropped out after the first couple of contests. The race was still pretty wide open at that point, although Bernie Sanders had become the strong frontrunner. But, again, their war chests were likely empty.
After South Carolina's results came in Saturday night, it was clear that we were down to a two-man race, with Bernie Sanders and Joe Biden the only candidates left in the contest with even a mathematical chance of clinching the nomination ahead of the convention.
Vanity candidate Tom Steyer dropped out that night. Pete Buttigieg did so the next afternoon. And Amy Klobuchar did so today. Presumably, they could have afforded to stay in another two days to see what happened on Super Tuesday. Thus, one presumes, they either decided independently or were strongly pressured by party insiders to withdraw to clear the way for Biden.
But here's what's interesting: Buttigieg had won one of the four primaries and come in second in another. His 26 delegates was a respectable third.
Elizabeth Warren has finished no higher than third in any of the contests thus far and has only 8 delegates–one more than Klobuchar.
Mike Bloomberg has 0 delegates and zero wins thus far to show for his half-billion-dollar investment. Polls had shown him doing quite well on Super Tuesday but Biden's surge is likely to dampen his support significantly.
Tulsi Gabbard is still in the race, too, but she's a vanity candidate with no real expenses and won't be invited to any more debates, so she's just an interesting footnote.
Regardless, by not quitting the race, Warren and Bloomberg are likely going to do what Sanders and Ted Cruz did in 2016 (and Mike Huckabee did in 2008): wind up with a lot more delegates than their comparative popularity would otherwise merit simply by refusing to stop running a race they can't win.
In the cases of Sanders 2016 and Huckabee 2008, it was boorish and weird but seemingly had no value beyond enhancing their ego. But, in 2020, Warren and Bloomberg could potentially wind up with more clout than Buttigieg simply because they'll have more delegates to bargain with at what increasingly looks to be a contested convention.
In both cases, they'll siphon votes away from the two dominant candidates.
Bloomberg's continued presence in the race tomorrow will almost certainly keep Biden below the 15% delegate threshold in a state or two. That doesn't seem to fit Bloomberg's long-term interests.
With Warren, it's harder to say.
Is she trying to become the compromise candidate at the convention? That seems an unlikely outcome but isn't impossible.
Is she trying to gain leverage with Bernie Sanders, hoping to secure the VP slot or some other perk in exchange for tossing her delegates his way?
Or is she intentionally trying to sabotage Sanders and make it easier for the Establishment to win the nomination? That's not implausible but would seem to doom her with the progressive wing of the party that she seeks to represent.