The Never Ending War On Terror
If you thought the War On Terror might be over, think again.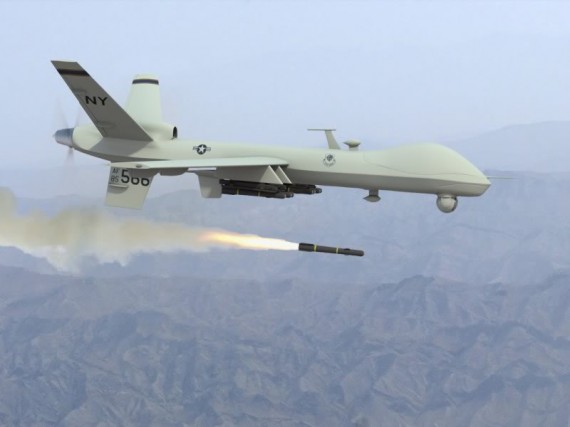 The Washington Post's Greg Miller reports today that the Obama Administration has been developing a plan that essentially assumes that the War On Terror, epitomized most especially by kill lists and drone strikes is going to last for some time to come:
Over the past two years, the Obama administration has been secretly developing a new blueprint for pursuing terrorists, a next-generation targeting list called the "disposition matrix."

The matrix contains the names of terrorism suspects arrayed against an accounting of the resources being marshaled to track them down, including sealed indictments and clandestine operations. U.S. officials said the database is designed to go beyond existing kill lists, mapping plans for the "disposition" of suspects beyond the reach of American drones.

Although the matrix is a work in progress, the effort to create it reflects a reality setting in among the nation's counterterrorism ranks: The United States' conventional wars are winding down, but the government expects to continue adding names to kill or capture lists for years.

Among senior Obama administration officials, there is a broad consensus that such operations are likely to be extended at least another decade. Given the way al-Qaeda continues to metastasize, some officials said no clear end is in sight.

"We can't possibly kill everyone who wants to harm us," a senior administration official said. "It's a necessary part of what we do. . . . We're not going to wind up in 10 years in a world of everybody holding hands and saying, 'We love America.' "

That timeline suggests that the United States has reached only the midpoint of what was once known as the global war on terrorism. Targeting lists that were regarded as finite emergency measures after the attacks of Sept. 11, 2001, are now fixtures of the national security apparatus. The rosters expand and contract with the pace of drone strikes but never go to zero.

Meanwhile, a significant milestone looms: The number of militants and civilians killed in the drone campaign over the past 10 years will soon exceed 3,000 by certain estimates, surpassing the number of people al-Qaeda killed in the Sept. 11 attacks.

The Obama administration has touted its successes against the terrorist network, including the death of Osama bin Laden, as signature achievements that argue for President Obama's reelection. The administration has taken tentative steps toward greater transparency, formally acknowledging for the first time the United States' use of armed drones.

Less visible is the extent to which Obama has institutionalized the highly classified practice of targeted killing, transforming ad-hoc elements into a counterterrorism infrastructure capable of sustaining a seemingly permanent war. Spokesmen for the White House, the National Counterterrorism Center, the CIA and other agencies declined to comment on the matrix or other counterterrorism programs.

Privately, officials acknowledge that the development of the matrix is part of a series of moves, in Washington and overseas, to embed counterterrorism tools into U.S. policy for the long haul.
The article also notes that the CIA is seeking to expand its own fleet of armed drones, a development which I find kind of odd and potentially troubling. Do we really want an intelligence agency to have access to its own fleet of armed drones? Shouldn't that kind of thing be consolidated with the military, where weapons like this ordinary belong, with the CIA providing logistical and intelligence support on an as-needed basis? If nothing else, a development like this suggests that the CIA is going to continue its transformation from an agency primarily dedicated to the gathering of intelligence to a paramilitary organization. Whether that is a good idea or not is something I'll leave for the experts to ponder, but it strikes me as a mistake.
Glenn Greenwald, meanwhile, comments on the institutionalization of the "kill list" first implemented by President Obama when he targeted Anwar Al-Awaki:
The "disposition matrix" has been developed and will be overseen by the National Counterterrorism Center (NCTC). One of its purposes is "to augment" the "separate but overlapping kill lists" maintained by the CIA and the Pentagon: to serve, in other words, as the centralized clearinghouse for determining who will be executed without due process based upon how one fits into the executive branch's "matrix". As Miller describes it, it is "a single, continually evolving database" which includes "biographies, locations, known associates and affiliated organizations" as well as "strategies for taking targets down, including extradition requests, capture operations and drone patrols". This analytical system that determines people's "disposition" will undoubtedly be kept completely secret; Marcy Wheeler sardonically said that she was "looking forward to the government's arguments explaining why it won't release the disposition matrix to ACLU under FOIA".

This was all motivated by Obama's refusal to arrest or detain terrorist suspects, and his resulting commitment simply to killing them at will (his will). Miller quotes "a former US counterterrorism official involved in developing the matrix" as explaining the impetus behind the program this way: "We had a disposition problem."

The central role played by the NCTC in determining who should be killed – "It is the keeper of the criteria," says one official to the Post – is, by itself, rather odious. As Kade Crockford of the ACLU of Massachusettsnoted in response to this story, the ACLU has long warned that the real purpose of the NCTC – despite its nominal focus on terrorism – is the "massive, secretive data collection and mining of trillions of points of data about most people in the United States".

(…)

What has been created here – permanently institutionalized – is a highly secretive executive branch agency that simultaneously engages in two functions: (1) it collects and analyzes massive amounts of surveillance data about all Americans without any judicial review let alone search warrants, and (2) creates and implements a "matrix" that determines the "disposition" of suspects, up to and including execution, without a whiff of due process or oversight. It is simultaneously a surveillance state and a secretive, unaccountable judicial body that analyzes who you are and then decrees what should be done with you, how you should be "disposed" of, beyond the reach of any minimal accountability or transparency.
On some level this strikes me as being an inevitable outgrowth of characterizing our response to the September 11th attacks as a "Global War On Terror." Terror is a tactic, not a nation, a group, or an individual. You can't bomb terror out of existence, you can't capture it on the battlefield, and you can't negotiate peace with it. On some level, fighting a "War On Terror" makes as much sense as calling World War One a "War On Tanks." By characterizing the conflict in this way, though, our government has essentially made it inevitable that we would be fighting a never-ending war that would continue to provide us with excuses to intervene throughout the world, either with ground troops or drone strikes. That's because you can never really say that you've defeated "terror." Modern terrorism is something the world has been dealing with since the 1970s at least, and now that we've declared war on it we are essentially bound to keep fighting for the foreseeable future, and using increasingly distasteful tactics to do so.
One thing about this report that does stand out, of course, is how the list of people who the United States will be targeting for assassination without due process of law has been given the Orwellian name "Disposition Matrix." Much as we've come to refer to torture as "enhanced interrogation" and the supposedly discontinued practice of sending terror suspects off to CIA black sites in foreign countries as "extraordinary rendition," our government has now apparently decided to call the targeted killing of human beings by a name so bland as to make one forget what it actually is, a kill list. Of course as Micah Zenko notes, the members of the military and intelligence community have already developed a rather cavalier attitude about the practice:
Having spoken with dozens of officials across both administrations, I am convinced that those serving under President Bush were actually much more conscious and thoughtful about the long-term implications of targeted killings than those serving under Obama. In part, this is because more Bush administration officials were affected by the U.S. Senate Select Committee investigation, led by Senator Frank Church, that implicated the United States in assassination plots against foreign leaders—including at least eight separate plans to kill Cuban president Fidel Castro—and President Ford's Executive Order 11905: "No employee of the United States Government shall engage in, or conspire to engage in, political assassination."

Recently, I spoke to a military official with extensive and wide-ranging experience in the special operations world, and who has had direct exposure to the targeted killing program. To emphasize how easy targeted killings by special operations forces or drones has become, this official flicked his hand back over and over, stating: "It really is like swatting flies. We can do it forever easily and you feel nothing. But how often do you really think about killing a fly?"
There's something disturbing about that, but it seems to be nothing more than a reflection of the cavalier attitude that the leaders of these man back in Washington have about the Drone War. Largely because it's convenient and less bloody, at least to American forces, they've latched onto these attacks as the new best way to fight this War On Terror of theirs. The fact that it's resulted in the deaths of as many as 3,000 civilians doesn't seem to bother them at all, or if it does it seems as though they are considered acceptable collateral losses.
Spencer Ackerman hits on what this means for Obama's legacy:
Obama did not run for president to preside over the codification of a global war fought in secret. But that's his legacy. Administration officials embraced drone strikes because they viewed them as an acceptable alternative to conventional ground warfare, which it considered too costly and too public, but the tactic has now become practically the entire strategy. Micah Zenko at the Council on Foreign Relations writes that Obama's predecessors in the Bush administration "were actually much more conscious and thoughtful about the long-term implications of targeted killings," because they feared the political consequences that might come when the U.S. embraces something at least superficially similar to assassination. Whomever follows Obama in the Oval Office can thank him for proving those consequences don't meaningfully exist — as he or she reviews the backlog of names on the Disposition Matrix.
So, if we do elect a President Romney in two weeks and you find yourself complaining about his Drone War, just remember that you can thank Barack Obama and the "Disposition Matrix" for that, as well as for the fact that we're likely to be fighting the "War On Terror" for many years to come.