The Race For The Democratic Nomination Isn't Over Yet, But It's Getting Close To That
More good news for Hillary Clinton, and a sign that the race for the Democratic nomination, to the extent there really is a race at this point, is close to being over.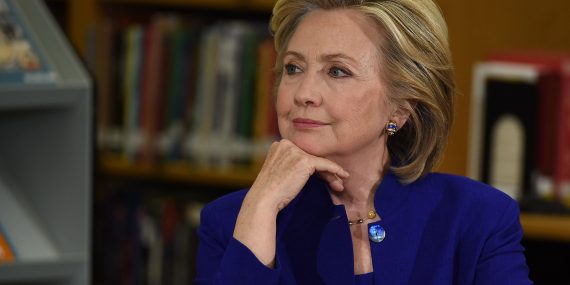 Hillary Clinton continues to benefit from the combination of events in October that helped pull her campaign out of the doldrums, as evidenced by a new national poll from NBC and The Wall Street Journal showing her with a massive lead over Vermont Senator Bernie Sanders:
Hillary Clinton has increased her dominant lead within the Democratic Party's presidential contest, now besting rival Sen. Bernie Sanders by a margin of two to one among primary voters in the latest NBC News/Wall Street Journal poll. But the Democratic front-runner remains unpopular with the general electorate, and fewer than a third of Americans give her high marks for being honest and straightforward.

In the new poll, conducted October 25-29, 62 percent of Democrats chose Clinton as their top choice to win their party's presidential nomination, while 31 percent picked Sanders. Former Maryland governor Martin O'Malley received just three percent support.

That's up from Clinton's 25-point lead earlier in October, 58 percent to 33 percent.

In this most recent poll, more than eight in ten Democrats also say they can see themselves supporting Clinton for the nod, while only 61 percent say the same of the Vermont senator. An overwhelming majority of Democrats – 84 percent — believe that Clinton is the most likely to win the Democratic nomination, versus just 12 percent who say Sanders is the best bet. And a similar margin – 81 percent – believe that Clinton has the best chance of any Democratic candidate of winning the White House in 2016.

Despite ascendancy with Democrats – particularly after a strong debate performance, her marathon testimony on Capitol Hill regarding the Benghazi controversy and Vice President Joe Biden's decision not to launch a White House bid – Clinton has little to show for her successful news cycles when it comes to the electorate at large.

Americans continue to have a net negative impression of her (40 percent positive/47 percent negative) – virtually unchanged from early October. Despite an effort by her campaign to present a softer side, she has not significantly improved her standing with registered voters on measures like "being compassionate enough to understand average people" or "being inspirational and an exciting choice for president."

And a majority – 53 percent of registered voters – give her poor marks for "being honest and straightforward, while just 27 percent give her a thumbs up.

(…)

One other bright data point for the Clinton campaign: She appears to have convinced more voters that her use of a private email server is not a game-changing issue. In mid-October, a plurality – 47 percent – said that Clinton's use of a personal email server was an important factor in determining whether or not they can vote for her for president, while 44 percent said it was not important. Now, those numbers are almost flipped: 42 percent call the email flap important to their vote, while 48 percent say it isn't an important factor in their decision-making
In addition to the good news in the horserace portion of the poll, it also appears that Clinton's testimony before the House Benghazi Committee has gone over well with the public as well:
Hillary Clinton has put to rest many voters' questions about her handling of the 2012 Benghazi attacks, according to a new Wall Street Journal/NBC News poll conducted after her 11-hour appearance before a House investigative panel last month.
The number of people who are unsatisfied with her response to questions on the attacks on a U.S. diplomatic compound dropped to 38% in the poll, from 44% in a poll taken before she testified before the House Select Committee on Benghazi on Oct. 22.The new poll found Republicans' opinion remained largely unchanged, but among Democrats and swing voters, there was a significant rise in satisfaction with Mrs. Clinton's response.

However, that shift did not have much impact on voters' more general assessment of Mrs. Clinton's honesty and character: A broader set of questions about her professional and personal attributes found that just 27% of voters rated her highly on being honest and straightforward — roughly the same as in the earlier poll.

(…)

In the Journal/NBC poll taken before the House hearing, 27% said they were satisfied with Mrs. Clinton's response to questions about the attack, and 44% said they were not satisfied, with Republicans far more likely than Democrats to be unsatisfied.

The new poll conducted after the House hearing found the share of Democratic primary voters who were satisfied with Mrs. Clinton's response rose to 72%, from 58%. The impact was not just among diehard partisans: Among people identified as swing voters, satisfaction jumped to 23% from 6%, while dissatisfaction dropped from 84% to 40%.

But the issue continued to rankle Republicans, as only 7% were satisfied with Mrs. Clinton's response- about the same amount as before the hearing.

For Democrats, the hearing "helped put this issue in the rearview mirror," said Micah Roberts, a GOP pollster who helped conduct the survey, "while Republicans continue to hold onto it."

The post-hearing poll found an increase — from 36% to 40%- in the share of people who thought the committee investigation was "unfair and too partisan." The share who viewed it as "fair and impartial" dropped slightly, from 29% to 27%.

The new poll also showed some modest improvement for Mrs. Clinton in the salience of controversy over her use of a private email server while she was secretary of state, an arrangement that was discovered by the Benghazi committee. Asked if the email issue was an important factor in deciding whether to vote for her for president, 42% said yes and 48% said no. The poll taken before the hearing was more negative, with 47% saying yes and 44% no.
This new poll, which was taken during the final week of October, caps off what has undeniably been a great month for Clinton and her campaign that seems to have completely changed the nature of the Democratic race and erased many of the doubts that pundits and even some Democrats had begun to have about Clinton's candidacy and her campaign organization. At the start of the month, there were already signs that Clinton's campaign had shaken off many of the problems it seemed to be having over the summer, but then a series of events occurred that have likely sealed the deal for her. In just the course of about ten days in the middle of last month, Clinton delivered a widely well-received performance in the first Democratic debate, she received the news that Vice-President Biden is not running for President. Finally, of course, her appearance last Thursday before the Benghazi Committee was widely seen as a complete swing and miss by House Republicans who, even by the admission of two members of their caucus and the perception of most Americans, were seeking to damage Clinton politically rather than find out some undiscovered truth about the Benghazi attack. To close out the month, Clinton got the news that new polling had shown her jumping to a massive lead in Iowa after a period in which Senator Sanders seemed to be catching up to her in the Hawkeye State after having overtaken her in New Hampshire polling.
Speaking of New Hampshire, Clinton also got some good news from the Granite State in the form of a new poll that shows her taking the lead back from Sanders for the first time since August:
Hillary Clinton now holds a 3 percentage-point lead over Bernie Sanders among likely Democratic voters in the first primary state of New Hampshire, according to the results of a Monmouth University poll released Tuesday.

The former secretary of state jumped 7 points from the September poll, to 48 percent, while Sanders dropped 4 points, to 45 percent. (Those figures redistributed support from erstwhile candidates Lincoln Chafee and Jim Webb, and Vice President Joe Biden, who declined to enter the race.)

Former Maryland Gov. Martin O'Malley took just 3 percent, and Harvard Law professor Larry Lessig, who announced Monday that he was ending his campaign, earned 1 percent.

A little more than three months ahead of the first-in-the-nation primary, just 3 percent said they were undecided among the candidates.

A little more than one-third of those who participated in the survey — 35 percent — said they are completely decided on their choice, while 38 percent said they have a strong preference but are willing to consider other candidates in the mix. Among Clinton voters, 39 percent said they are completely decided and 37 percent said they strongly prefer their candidate but are willing to consider another, compared with 34 percent of Sanders voters who said they are totally committed and 43 percent who indicated a strong commitment but also left the door open to considering an alternative.
Looking at the polling averages, Clinton (51.4%) now has a 25 point lead over Sanders (27.4%) in the RealClearPolitics national average, a 24.2 point lead in Iowa, which also factors in a new Public Policy Polling survey released yesterday that shows her with  a 32 point lead over Sanders, and in New Hampshire the race is now essentially a tie with Sanders now averaging 41.4% in the polls to Clinton's 40.4%. All of these numbers represent a clear reversal of the trends that we had seen over the summer, many of which were responsible for the two months of speculation regarding whether or not Vice-President Biden would enter the Democratic race. At this point, Clinton is close to being where she was at before the summer began and the Bernie Sanders phenomenon began to take shape at the same time that Clinton's troubles began to increase. We're still at the point where it's far too soon to say that the Democratic race is over, of course, but all indications are that whatever contest Sanders might have given Clinton is going to to be one that lasts very long. Indeed, Sanders may choose not lay off on some of his attacks against Clinton out of concern that, at this point, they can only serve to hurt her in the General Election next year. At the very least, though, it seems rather apparent that the race for the Democratic nomination will be over long before the race for the Republican nomination will be, and that is likely to be of help to Clinton in the long battle going forward.