Trump Continues To Lead The GOP Field, But Is His Support Overstated?
Donald Trump's support in the polls appears to become coming largely from people who don't typically vote in primary elections.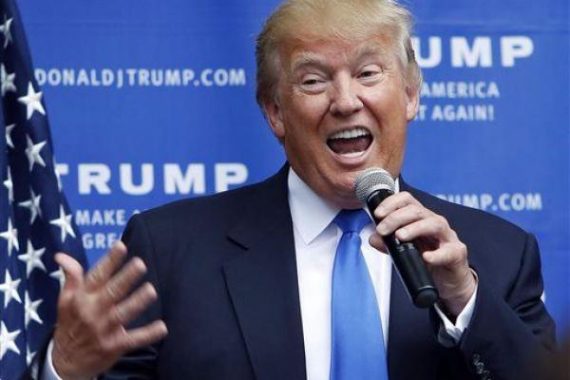 Several new polls show that Donald Trump's strength in the polls continues to rise, but there is at least some suggestion that the numbers we're seeing are overstated.which is something that Steven Taylor pointed out last week, and which I've argued myself, Even taking into account those arguments, though, it is still clear that Trump is in the lead for the Republican nomination and that his momentum appears unstoppable at least for the moment.
First up, a new Public Policy Polling survey out of New Hampshire has Trump with a lead three times larger than his nearest competitor:
The latest poll from New Hampshire showed real estate mogul Donald Trump leading the Republican presidential field with more than three times the support of his closest competitor

The Democratic-leaning Public Policy Polling found Trump in his strongest position thus far with 35 percent support among usual Republican primary voters.

Ohio Gov. John Kasich polled second at 11 percent and former technology executive Carly Fiorina polled at 10 percent. No other candidates reached double digits.

Wisconsin Gov. Scott Walker's support dropped dramatically. Walker lead the PPP poll in April at 24 percent. In the latest survey, Walker was tied with former Florida Gov. Jeb Bush at 7 percent.
In addition to the lead in the first-in-the-nation primary, Trump also seems to be holding a lead in South Carolina, which holds it's primary eleven days later:
Donald Trump holds a commanding lead among likely Republican primary voters in South Carolina, according to a new Monmouth University poll released Tuesday.

Three in 10 voters (30 percent) said Trump is their first choice, followed by retired neurosurgeon Ben Carson at 15 percent. Neither candidate has held elected office, and 61 percent of voters said they would prefer someone from outside of Washington to bring a new approach.

Trump received a solid favorability rating of 58 percent to just 28 percent unfavorable, though Carson drew the highest at 72 percent to 9 percent. Al,so drawing net positive favorability marks are: Rubio (43 points), Fiorina (40 points), Huckabee (30 points) and Walker (33 points).

Five candidates have net negative approval ratings, including South Carolina's own Sen. Lindsey Graham (15 points), Christie (8 points), Paul (13 points), former New York Gov. George Pataki (24 points) and former Virginia Gov. Jim Gilmore (17 points).
Finally, there's a new national poll out from Gravis Marketing that shows Trump with an astonishing 40%, with Ben Carson way back in second place at 13%, Jeb Bush at 10%, and everyone else in single digits. It's worth noting, though, that Gravis's polling has always been something of an outlier compared to other national polling. This would seem to be something to especially keep in mind in this case when every other recent national poll is showing Trump's lead somewhere in the 25% range. At the same time, of course, this number from Gravis isn't all that different from the numbers we're seeing out of New Hampshire and South Carolina in the two polls noted above. Whether that actually translates into something close to 40% support nationally is something that would have to wait until we see additional polling that confirms this, it seems fairly clear that Trump's strength in the race is not diminishing, and may actually be increasing.
Pushing back against this latest tide of seeming Trump victory in the polls, Nate Cohn suggests that current polls may be overstating Trump's level of support among Republicans:
Ever since Donald Trump has risen to the top of the polls, Republican strategists have questioned whether those polls might be overestimating his support.

There is evidence to support that theory.

We wrote about Mr. Trump's support on Sunday, using polling data provided by Civis Analytics, a Democratic data firm founded by the 2012 Obama campaign's analytics director, Dan Wagner. It showed Mr. Trump faring worse than in many recent public polls, but it was not enough to call his lead into question.

An analysis of the data revealed that he fares best among voters who don't regularly participate in primary elections. Nevertheless, he still leads the other G.O.P. candidates, even among the most frequent voters.

The analysis also suggests that although Mr. Trump fares better among irregular voters, it's not by an unusual amount. And some other candidates also do better with infrequent voters.

(…)

If Mr. Trump had a big advantage among unlikely voters, a poll using a listed sample — like the Civis data — would be the way to find out. The Civis poll was conducted Aug. 10 to 19 and had a sample of 757 respondents. That sample was as much as three times larger than that of some public polls.

The results showed Mr. Trump with 16 percent of the vote, below any of his poll results in a month. But much of the difference was because 22 percent of voters in the Civis poll were undecided — much more than in many recent public surveys.

(…)

Parsing the results by vote history helps illustrate that Mr. Trump's support was lowest among the most frequent voters. Mr. Trump had 15 percent support among voters who had participated in a primary since 2008, but he had 22 percent of the vote among Republicans who did not vote in the 2012 general election.

Mr. Trump's seven-point gap was rivaled by Mr. Bush at five, and Chris Christie at four. Mr. Christie had virtually no support — at 1 percent of the vote — among voters who had voted in a primary since 2008.

On the other hand, Mr. Kasich fared four points better among voters who had participated in a primary than those who had not. Mr. Walker, Mr. Cruz, Mrs. Fiorina and Mr. Huckabee all fared three points better.

Over all, the data is consistent with the view that Mr. Trump's support might be overstated by public polls. But he leads among voters who have participated in one or 12 elections. His challenge among likely voters isn't necessarily unique. His lead might be modestly overstated, but it's not a mirage.
You can read Cohn's analysis for yourself, but the basic point of his argument seems to be that the polls we're seeing right now are capturing voters who may not be very likely to vote in the primaries that start less than six months from now. Of course, this is always a problem with polls this far out from an election because it's often difficult for pollsters to parse exactly who is going to show up to vote. This is especially true in a caucus state like Iowa where a voter must be willing to go out in the evening in February and spend several hours in a room for their candidate as opposed to simply showing up at a polling place and casting a ballot. That's one of the reasons why a candidate's "get out the vote" efforts are so important, because all the great poll numbers in the world don't matter if the people who say that they would vote for you don't show up to their caucus location or polling place when it actually counts. This is why pollsters try to refine their likely voter models as we get closer to election, but as we have seen many times in the past, sometimes it isn't very easy to predict who is going to show up on Election Day. That's why, for example, Virginia Senator Mark Warner barely won re-election even though pre-election polling was showing him leading by a comfortable margin.
None of this should suggest that Trump's dominance in the Republican race is somehow phony. As Cohn himself notes, even if this analysis is largely correct it still shows Trump with a fairly decent lead among the Republican voters who are most likely to show up and vote in primaries and caucuses. Additionally, the fact that there is a large portion of his supporters who are unlikely voters doesn't necessarily mean very much. One of the ways a candidate can succeed in an election is by appealing to voters who don't typically turn out to the polls and making sure that they get out and vote. If Trump maintains is current lead in the polls and his able to do that, he could very well be quite successful once the time to vote comes around.