Trump Getting Ready To Blame Others For Anticipated GOP Losses
Faced with the probability of losses today, President Trump is already getting ready to blame everyone but himself.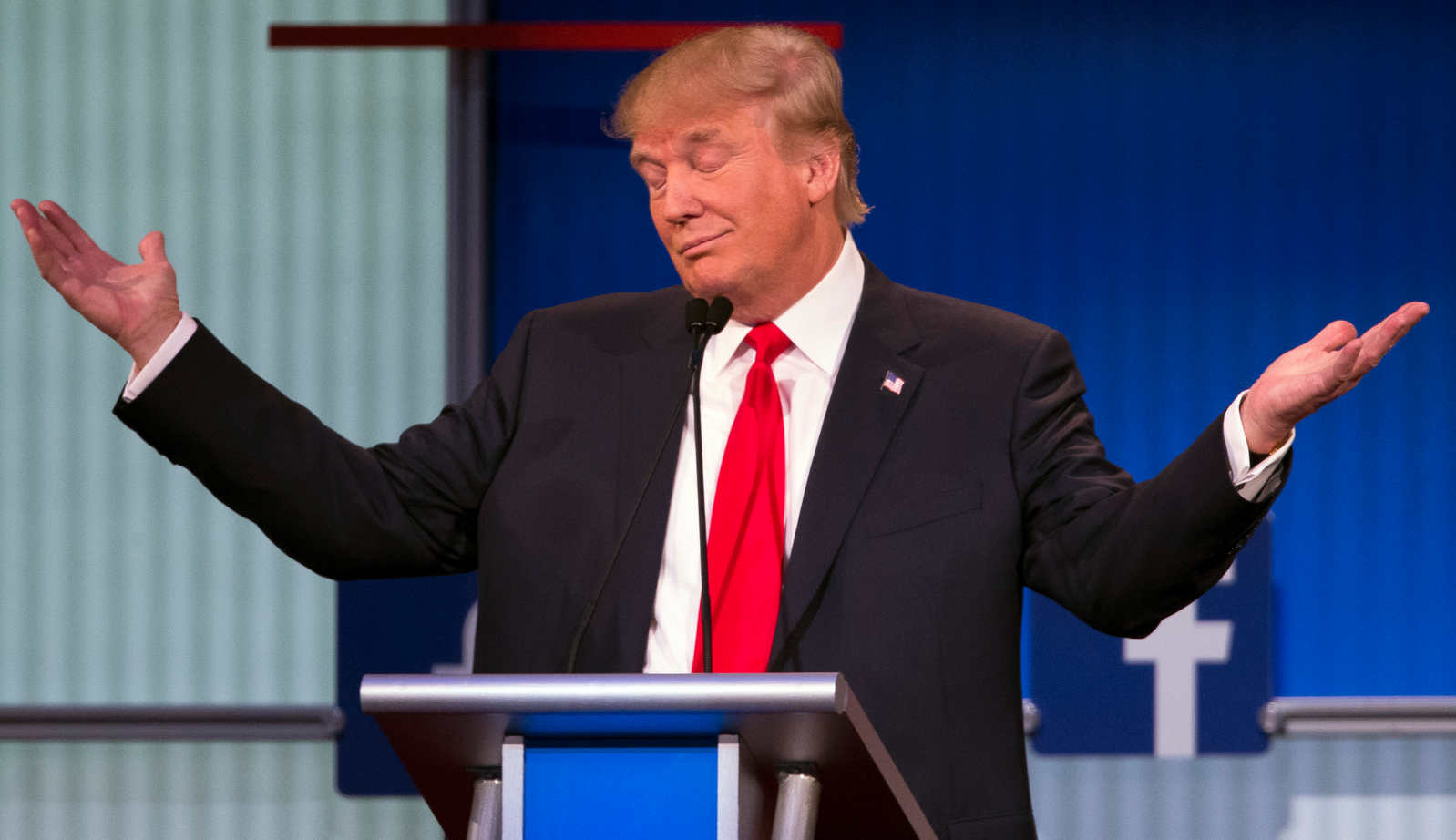 With most projections showing that Republicans will at least lose control of the House of Representatives and several Governor's Mansions, and could conceivably also lose control of the Senate, President Trump is already laying the groundwork for finding someone to blame for the losses other than himself:
President Donald Trump on Monday pre-emptively spread around blame for the results of Tuesday's midterms elections, accusing CNN of peddling "fake suppression polls" and floating the prospect of widespread fraudulent voting.

"So funny to see the CNN Fake Suppression Polls and false rhetoric. Watch for real results Tuesday," the president tweeted. "We are lucky CNN's ratings are so low. Don't fall for the Suppression Game. Go out & VOTE. Remember, we now have perhaps the greatest Economy (JOBS) in the history of our Country!"

CNN on Monday released a poll in which Democrats are leading Republicans, 55 percent to 42 percent, in the generic congressional ballot among likely voters. The poll was conducted by SSRS from Nov. 1 to Nov. 3 with a random national sample of 1,518 adults. The respondents were reached by landline or cellphone, and the poll had a margin of error of plus or minus 3.1 percentage points.

While it is widely believed that Democrats have a strong chance of taking back the House, a POLITICO/Morning Consult poll released Monday showed a much slimmer margin. Forty-three percent of registered voters would vote for the Democratic congressional candidate, whereas 40 percent said they would vote for the Republican candidate, the poll found. In addition, 18 percent are undecided
Here's the Presidential Tweet in question:
So funny to see the CNN Fake Suppression Polls and false rhetoric. Watch for real results Tuesday. We are lucky CNN's ratings are so low. Don't fall for the Suppression Game. Go out & VOTE. Remember, we now have perhaps the greatest Economy (JOBS) in the history of our Country!

— Donald J. Trump (@realDonaldTrump) November 5, 2018
Trump also returned to a familiar topic, and one that he and his supporters may bring up in the event of losses today:
Law Enforcement has been strongly notified to watch closely for any ILLEGAL VOTING which may take place in Tuesday's Election (or Early Voting). Anyone caught will be subject to the Maximum Criminal Penalties allowed by law. Thank you!

— Donald J. Trump (@realDonaldTrump) November 5, 2018
The President has made claims about so-called "illegal voting" in the past, of course. Even after winning the election two years ago, he claimed that so-called illegal voting was the reason why his Electoral College win over Hillary Clinton wasn't larger, and largely the reason why Clinton won the Popular Vote while losing in the Electoral College. There was, of course, no evidence whatsoever to support this claim. When he became President, Trump established a commission to investigate "voter fraud" that seemed principally obsessed with proving this claim, but the commission shut down without ever coming close to finding even a scintilla of evidence to prove the President's claim. Notwithstanding that fact, both Trump and many of his supporters have continued to claim that illegal voting cut into his margin of victory and that the caravan of migrants making its way through Mexico is somehow connected to Democratic efforts to "steal" the midterm elections.
In addition to the President's tweet, Attorney General Jeff Sessions also joined in on the "illegal voting" bandwagon:
President Trump and Attorney General Jeff Sessions on Monday issued strong warnings about the threat of voter fraud in Tuesday's elections, echoing the president's baseless claims that massive voter fraud marred his 2016 election and prompting accusations that his administration is trying to intimidate voters.

In a tweet early Monday, Trump said that law enforcement has been "strongly notified" to watch for "ILLEGAL VOTING." He promised that anyone caught voting improperly would be subjected to "Maximum Criminal Penalties." Sessions, in a statement laying out the Justice Department's plans to monitor ballot access on Election Day, said "fraud in the voting process will not be tolerated. Fraud also corrupts the integrity of the ballot."

In remarks to reporters on his way to a campaign rally in Cleveland, Trump also falsely claimed that voter fraud is commonplace.

"Just take a look," he said. "All you have to do is go around, take a look at what's happened over the years, and you'll see. There are a lot of people — a lot of people — my opinion, and based on proof — that try and get in illegally and actually vote illegally. So we just want to let them know that there will be prosecutions at the highest level."

There is no evidence of widespread voter fraud in the United States. Trump formed a commission to study the issue shortly after he took office that was disbanded without finding evidence of fraud after states refused to turn over voter data.

Voting rights advocates denounced Trump's remarks as a blatant attempt to intimidate voters on the eve of Election Day — and part of a pattern among Republicans, they said, to curtail voting access with strict rules that disproportionately affect voters of color who tend to vote Democratic.

"I find this kind of conduct incredibly anti-patriotic," said Kristen Clarke, who leads the Lawyers' Committee for Civil Rights Under Law, a voting rights group that has successfully challenged several new voting restrictions across the country this year. "At a time when we need our White House and Justice Department speaking out against the relentless campaign of voter suppression in this election cycle, it defies reason."

Accusations of voter fraud and voter suppression have roared to the forefront in several closely contested races this year, raising the possibility of recounts and disputed results among dozens of races for House, Senate and governor.

Anticipating possible problems at the polls, political parties, interest groups and voting rights organizations have organized "war rooms" to watch Tuesday's elections unfold and recruited thousands of volunteer lawyers to monitor precincts across the country. In his statement, Sessions said the Justice Department will follow its usual protocol of sending monitors across the country to protect against voter suppression, intimidation and discrimination; this year, staff will travel to 35 jurisdictions in 19 states to monitor compliance with voting laws.

In past years, Justice Department officials have not listed voter fraud as a top concern when announcing the deployment of election monitors, as Sessions did Monday.

"It's indicative of a pattern with this administration," said David Vance, a spokesman for Common Cause, a civil rights group that helped recruit 6,500 volunteers to monitor polling locations across the country Tuesday. "It's an effort to intimidate voters and keep them away from the polls and try to dictate which voters will turn out and which voters won't. It flies in the face of what the DOJ has done traditionally to protect voters."
Leaving aside the largely non-existent issue of voter fraud, the broader issue here is the fact that it seems clear that the President will likely seek to find someone or something else to blame in the event that his party suffers huge losses today. Of course, he has been laying the groundwork for this for a while now even as he has traveled the country telling his supporters that their vote on the midterm elections was, effectively a vote for him. In other remarks to the press back in Washington, though, the President has been openly suggesting that losses in the House or the Senate will be the blame of the Republican leaders in those bodies. This is a rather bizarre claim to make, of course, given the fact that it is the President that has sought for the past several months to nationalize these elections and, as noted, to make the midterms a referendum on his Presidency.
This contrasts markedly, of course, with how previous Presidents handled midterm losses. When Democrats lost 60 seats in the House and six seats in the Senate in 2010, for example, President Obama admitted that his party took a 'shellacking,' and that in at least some sense the outcome was a referendum on the first two years of his Presidency. Other Presidents who have seen large midterm losses, such as President Bush in 2006, President Clinton in 1994, and President Reagan in 1982 and 1986. Not this President. For this President, everything that goes right is because of his magic touch, and everything that goes wrong is due either to conspiratorial outside forces such as so-called "voter fraud" or basically just anyone other than himself.
The reality, of course, is that these elections are in fact a referendum on the Trump Presidency to date, and polling has shown that both Democrats and Republicans who either have voted early or will be voting today are most strongly motivated by the President and his agenda. For Democrats and Independents who say that they are leaning toward or will most definitely vote for a Democratic candidate, sending a message to the President and the GOP is cited as one of the top reasons motivating their decisions of who they'll be voting for. This, of course, is usually how midterms go, especially the first midterm in a Presidency. Like it or not, what happens today will be a referendum on the Trump Presidency. The question is whether he'll get the message, and whether he'll bother to change anything in response.