Trump Launches Attack On Christine Blasey Ford
After roughly a week of staying silent, President Trump decided last night to openly mock Dr. Christine Blasey Ford.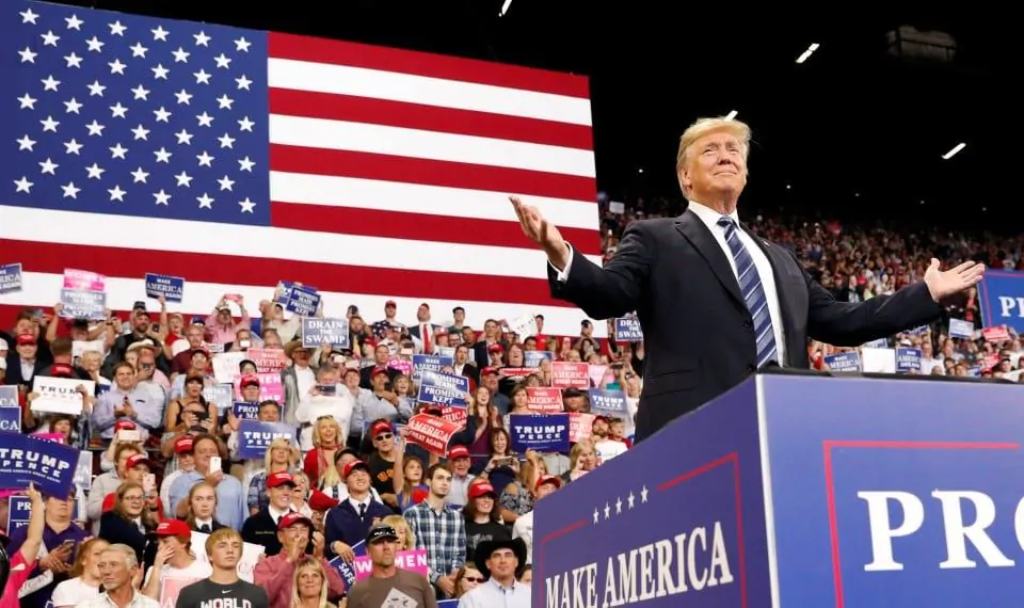 After days of silence since last Thursday's hearing on the accusations made by Dr. Christine Blasey Ford against Judge Brett Kavanaugh, and even at some points seemingly going out of his way to acknowledge that she came across as credible, President Trump took off the gloves last night in Mississippi and went directly after Dr. Blasey Ford in a manner that had his loyal minions in the crowd cheering:
President Trump on Tuesday sharply mocked the woman whose allegation of sexual assault has upended his effort to install a second justice on the Supreme Court, escalating a battle that has already polarized Washington and the country.

At a campaign rally, Mr. Trump went further than ever before in directly assailing Christine Blasey Ford, the university professor who accused Judge Brett M. Kavanaugh, his nominee, of pinning her to a bed and trying to take her clothes off at a high school party in the early 1980s.

Playing to the crowd of thousands gathered to cheer him on, the president pretended to be Dr. Blasey testifying before the Senate Judiciary Committee last Thursday. "Thirty-six years ago this happened. I had one beer, right? I had one beer," said Mr. Trump, channeling his version of Dr. Blasey. His voice dripping with derision, he then imitated her being questioned at the hearing, followed by her responses about what she could not recall about the alleged attack.

"How did you get home? I don't remember. How'd you get there? I don't remember. Where is the place? I don't remember. How many years ago was it? I don't know. I don't know. I don't know. I don't know. What neighborhood was it in? I don't know. Where's the house? I don't know. Upstairs, downstairs, where was it? I don't know," Mr. Trump said, as the crowd applauded. "But I had one beer. That's the only thing I remember."

Then, continuing in his own voice, he said: "And a man's life is in tatters. A man's life is shattered. His wife is shattered." Referring to those who have championed Dr. Blasey's case, he added: "They destroy people. They want to destroy people. These are really evil people."

Senator Jeff Flake, Republican of Arizona, criticized the president's mocking of Dr. Blasey.

"To discuss something this sensitive at a political rally is just not right, it's just not right and I wish he had not have done it," Mr. Flake said early Wednesday on NBC. "It's kind of appalling."

Mr. Flake is a key Republican who had pushed for the Senate Judiciary Committee to allow Dr. Blasey to testify about her sexual assault. And, last week, Mr. Flake recommended, in coordination with Democrats, that the F.B.I. spend another week conducting a background check on Judge Kavanaugh.

Mr. Trump's taunts could inflame a struggle over power and sex that has consumed the capital in recent weeks and risked alienating two of the undecided moderate Republicans whose votes will decide the fate of his nomination, Senators Susan Collins of Maine and Lisa Murkowski of Alaska.

The president's advisers and his Republican allies in the Senate have implored him to restrain himself in the fight to salvage Judge Kavanaugh's nomination, and for the most part, he has kept to defending the nominee and accusing Democrats of a "con game" while not overtly disparaging Dr. Blasey. On a couple of occasions, he broke from script and directly questioned her account as unbelievable, drawing a rebuke from Ms. Collins, who called his comments "appalling," but this was the first time he mocked Dr. Blasey in this way.

Mr. Trump's impression of Dr. Blasey, 51, a research psychologist at Stanford University and a psychology professor at Palo Alto University who also goes by her married name, Ford, drew a pointed retort on Tuesday night from Michael R. Bromwich, one of her lawyers.

"A vicious, vile and soulless attack on Dr. Christine Blasey Ford," he wrote on Twitter. "Is it any wonder that she was terrified to come forward, and that other sexual assault survivors are as well? She is a remarkable profile in courage. He is a profile in cowardice."

The ridicule of Dr. Blasey cut against the grain of the Republican strategy until this point of trying to gingerly question her account without seeming to attack her. Senate Republicans have emphasized their respect for Dr. Blasey and have praised her bravery in coming forward even as they accepted Judge Kavanaugh's adamant denials. The president himself said after the hearing last week that Dr. Blasey was "a very credible witness" and "a very fine woman" whose testimony was "very compelling."

Earlier Tuesday, the president's advisers were privately marveling at how measured — for him — he had been throughout the controversy around Judge Kavanaugh's confirmation process. But his patience appeared to run out on Tuesday night, as Mr. Trump seemed eager to charge up his supporters against Dr. Blasey.

Mr. Trump's portrait of Dr. Blasey was met with cheers and laughter by the crowd of several thousand supporters at the Landers Center in Southaven, Miss. And it mirrored the increasingly sharp attacks against her by conservative news media, which in recent days has questioned her credibility about what were deemed inconsistencies in her testimony.
Democrats were quick to denounce the President's mocking tone toward Dr. Blasey Ford, and they were joined by Senator Jeff Flake of Arizona:
Democrats — as well as key Republican Sen. Jeff Flake — criticized President Donald Trump Wednesday after he used a speech in Mississippi to repeatedly mock Christine Blasey Ford, who accused Supreme Court nominee Brett Kavanaugh of sexually assaulting her when they were teenagers.

In an interview with NBC's "Today," Sen. Jeff Flake, R-Ariz., who sided with his Democratic colleagues last week in seeking a one-week pause on the confirmation process of Kavanaugh to allow the FBI to investigate multiple claims of sexual misconduct, called Trump's remarks the prior evening "appalling."

"There's no time and no place for remarks like that," Flake said Wednesday. "To discuss something this sensitive at a political rally is just not right."

"I wish he hadn't done it," added Flake, whose vote Senate Republicans would likely need to confirm Kavanaugh if all Democrats oppose the nomination.

Sen. Susan Collins, R-Maine, another undecided vote on Kavanaugh, said Wednesday that "the president's comments were just plain wrong."

Democrats were outspoken about Trump's remarks on Tuesday night, too.

Sen. Kamala Harris, D-Calif., a member of the Senate Judiciary Committee, tweeted that Ford "deserves better."

"Dr. Ford is a profile in courage," Harris wrote after Trump spoke. "She knew what she was up against when she came forward but spoke out because she felt it was her civic duty. She deserves better."

Sen. Mazie Hirono, also a member of the Senate Judiciary Committee, told CNN that Trump's remarks were proof that "we can always count on the President to go down to the lowest common denominator."

"Mock people, call people names, attack them," she said. "This is what he does."

Sen. Chuck Schumer, D-N.Y, said Trump "owes Dr. Ford and immediate apology."

Sen. Kirsten Gillibrand, D-N.Y., said, "I thought his comments were disgraceful and shows that he has no empathy for survivors of sexual violence. It was just another statement by our president to show that he doesn't value women, and I really was disgusted."

Sen. Angus King, I-Maine, said the president's comments "made me feel sort of sick."

"I don't understand why he felt he had to do that," he told CNN's "New Day" Wednesday.

"To turn around and turn her powerful testimony into a political rally punchline, I don't know what to say," added King, who caucuses with the Senate Democrats and who has said he will vote against Kavanaugh's confirmation.
These remarks came just hours after the President made statements as he departed for Mississippi in which he clearly expressed more sympathy for men accused of abusing women than for the women making the accusations:
President Donald Trump on Tuesday said he believes the reaction to the allegations of sexual assault and other misconduct against Supreme Court nominee Brett Kavanaugh makes it "a very scary time for young men in America."

"It is a very scary time for young men in America, where you can be guilty of something you may not be guilty of," Trump said. "This is a very, very — this is a very difficult time. What's happening here has much more to do than even the appointment of a Supreme Court justice."

The allegations against Kavanaugh — including sexual assault and exposing himself to a young woman in college — have sparked the latest reckoning in America about sexual assault and men's treatment of women, bringing the #MeToo movement back to the fore. And while Trump has called Christine Blasey Ford, who testified to Congress that Kavanaugh sexually assaulted her while they were in high school, "credible" and "compelling," he has continued to support Kavanaugh's confirmation and emphatically defend his character.

Trump's comments on Tuesday were just the latest instance of the President expressing concern about the public outcry resulting from the allegations against Kavanaugh and the impact on other men.

"It's a very scary situation where you're guilty until proven innocent. My whole life I've heard you're innocent until proven guilty, but now you're guilty until proven innocent. That is a very, very difficult standard," Trump told reporters on the South Lawn of the White House. "You could be somebody that was perfect your entire life and somebody could accuse you of something."
Last night's remarks were a significant change from how the White House was approaching the accusations made by Dr. Blasey Ford up until now. While the official statements and the President continued to make statements in support of Judge Kavanaugh, there was a marked and rather apparent effort to avoid directly attacking his accuser. In fact, in the immediate aftermath of the hearing last Thursday, President Trump went out of his way to say that Dr. Blasey Ford's testimony was "very compelling," and even called her a "very credible witness."  This itself was a marked departure from where Trump was just a week before when he was seeking to undermine Dr. Blasey Ford's story before she had testified. 0Other White House spokespersons stayed within these boundaries with several, such as Presidential advisor Kellyanne Conway, going out of their way to at least appear to be sympathetic toward Dr. Blasey Ford. This didn't mean that they were abandoning Judge Kavanaugh, of course, but there seemed to be at least some recognition that directly attacking someone putting forward a seemingly credible story of how she had been sexually assaulted as a young teenager was a step too far that was likely to backfire on the President, the Administration, and the Republican Party heading into the midterm elections.
All of that changed last night in Mississippi. Instead of being restrained, the President not only attacked the allegedly incredulous elements of Dr. Blasey Ford's testimony but also openly mocked her in a way that demeaned her specifically and women generally and seemed clearly designed to throw red meat at the pro-Trump crowd that he was speaking to. To some extent, I suppose that this was inevitable. Trump himself has a long history of demeaning women who make accusations of sexual assault and harassment, whether it is those that have been made against him, For example, Trump has attacked the women who made sexual harassment claims against people such as Bill O'Reilly and Roy Moore. In addition, he has a long history of attacking women generally, whether it be entertainers such as Rosie O'Donnell, journalists such as Megyn Kelly, politicians such as Carly Fiorina, or political wives such as Heidi Cruz. Given this history, I suppose it was inevitable that the President would turn his fire on the most credible accuser of his Supreme Court nominee, but that doesn't make it any less detestable.
The President isn't alone in unleashing against Dr. Blasey Ford. As The New York Times notes, he's being joined by Senate Republicans, No doubt, this will play well with the base of the Republican Party, to whom it was most clearly aimed. In terms of decency, though, it was rather deplorable. But then, that's an apt description of this entire Administration.