Trump Says He'd Never Spy On North Korea
President Trump says that he would not spy on a rival regime like North Korea, once again making one wonder where his loyalties lie.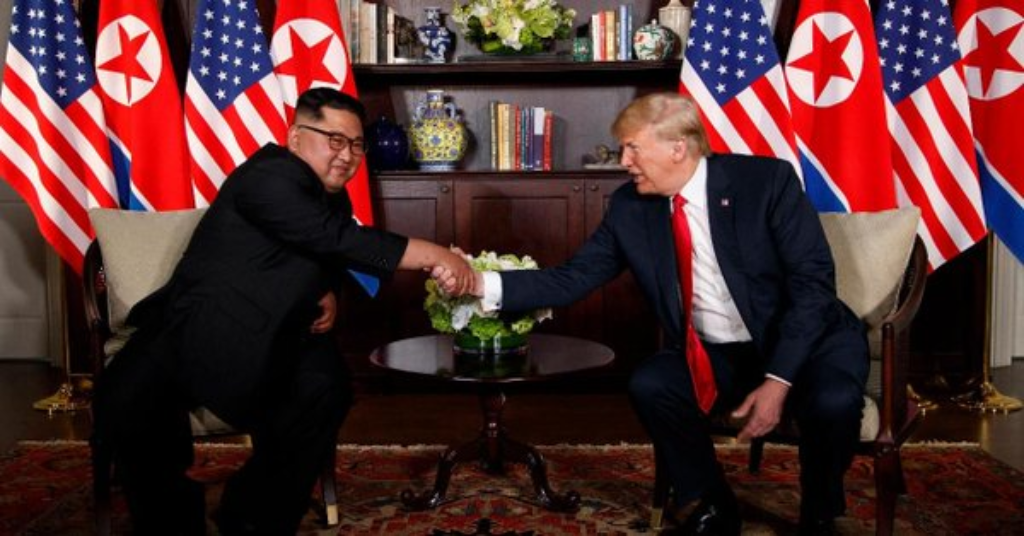 Earlier this week, The Wall Street Journal reported that the CIA apparently had a very-inside source for information regarding North Korean dictator Kim Jong Un, specifically his half-brother Kim Jong Nam, who was the eldest son of Kim Jong Il and his long-time mistress Song Hye Rim (Kim Jong Un is the son of Kim Il Sung and Ko Yung Hui, another longtime mistress and consort.) While the report went on to note that the elder Kim brother was believed by American intelligence to be at best a secondary source of information due to the fact that he had been in exile since before his half-brother became leader after their father died, the revelation of a source so close to Kim's inner circle is surprising and obviously something American intelligence would be interested in. The elder Kim brother, of course, was killed by an apparent poison attack in an airport in Malaysia by what authorities believe to be a hit team sent by the DPRK.
Responding yesterday to questions about this report, President Trump said he'd never spy on the leader of North Korea:
WASHINGTON (Reuters) – U.S. President Donald Trump took a public stance against the use of CIA informants to spy on North Korean leader Kim Jong Un on Tuesday, saying it would not happen on his watch and possibly taking away a valuable tool of the U.S. intelligence community.

Trump's remarks to reporters on the South Lawn of the White House represented a fresh attempt by the president to cozy up to the North Korean leader, a policy that has drawn criticism for seeming to overlook Kim's autocratic rule.

Trump spoke a day after the Wall Street Journal reported that Kim's slain half-brother, Kim Jong Nam, was a source for the U.S. Central Intelligence Agency. Kim Jong Nam was killed at the airport in Kuala Lumpur, Malaysia, in 2017.

"I saw the information about the CIA, with respect to his brother, or half-brother. And I would tell him that would not happen under my auspices, that's for sure. I wouldn't let that happen under my auspices," Trump said.

His comments represented the latest in a series of instances in which he has appeared to be at odds with the U.S. intelligence community.

The CIA had no immediate comment on the remarks.

Susan Rice, who was national security adviser for Trump's Democratic predecessor, Barack Obama, tweeted her reaction to the remarks: "America, this tells you all you need to know about our so-called 'Commander-in-Chief.'"

(…)

Preventing the CIA from being able to recruit sources like Kim's late half-brother or highly placed North Koreans would deny the agency valuable insights into its leadership and threats to regional and U.S. security.

"The president should understand that to keep the nation safe, the CIA needs to be able to do its job gathering and analyzing intelligence that will support the full range of diplomatic, military, and economic policies and initiatives," Jung H. Pak, a former senior U.S. intelligence official who specialized in East Asia and is now with the Brookings Institution think tank, wrote in an email.
Here's the video:
The Atlantic's David Graham comments:
American officials often avoid discussing sensitive stories like this with the press, and one reason for that caution became clear as Trump continued. The context of his remarks makes clear that what Trump "wouldn't let … happen" is not Kim Jong Nam's killing, but his cultivation as an American asset. Trump has said that former President Barack Obama described North Korea as the nation's greatest foreign-policy challenge, and Trump has taken that cue, making it a major priority. By saying he wouldn't allow American intelligence to cultivate an asset so close to Kim, he's saying he wouldn't use spying to better understand the country's biggest overseas challenge.

Put another way, he's ruling out having the best information possible headed into high-stakes negotiations. Tying one hand behind your back like this makes sense only if you have a messianic belief in your own negotiating prowess—which Trump does, despite the collapse of the most recent round of talks.

It might be a moot point, however, because by responding this way, Trump is sending a clear message to any would-be informants: The United States doesn't have your back. Why would any other North Korean take the risk of ending up like Kim Jong Nam? If Fifield and the Journal are right, Kim Jong Nam's assassination wasn't just Kim killing his brother and rival; it wasn't even just North Korea using chemical weapons in a foreign country. It was North Korea killing an American intelligence asset in the early days of the Trump administration, a test of the new president's resolve.

Trump's nonchalance is especially strange given that the United States expelled 60 Russian diplomats in 2018 in retaliation for Russia's poisoning of Sergei Skripal and his daughter in Britain. Yet when an alleged American informant is killed, his response is not to warn North Korea not to act that way again, but to rush to assure North Korea that he won't let such spying happen again
As with so many things this President has said recently, including the comments he made just yesterday about getting campaign assistance from foreign sources in violation of the law, this is shocking but, as E.J. Dionne notes, not surprising:
It appears we are so dulled to Trump's daily disgraces that we're letting this one pass. The president of the United States is effectively scolding our intelligence services for doing their jobs. He's saying to an adversary: Don't worry, I've got your back. Our terrible agents won't trouble you again.

Not for the first time, we have to ask whether any allied foreign intelligence service can trust us with information — and what risks a would-be informant will take on our behalf. Such a source might well ponder whether Trump would send a "very personal, very warm" letter to one of his dictator friends outing our covert ally. And how much information can our CIA share with our commander in chief?

Inadvertently, Trump, who spent a lot of time during his White House encounter with reporters trashing Biden, brought home the former vice president's message of the day.

"The president," Biden said Tuesday in Ottumwa, Iowa, "is literally an existential threat to America."

Anyone who has listened to Biden over the years knows of his deep affection for the word "literally." But he is, literally, right to use it with respect to our president. Trump's fondness for autocrats is not just a reflection of his deeply defective values. It leads him to behavior that is genuinely dangerous to the national security of the United States.

(…)

[O]ur country deserves to know what is really going on between our president and the gangster he used to call "Little Rocket Man." Maybe someone at the CIA can tell us.
Again, I'd call this shocking or surprising, but those words have essentially lost all meaning with this President. There seems to be little doubt that the regime in North Korea is a threat to the United States, if not in the existential sense then at least in the strategic sense and the extent to which it poses a threat to our allies in Seoul, Tokyo, and elsewhere in the Western Pacific region. It is also one of the most closed societies in the entire world. Therefore, any intelligence that we could receive about the goings-on inside the Hermit Kingdom, and most certainly any insights about Kim Jong Un himself, would be invaluable to Trump or any other President. This is why it isn't hard to believe that American intelligence would have reached out to KimJong Nam even if they considered him a potentially unreliable or unuseful source of information about the current situation in Pyongyang. For Trump to say that he'd reject any effort to spy on the regime in this regard is, therefore, nothing less than a dereliction of his duty to "preserve, protect, and defend" the nation. This makes clear that he has no intention of doing so. Americans should act accordingly.
During the same statement to the press, Trump also disclosed that he had received a "beautiful letter" from Kim Jong Un, although he declined to say what the letter said. Later reports indicated that the letter contained little of substance and nothing that would advance the stalled talks between the two nations. It also came just a day before today's one-year anniversary of the Singapore Summit between Kim and Trump which, of course, turned out to be little more than a photo opportunity notwithstanding the President's claims to the contrary.
Even after the failed Hanoi Summit earlier this year and the numerous signs that the North Koreans are heading back toward a more aggressive stance on the peninsula at least toward the United States, Trump continues to refer to his counterpart in Pyongyang in flattering terms and to insist that the North Koreans are in agreement with the United States on issues such as denuclearization even when it is clear that this is not the case. Given that, it's hardly surprising that he would come out and say that he would not spy on Kim given the opportunity, Indeed, it makes one wonder what orders he has given the intelligence community in this regard,