Trump Sues To Block New York Prosecutor From Seeing His Tax Returns
Donald Trump is suing the District Attorney in Manhattan to stop him from getting copies of Trump's tax returns.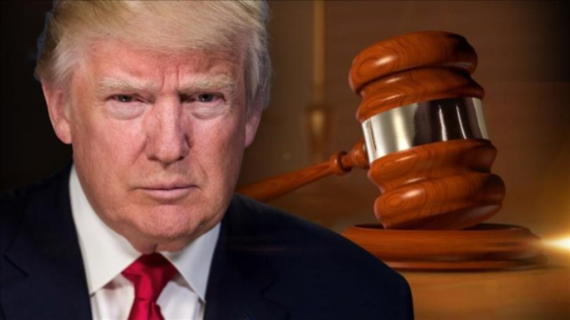 Late last week. President Trump filed a lawsuit against Cyrus Vance Jr, the District Attorney for the borough of Manhattan seeking to block him from obtaining copies of the President's income tax returns and, effectively, arguing that a President cannot be criminally investigated while in office:
President Trump filed a federal lawsuit against the Manhattan district attorney Thursday, his attorney said, seeking to stop him from subpoenaing Trump's tax returns in a probe of hush-money payments during the 2016 election.

In the suit, Trump argues that District Attorney Cyrus Vance is conducting a criminal investigation of him, which he contends is not allowed under the Constitution.

That's because the Constitution prohibits any prosecutor from investigating any sitting president for any criminal wrongdoing, he says.

If that were permitted, Trump says, it could give local authorities too much power to hamstring a president's actions. "All you need is one prosecutor, one trial judge, the barest amount of probable cause, and a supportive local constituency, and you can shut down a presidency," Trump's complaint says, quoting law professor Jed Shugerman, according to a copy of the lawsuit posted online by CNN.

Instead, Trump argued, the power to investigate presidents is invested in Congress, which has the power to impeach and remove presidents for "high crimes and misdemeanors."

His suit also quoted an article by Supreme Court Justice Brett M. Kavanaugh — written in 2009, when Kavanaugh was an appeals court judge — saying that "a President who is concerned about an ongoing criminal investigation is almost inevitably going to do a worse job as President."

On Thursday, U.S. District Judge Victor Marrero ordered a hearing on the lawsuit for Sept. 25. Vance agreed to delay enforcement of the subpoena until after that hearing.

The suit is the latest in a string of similar lawsuits by Trump seeking to block investigations of his finances by prosecutors and New York authorities.

In this case, Vance subpoenaed Mazars USA, Trump's longtime accounting firm, Trump's attorneys said. He asked for eight years' worth of tax returns for Trump and his businesses, plus a number of other financial documents, according to Trump's complaint.
Vance's investigation appears to be focused on the payments made in October 2016 to adult film star Stormy Daniels and former Playboy model Karen McDougal to remain silent regarding the affairs that the two women had with Trump ten years earlier when his wife was pregnant with their son.
Fast-forwarding to the fall of 2016, when Donald Trump was running for President. At that point, there was some concern that these twin stories would come out in advance of the election and damage the President's campaign. This fear apparently became stronger after the release of the Access Hollywood tape, which was quickly followed up by allegations from more than a dozen women of sexually inappropriate behavior by Trump over the years. It was roughly around this time that negotiations began on two fronts.
First, representatives for Stormy Daniels were approached regarding an agreement between her and Trump that would involve being paid a certain amount of money in exchange for her silence regarding her affair with Trump. The agreement was negotiated between an attorney representing Trump and Michael Cohen, who was, of course, Trump's personal lawyer at the time.
The original claim from the White House was that the President had no idea what was going on with regard to these payments, and the President himself restated this position several times when asked about it by reporters. In addition to the fact that these claims of ignorance did not pass the test of credulity, generally speaking, these claims quickly began to fall apart in the spring of this year. In May, for example, Rudy Giuliani, who had at that point only recently joined the President's legal team, appeared on Fox News Channel and revealed, to the surprise of many, that not only did the President know about the payoff to Daniels but that he had reimbursed Cohen for the $130,000 that was paid to Daniels. A week later, the President released an updated financial disclosure in which he acknowledged having reimbursed Cohen beginning late in 2016 and continuing into the beginning months of his time as President.
At roughly the same time that the payment was being negotiated with Daniels, separate negotiations were taking place between McDougal and American Media, Inc, the parent company of the National Enquirer and a number of other publications. The CEO of AMI happens to be David Pecker, a long-time friend of Trump's. AMI and McDougal ultimately reached an agreement that effectively silenced her in advance of that election. Under that agreement, McDougal was paid $150,000 for the rights to her story regarding the affair and apparently promised column space in AMI publications which she has alleged she was never actually given. McDougal has also said that her attorney at the time was also in communication with Michael Cohen regarding such an agreement, although she was not aware of those conservations at the time and the contents of those communications were never revealed to her. In March of last year, McDougal filed suit against AMI alleging that it had not complied with its obligations under the agreement and that the entire purpose for entering into the agreement was to obtain the rights to the story of McDougal's affair with Trump and then never publish it, a practice known as "catch and kill" that AMI has been known to use in the past when it came to stories about people with whom Pecker has a close relationship, such as President Trump. That lawsuit was settled in April, with the result being that McDougal was allowed to keep the payment and retained the rights to tell her story. As with the payment to Stormy Daniels, Michael Cohen has stated that Trump was fully aware of the payment to McDougal.
As I've noted in the past, there seems to be a very clear violation of Federal law here with respect to the Federal election laws governing contributions to Federal campaigns. Specifically, this is the case because it is clear that the payments to Daniels and McDougal were clearly made for the benefit of the campaign, thus making them "in-kind contributions." The fact that the candidate, along with his personal attorney, were the ones facilitating the payments just makes the crimes more apparent. Indeed, it is clear that the Southern District of New York has alleged, through the indictment and other documents setting forth the charges to which Michael Cohen ultimately pled guilty, has already identified the President of the United States, or as he's known in the court documents "Individual 1," as effectively what amounts to an unindicted co-conspirator.
That being said, I am not familiar enough with New York law to speak to what potential charges Vance could be exploring related to these payoffs. They could amount to everything from income tax charges to bank and wire fraud. We should get a better idea of that tomorrow when the Federal District Court Judge to whom this case has been assigned holds a preliminary hearing in the matter that will decide, at least in the short-term, whether Vance will be allowed to proceed with his investigation and enforce the subpoena for Trump's tax documents. Depending on how that goes, the President could find himself facing a whole new set of legal headaches.
Here's the Complaint:
Trump v. Vance Et Al Complaint by Doug Mataconis on Scribd