Trump Tweets Put Odds Of Immigration Reform In Doubt
The odds of an immigration bill passing the House were already low. This morning, President Trump pretty much guaranteed failure.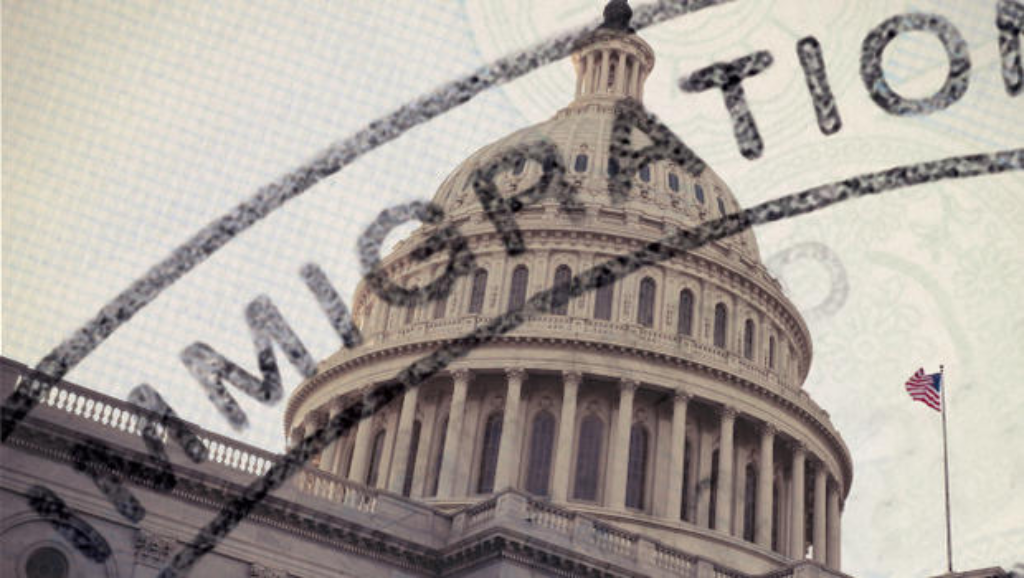 Late yesterday, the House of Representatives failed to pass a hardline immigration reform bill proposed by Judiciary Committee Chairman Bob Goodlatte. This outcome was expected given the fact that the bill did not have widespread support inside the House Republican Caucus and of course didn't garner any Democratic support. This outcome was largely expected, and the original plan was to hold a vote on the bill mostly to placate the immigration hardliners and then turn attention to a more moderate proposal put together by another group of Republicans that included protection for DACA beneficiaries and others brought into the country when they were young, keep families who cross the border together from being separated, and provide funding for President Trump's border wall. Originally, the plan was to hold a vote on that bill today in the hope that they could pass it quickly and pass the whole immigration issue over to the Senate. Late yesterday, though, they scrapped that plan and delayed the vote until next week. Thanks to some early morning tweets from President Trump, though, it's now entirely unclear whether anything can pass the House at all:
WASHINGTON — President Trump appeared to give up hope on Friday that the Republican-controlled Congress could succeed in passing an immigration bill this year, urging lawmakers in a Twitter post to stop "wasting their time."

His advice is likely to kill current efforts to pass a measure that had little chance of succeeding.

The president said a vote on immigration legislation should be postponed until after the midterm elections in November, when he expects Republicans to pick up more seats and create a stronger majority — a prediction that is far from guaranteed.

Mr. Trump's change of course comes as his administration struggles to reunite thousands of migrant parents and their children who have been separated at the border and dispatched to detention facilities around the country.

But House Republicans are moving forward as planned and pushing ahead with efforts to pass immigration legislation, said Representative Steve Scalise of Louisiana, the majority whip.

"I think the president's expressing his frustration that Democrats don't want to solve the problem while we do, and we're going to keep working to try to get it done," Mr. Scalise said.

He acknowledged that passing the bill would be an "uphill fight."

For the past week, Mr. Trump has demanded changes in the nation's immigration laws and encouraged Congress to act with urgency. Relenting to pressure from lawmakers of both parties, as well as his wife and daughter, Ivanka, Mr. Trump signed an executive order on Wednesday to stop separating families.

(…)

The proposal, negotiated by moderate and conservative Republicans, would provide a citizenship path for young unauthorized immigrants and keep migrant families together when they are stopped at the border. But without Mr. Trump's backing, the bill is essentially guaranteed to fail.

The House speaker, Paul D. Ryan, a Republican of Wisconsin, had no immediate comment on Friday about the president's change of course.
More from The Washington Post:
President Trump said Friday that Republicans should stop "wasting their time" on immigration, suggesting they put off efforts to pass legislation until after the November elections, when he predicted more GOP members of Congress will be elected.

Trump's comments, in a morning tweet, came after Republican House leaders abruptly postponed a vote Thursday on a broad immigration bill intended to unite GOP moderates and conservatives, acknowledging they lack the votes to pass the measure despite a growing uproar over separating migrant families at the border.

Trump's tweet, GOP aides said, could make the task of corralling votes for the bill significantly more difficult heading into the weekend, though House Republican leaders said negotiations would continue.

"Republicans should stop wasting their time on Immigration until after we elect more Senators and Congressmen/women in November," Trump wrote. "Dems are just playing games, have no intention of doing anything to solves this decades old problem. We can pass great legislation after the Red Wave!"

In a later tweet, Trump also accused Democrats of telling "phony stories of sadness and grief" to help gain the upper hand in this year's elections.

Majority Whip Steve Scalise (R-La.) said Trump was "expressing his frustration" at a lack of Democratic involvement on the issue and that efforts will continue to find enough votes to pass a bill. But Scalise acknowledged it will be "an uphill fight."

"We're going to move forward," he said. "We're going to have a vote. … It would be nice if you had at least one Democrat who was willing to vote for a bill that secures America's border, and so far none have been willing to do that."

Responding to Trump's latest tweets, Democrats — who are optimistic they will pick up seats in both chambers of Congress in November — said it was Trump who is standing in the way of immigration reform and trying to create a political issue. They have expressed frustration that the Republican bills were crafted without their input.

(…)

Rep. Bradley Byrne (R-Ala), a member of the whip team in the House, said Trump could make a difference in passing legislation if he were more emphatic about what he wants.

"If the president said to a given bill, 'That's my bill, that's the one I want,' I think that would have a pretty significant impact on our discussions," Byrne said. "But he hasn't done that yet. and so we're continuing to work without that."

Despite the GOP leadership's vows to fight on, some Republicans were openly skeptical about their ability to achieve success in the wake of Trump's latest tweets.

"Game over," Rep. Mark Sanford (R-S.C.) said during an interview on CNN. "It takes the wind out of the sails in what might have been a fairly productive week in terms of looking for compromise. I don't know how it happens, because if you look at how contentious this issue is, how much emotion there is, without the president being out front — without the president having legislators' backs — there's no way they're going to take the risks that would be inherent in a major reform bill."

GOP aides were more cautious in their assessment. The chances of a bill passing are "not good, and worse with the POTUS tweets," said one aide who requested anonymity to speak candidly about the sensitive issue. Another said Trump would be to blame if legislation fails.
Here are Trump's immigration-related tweets from this morning:
Even if we get 100% Republican votes in the Senate, we need 10 Democrat votes to get a much needed Immigration Bill – & the Dems are Obstructionists who won't give votes for political reasons & because they don't care about Crime coming from Border! So we need to elect more R's!

— Donald J. Trump (@realDonaldTrump) June 22, 2018
Elect more Republicans in November and we will pass the finest, fairest and most comprehensive Immigration Bills anywhere in the world. Right now we have the dumbest and the worst. Dems are doing nothing but Obstructing. Remember their motto, RESIST! Ours is PRODUCE!

— Donald J. Trump (@realDonaldTrump) June 22, 2018
Republicans should stop wasting their time on Immigration until after we elect more Senators and Congressmen/women in November. Dems are just playing games, have no intention of doing anything to solves this decades old problem. We can pass great legislation after the Red Wave!

— Donald J. Trump (@realDonaldTrump) June 22, 2018
We must maintain a Strong Southern Border. We cannot allow our Country to be overrun by illegal immigrants as the Democrats tell their phony stories of sadness and grief, hoping it will help them in the elections. Obama and others had the same pictures, and did nothing about it!

— Donald J. Trump (@realDonaldTrump) June 22, 2018
As Congressman Scalise is quoted as saying, the current plan in the House is to go ahead with the vote on the more moderate bill sometime next week notwithstanding the fact that it was unclear even before the President's tweets this morning whether that bill even had a chance of coming close to the 218 votes needed to pass. This is especially true given the fact that, much like the hardline bill that was rejected yesterday, there does not appear to be sufficient support in the House to pass even more this more moderate bill, and it doesn't appear that House Democrats are at all eager to come to the help of House Republicans, or that even the more moderate bill could be modified sufficiently to garner Democratic support in any case. Given that, at this point, it's not at all clear that the House will even hold a vote next week as promised since it's unlikely that Speaker Paul Ryan and the rest of the leadership would risk the embarrassment of being rejected on the record. This is especially true given the fact that immigration issues continue to drive the news cycle thanks to the Trump Administration's "zero tolerance" policy and the impact that it has had on migrant families even after the President backtracked on the issue of separating parents and children at the border.
Even if the House managed to get a bill passed, though, it's not at all clear that anything the House passed has any chance at all in the Senate. The last time that the Senate tried to deal with immigration at all was three months ago when it rejected an effort by Arizona Senator Jeff Flake that would have provided temporary protection to DACA beneficiaries that would have lasted for three years. Before that, the Senate had rejected four different DACA proposals including one put forward by a bipartisan group that called itself the Common Sense Coalition. This came after the events of January when the government was temporarily shut down partly due to the DACA issue and the fact that the President had essentially pulled the carpet out from under both Democrats and Republicans in the Senate when he turned around and rejected a deal that he had negotiated with Senate Minority Leader Chuck Schumer that would have protected DACA beneficiaries as well as providing the President with the funding for his border wall, which he continues to say is a non-negotiable requirement for any bill he would consider. Additionally, any bill capable of making it through the Senate would likely need to be amended significantly in order to both keep the existing Republican caucus united in support of the measure and at the same time attract at least nine Democratic votes to invoke cloture. At that point, the bill likely would resemble the House bill in name only, and the whole measure would have to go back to the House to be passed in the same form it passed the Senate or be put before a House-Senate Conference Committee in the hope that something capable of passing both chambers can be hammered out.
Even if that were to happen, though, these tweets make clear that nobody can depend upon the President to support any proposal at all. Yesterday afternoon, he was allegedly on the phone with Republican Congressman working to garner support for the leadership's proposal. This morning he was on Twitter pulling the rug out from underneath the entire plan. At this point, there's no reason for anyone in Congress to take the President's word when it comes to pending legislation because he has demonstrated time and again that he's willing to throw his own party under the bus at a moment's notice. The best example of that came last summer when he called the health care reform bill that passed the House "mean" just weeks after celebrating its passage with an absurdly over the top event in the White House Rose Garden. There's every reason to believe he'd do the same thing on immigration, especially if he doesn't get sufficient funding for his ridiculous border wall. In other words, you can put the odds of immigration reform of any kind passing Congress and becoming law before the midterms at somewhere between slim and none.