Trump's Trade War Could Force Economy Into Recession, Analysts Warn
Economic analysts are growing increasingly worried that the President's trade war could push the world economy into recession, and take the American economy along with it.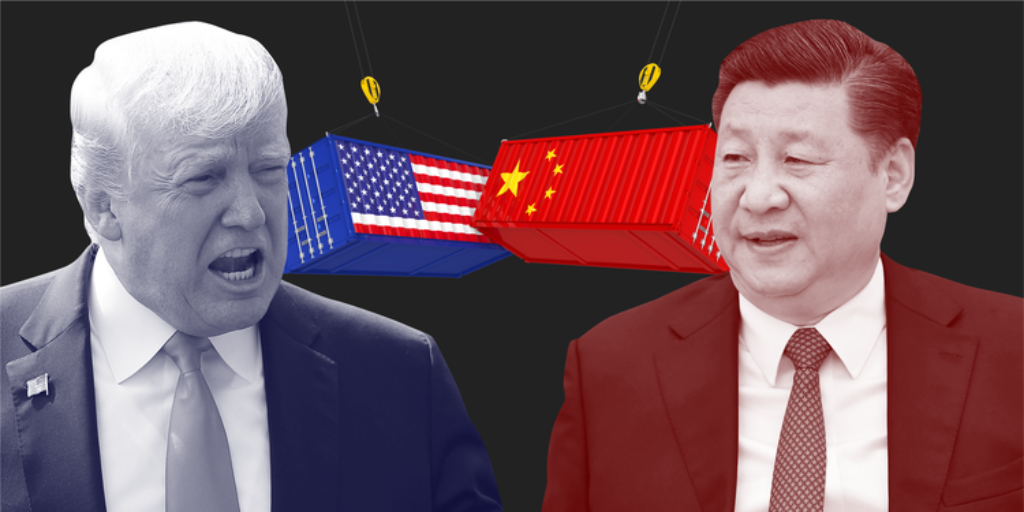 Economic analysts are beginning to fear that the trade war that President Trump seems intent on pushing forward with will push the world economy and, in turn, the United States into recession:
Goldman Sachs Group Inc said on Sunday that fears of the U.S.-China trade war leading to a recession are increasing and that Goldman no longer expects a trade deal between the world's two largest economies before the 2020 U.S. presidential election.

"We expect tariffs targeting the remaining $300bn of US imports from China to go into effect," the bank said in a note sent to clients.

U.S. President Donald Trump announced on Aug. 1 that he would impose a 10% tariff on a final $300 billion worth of Chinese imports on Sept. 1, prompting China to halt purchases of U.S. agricultural products.

The United States also declared China a currency manipulator. China denies that it has manipulated the yuan for competitive gain.

The year-long trade dispute has revolved around issues such as tariffs, subsidies, technology, intellectual property and cyber security, among others.

Goldman Sachs said it lowered its fourth-quarter U.S. growth forecast by 20 basis points to 1.8% on a larger than expected impact from the developments in the trade tensions.

"Overall, we have increased our estimate of the growth impact of the trade war," the bank said in the note authored by three of its economists, Jan Hatzius, Alec Phillips and David Mericle.
Along the same line Yahoo Finance reported yesterday that Trump's tariffs cost American businesses $3.4 billion in June alone:
As President Donald Trump doubles down on tariff threats against China, the price tag of the year-long trade war is climbing for U.S. businesses.
U.S. importers have paid $6 billion in tariffs in June, a 74% jump compared to a year ago, despite a slight decline in the value of imports. And $3.4 billion of that total came from tariffs imposed by President Trump. This is according to research released on Wednesday by the business coalition "Tariffs Hurt the Heartland" in conjunction with The Trade Partnership, a Washington-based trade and economic consulting firm.

The June data highlights the first full month's impact of Trump raising tariffs on $250 million worth of Chinese goods to 25% from 10% on May 10.

"June was our biggest month yet there in terms of punitive tariffs made," said Dan Anthony, vice president at The Trade Partnership.

Despite the removal of steel and aluminum tariffs from the 232 Investigation in May, American companies paid about $3.1 billion in tariffs on products subject to Section 301 remedies on China in June, compared to just $411 million in June 2018. Meanwhile, the value of imports from China declined sharply by 36%, as importers look for alternatives in Southeast Asia
Perhaps more significantly, we're at the point where consumers will start to feel the impact of increased tariffs far more directly:
U.S. importers are legally responsible for paying the tariffs as the goods reach American ports. Some importers say they are able to mitigate the previous 10% tariffs due to the devaluation of the Chinese currency yuan. But with a 25% tariff, they have to pass along some costs, eventually to the consumers. In some cases, Chinese suppliers offer a lower price to stay competitive.

Since the beginning of the trade war in 2018, American taxpayers have paid over $27 billion in extra import tariffs, according to The Trade Partnership's analysis of U.S. Census Bureau data. And the cost will only pile up from here, as Trump threats to impose 10% tariffs on the rest of $300 billion worth of Chinese products starting September 1. China has hit back by stopping the purchase of U.S. agricultural products.

While the next round of trade talks is scheduled next month, some Wall Street analysts are already predicting no trade deal before the U.S. election in 2020. Should this be the case, businesses and consumers will need to brace for greater costs.

"Each subsequent list has shifted more towards products that everyday Americans might buy, And that'll really kick in with the tariffs that have been announced for September 1," said Anthony. "Those are predominantly products that certain individuals buy for themselves at retail as opposed to chemicals or industrial machinery."
This isn't the first time that we've heard about the negative consequences of the President's trade policies, of course, and it's unlikely to be the last. For example, after President Trump raised tariffs on aluminum and steel last year, the price for those products, including from domestic sources unaffected by the tariffs, increased, causing problems for industries that rely on those raw materials to make their products such as the makers of automobiles and large appliances. When China retaliated by imposing tariffs on American goods their retaliation was primarily focused on the agricultural industry, something that made American pork farmers increasingly nervous about their overseas business. In Iowa, it was reported that Chinese retaliation for the tariffs cost soybean farmers $624 million this year alone, with the prospect of larger losses if the retaliation continues or if Chinese companies that buy American soybeans start entering into contracts with growers in places such as Australia and India, which compete with American farmers for the lucrative Chinese market. Additionally, we have also seen that the tariffs have had a negative impact on other American businesses, and has even led an iconic American brand like Harley-Davidson to announce that they are moving some production overseas in response to the retaliatory tariffs imposed by the European Union. Finally, there is increasing evidence that the trade war has actually opened economic doors for China because it has forced them to look in places other than the United States for things like agricultural imports. If that continues to happen, then the impact on the American economy from the President's trade war could become more permanent than many realize.
As I've noted in the past, the arguments that these tariffs help either American industry or the American economy are nonsense. In the end, higher tariffs end up being paid by American consumers, by American businesses that depend on international trade such as the agriculture industry, and by the businesses that rely on the products that are subject to the tariffs. President Trump's arguments to the contrary notwithstanding, there is no economic benefit at all to tariffs and a heck of a lot of negative. Despite that, the Trump Administration appears committed to this ill-advised, self-destructive policy.
.