Two-Thirds Of New Hampshire Republicans Support Donald Trump's Muslim Immigration Ban
As if to further demonstrate just how fair off the rails the GOP has gotten, Donald Trump's unconstitutional, wrong-headed, racist notions are supported by wide majorities in the party that still claims to the by the "Party of Lincoln."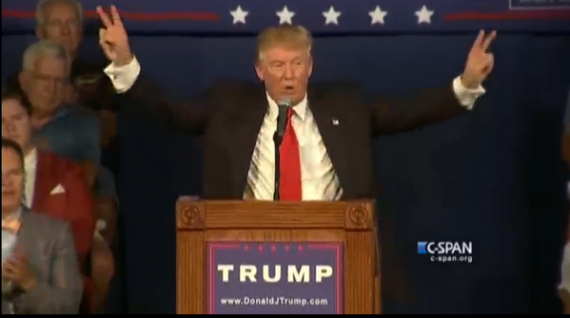 Given Donald Trump's victory last night, it is perhaps not surprising to find that solid numbers of Republican voters, including many who did not vote for him, support his position on a number of hot button political issues. What's particularly distressing, though, is the news that two-thirds of New Hampshire Republicans who voted yesterday support Donald Trump's proposal to ban Muslim immigration to the United States for some unspecified period of time:
Some two-thirds of Republican voters in New Hampshire expressed support for a ban on Muslims entering the United States, an idea espoused by Donald Trump, who was projected to win the state's primary.

Trump had called for a "total and complete shutdown" of Muslims entering the United States back in December.

"Mr. Trump stated, without looking at the various polling data, it is obvious to anybody the hatred is beyond comprehension. Where this hatred comes from and why we will have to determine," Trump said in a statement Dec. 7. "Until we are able to determine and understand this problem and the dangerous threat it poses, our country cannot be the victims of horrendous attacks by people that believe only in Jihad, and have no sense of reason or respect for human life."

Exit polls show that in addition to support for Trump's proposal, four in 10 say undocumented immigrants should be deported.
From the time that Trump announced his idea to ban Muslim immigration in early December, it proved to be immediately controversial. Not only did it garner nearly universal condemnation from Trump's opponents for the Republican nomination, but it also garnered commentary and condemnation from Democratic candidates for President, members of the House and Senate from both parties, and even members of the Obama Administration and representatives of foreign nations. Many of these, of course, are groups that tend to remain silent when it comes to commenting on American politics. Many of these individuals noted that, in addition to being a likely illegal and unconstitutional example of religious discrimination, the policy Trump was proposing would confirm exactly what ISIS, al Qaeda, and other militant groups say about the United States and the West, namely that the "War On Terror" is a lie and that the West is actually intending to make war on, and effectively wipe out, all of Islam itself. The most likely result of Trump's idea, then, would be to create more militants, including potentially from among Muslims already living in the United States who may come to perceive that they are not being treated as equal to their fellow Americans. Unsurprisingly, Trump rejected these criticisms and continues to push for the ban, although it has become a somewhat less common focus of his stump speeches since the focus on international terrorism has lessened now that the attacks in Paris and San Bernardino are further in the past.
Despite this international condemnation, though, and notwithstanding the perfectly rational arguments against the idea, it quickly became apparent that the Republican base though Trump was on to something. One early poll showed that two-thirds of Republicans supported the idea, for example, while another poll showed that a majority of Republicans supported the idea even as most other Americans were vehemently opposed to the idea. Still another poll reported that sixty percent of Republicans surveyed approved of the idea. Perhaps most telling in the immediate aftermath of Trump's announcement is the fact that few of Trump's opponents actually attacked him for his idea even though they had spoken out against it in the immediate aftermath of his announcement. No doubt, they too had read the tea leaves that showed that a majority of their party supported an idea that can only be described as profoundly wrong headed, bigoted, and even idiotic.  Now, we have this exit poll showing that the vast majority of the people who actually voted in a Republican primary support the idea, and the man who supports it is the front-runner for the Republican nomination for President. If that doesn't tell you that something is deeply wrong with the wrong Republican Party right now, I don't know what will.