Voter Suppression in Wisconsin?
A Wisconsin DOT official sent out a memo telling DMV staffers not to volunteer the availability of free voter identification cards.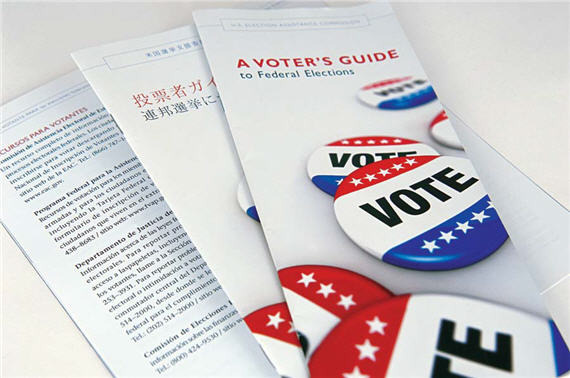 A Wisconsin DOT official sent out a memo telling DMV staffers not to volunteer the availability of free voter identification cards.
Reuters ("Wisconsin official told DMV not to push free voter ID cards"):
A Wisconsin official has discouraged state workers from volunteering information about free IDs available under a controversial voter identification law that critics complain is designed to suppress votes, a memo leaked on Wednesday showed.

The memo, provided to the press by Democratic State Senator Jon Erpenbach, was likely to fan concerns among critics of the Republican-backed law that it aimed to suppress votes of thousands of otherwise eligible Wisconsin voters.

In the memo, a top aide in the state transportation department told staffers in the motor vehicle department, which is responsible for issuing the free IDs, to "refrain from offering" them to customers who do not specifically ask for them. "Questions on what kind of ID is needed for voting," the aide, Steven Krieser, wrote in the July 1 memo, "should be directed to the Government Accountability Board."

The voter ID law was part of a broader conservative program pushed through Wisconsin's Republican-controlled legislature earlier this year by Governor Scott Walker, who took office in January. That program, which has divided the state along partisan lines and led to a record number of recall elections, has also included curbs on the collective bargaining rights of public workers, deep budget cuts and an easing of restrictions on the carrying of concealed weapons.

Krieser, who confirmed the authenticity of the memo, said he was simply trying to make sure DMV employees honored the intent of lawmakers who passed the law, which does not obligate DMV workers to tell applicants they are entitled to a free ID if they plan to use it to vote. "The DMV is applying the voter ID law that the legislature provided to it," Krieser told Reuters. "It says the customer has to request it. So we've taken the strict reading of the statute and that's how we've implemented it. That's all that the memo was getting at."
My first instinct on seeing this was that Republican protests that they're simply trying to avoid voting fraud, not suppress voting, are getting harder to believe. My second instinct, though, was that this is simply bureaucratic silliness as usual.
On second read, Krieser isn't identified as a Republican, so I did some digging to figure out who he was.  It turns out that he is the Executive Assistant at WisDOT and appears to be a career WisDot bureaucrat.
According to a WISN ABC12 report ("Memo To DMV Workers Re-Ignites Voter ID Controversy"),
Kreiser said the law states, "we have to charge people the regular $28 rate (for photo identification) unless customers come in and request it, and certify that they need it for the purpose of voting."

Kreiser said customers have been purchasing photo identification long before the new law went into effect. He said those looking for the cards for any other reason besides voting need to pay the fee. He also said as long as a customer actively seeks a free photo ID, workers at the DMV will help them.
"If an individual customer approaches a DMV employee and says, 'I'm here for my free ID for voting, my free voter ID,' or anything like, that sort of signals to the employee that what they are looking for is that free ID product. The customer service worker is going to work with that person to make sure they get that product for free," said Krieser.
So, rather than trying to suppress voting, he's trying to chisel $28 out of unsuspecting saps. And the Republican legislator behind the bill offers a perfectly reasonable explanation as well:
Wisconsin Representative Jeff Stone, who wrote the bill which became law this year, said this is "much ado about nothing." Stone said not everyone coming in to get an ID should not automatically get it for free because people are getting them for different reasons, like cashing a pay check. He said only those who express that they want it for voting purposes should be getting it for free.

He said the state will continue to educate residents. "We've provided funding for the Government Accountibilty Board. They are going to do a statewide educational effort that is going to talk about the need to have a photo ID for voting," said Stone. Kreiser said there are signs up in the DMV alerting customers to the change.
Whether a photo ID should be required for voting is up for debate. Having carried one or more photo ID's since I was 10 years old, I'm hard pressed to see it as a major burden. And common sense tells me that, if people have to show ID to cash a check, maybe they ought to have to do so before voting. On the other hand, it's undeniable that the poorest and least educated among us are less likely to drive and thus have a ready-made ID card. And there's next to no evidence of the sort of voter fraud that would be prevented by making people show ID.
But this particular controversy seems overblown. The law says people who request a free ID to vote get a free ID to vote. There is some sort of statewide advertising campaign and there are signs up at the DMV to that effect. But people coming in to get a non-driver's license ID card, which most likely is going to be used for purposes other than or in addition to voting, are charged $28 unless they say they want it for voting and/or use the word "free."