White Supremacist Found Guilty In Murder Of Charlottesville Counter-Protester
The white supremacist charged with killing a counter-protester during last year's events in Charlottesville has been convicted of first-degree murder.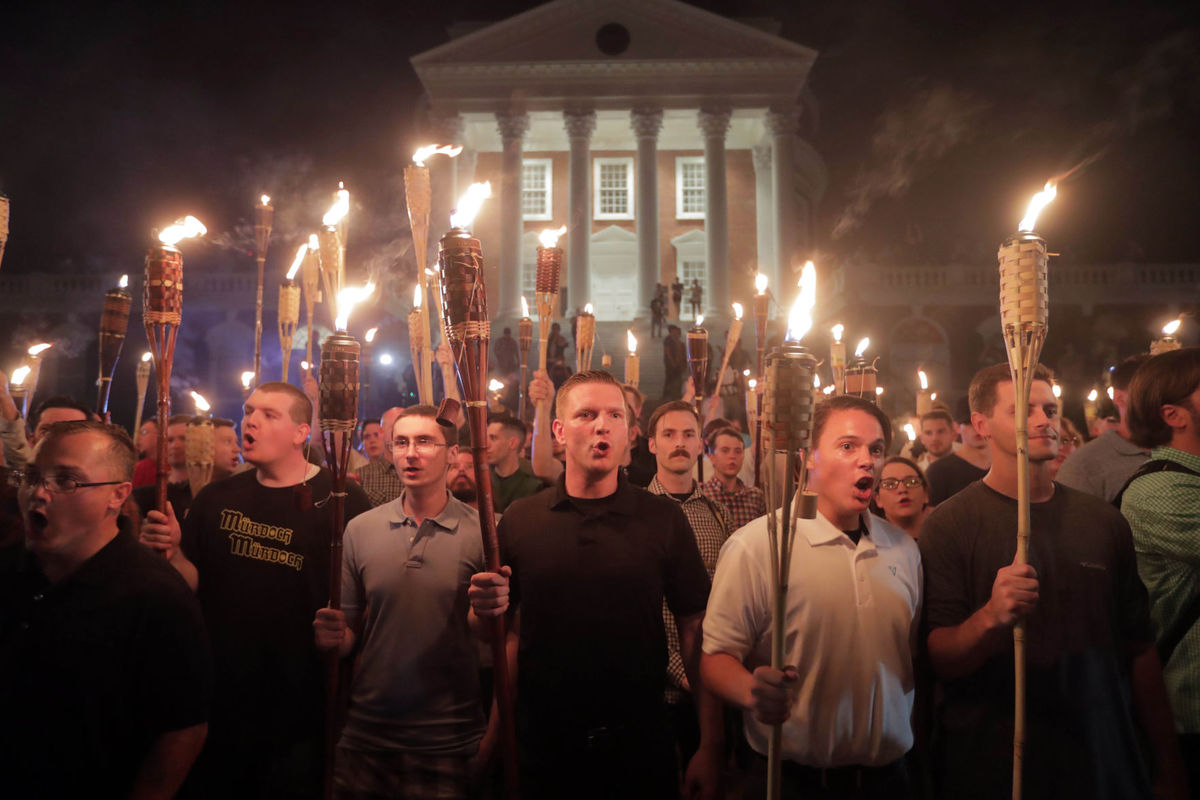 More than a year and a half after it happened, white supremacist James Fields has been convicted of the murder of Heather Heyer during the protests in Charlottesville by a coalition of far-right groups:
CHARLOTTESVILLE, Va. — Sixteen months after swastika-toting white supremacists swarmed the streets of Charlottesville, one of the demonstrators was convicted of first-degree murder Friday by a jury that found he intentionally drove his car into a crowd of counterprotesters, killing one woman and injuring nearly 40 others.

James Fields Jr., 21, faces up to life in prison for the death of Heather Heyer, 32, in a case that has stirred soul-searching in a city that prides itself on being a liberal bastion. Mr. Fields, who traveled from Ohio to attend the Unite the Right rally, was also convicted of nine other charges, including aggravated malicious wounding and leaving the scene of a fatal accident.

Friday's verdict was cheered by those fighting racial and religious hatred and provided some closure in a case that cast a national spotlight on Charlottesville, the scene chosen by racists and anti-Semites to rally for their cause, near a Confederate monument that some city leaders were trying to remove.

"This verdict sends a strong message to others that hate has no place in our society," said Jonathan Greenblatt, the chief executive of the Anti-Defamation League.

The attack, in which Mr. Fields sped down a narrow street teeming with counterprotesters, was a deadly coda to a weekend of white nationalist events in Charlottesville last August, which included a pre-rally march with torches to the statue of Thomas Jefferson on the campus of the University of Virginia. The rally was marked by violent clashes between counterprotesters and white nationalists, some of whom were convicted earlier this year.

Many of Mr. Fields's victims had confronted ralliers earlier that day and were on their way home, celebrating the fact that authorities had shut down the event, when they were struck by his Dodge Challenger.

Mr. Fields showed no emotion and sat subdued between his lawyers as a clerk read the unanimous verdicts and polled the jury of seven women and five men, including one African-American man. At one point, Mr. Fields glanced back toward his mother, who, dressed in black and sitting in a wheelchair, sobbed quietly into a tissue. Judge Richard E. Moore of Charlottesville Circuit Court affirmed the verdicts, but made no comment.

His victims sobbed, hugged, and softly cheered inside the crowded courtroom. Several joined in a group hug around Star Peterson, a single mother whose legs and back were broken in the crash. Constance Paige Young, who was also injured, said the guilty verdicts and a coming federal hate crime trial would "set a precedent that this white nationalist violence that has been present since this nation's inception is no longer tolerable."

The nine-day trial featured days of emotional testimony from victims who were seriously injured in the crash, including Ms. Peterson and Marcus Martin, who pushed his girlfriend out of the way, bearing the brunt of the impact himself. He later married her. Many of the victims returned to the courtroom day after day to listen to other witnesses, and jurors saw them hugging and comforting one another.

(…)

During the trial, prosecutors introduced evidence that Mr. Fields intended to commit harm when he drove from Ohio to attend the rally. In a text message exchange with his mother, she told him to be careful. "We're not the one[s] who need to be careful," he replied in a message that also included a photo of Adolf Hitler.

Prosecutors also showed the jury a cartoon that Mr. Fields had shared months earlier on Instagram of a car ramming into a crowd, with the words, "You have the right to protest but I'm late for work." Other evidence included recordings of conversations that Mr. Fields had with his mother after his arrest, in which he described the counterprotesters at the rally as a "violent gang of terrorists," and derided Ms. Heyer's mother, Susan Bro, as an "anti-white liberal" who should be viewed as an enemy.

Mr. Fields's defense lawyers did not dispute that he drove his car into the crowd, but claimed that he "acted out of fear" rather than malice, highlighting the scuffles and clashes that took place earlier that day between Unite the Right participants and anti-racism activists.

"There's no evidence he came prepared to do any harm," said John Hill, a defense lawyer, during the trial. The defense called Dwayne Dixon, an anti-racism activist, to testify, and he acknowledged shouting at a gray car while he had an AR-15 rifle slung over his shoulder.

But video footage from that day showed Mr. Fields's car idling and then backing up before it plowed ahead into the crowd.

Jurors were visibly moved by testimony of victims describing the crash. Mr. Fields drove away — a sneaker still stuck in the grill of the car — and was stopped on a road heading out of town. In a conversation with a police officer, his voice flat and calm, he said, "I didn't want to hurt people, but I thought they were attacking me." When he was told that a person died and many were injured, he gasped and sobbed.

A prosecutor, Nina-Alice Antony, argued that Mr. Fields clearly had "specific intent to kill a human being," even if he had not singled out any particular person in the crowd.
As required by Virginia law, Fields will be sentenced after a sentencing hearing before the same jury that just convicted him and could face the death penalty or life in prison without parole. The Judge has some limited authority to modify the sentence after the Jury has rendered it, but that authority is extremely limited and, in this case, it's unlikely that he would take such a measure in this case anyway. In addition to the state criminal charges, Fields was also indicted on Federal hate crimes charges which remain on hold pending the outcome of his state trial. Under Federal law, he also faces the possibility of the death penalty or life without parole in Federal prison if convicted. With this conviction, of course, the outcome of his trial in Federal Court seems to be inevitable, so it's possible that he could seek to plead guilty in Federal Court to avoid a trial, although that likely won't have much of an impact on his ultimate sentence.
In addition to the murder of Heather Heyer, the rally in Charlottesville and subsequent violence committed by the so-called "alt-right" participants in what was supposed to be a protest in support of a statue of Robert E. Lee that the city of Charlottesville had proposed removing became known for the manner in which President Trump responded to said violence. The event itself had clear overtones of a Nazi rally at Nuremberg in the 1930s. The night before Ms. Heyer's death was marked by Nazi-era slogans like "Blood and Soil!" and "The Jews will not replace us!" were chanted by torch-bearing men, followed by a rally the following day that resulted in violence between participants and counter-protestors that led to the death of one woman and more than a dozen injuries. These events, of course, took on a national tone thanks to the President's response to the tragic events of that Saturday. In his initial response, Trump blamed 'both sides' for the violence, referred to the participants in the rally as "very fine people," and  refused to directly condemn groups such as the Ku Klux Klan, which was present at the rally, or the broader so-called alt-right movement whose supporters made up the vast majority of the participants. The outrage over these comments was sufficiently broad, even from fellow Republicans in Washington, that the White House was compelled to have Trump deliver a follow-up comment the following Monday that was more measured and emphatic than what he had said before. Whatever damage had been repaired by that statement, though, was short-lived, though, because less than twenty-four hours later Trump repeated his 'both sides' argument in a press conference at Trump Tower in New York and then repeated it again a month later in the wake of a meeting purportedly intended to discuss race with Republican Senator Tim Scott, the only African-American Republican in the Senate. A year later, it was clear that the President still didn't get what was wrong about the protest itself or how he responded to it.
In any case, Fields's conviction was never really in doubt and I honestly can't say I really care all that much about whether or not he gets the death penalty notwithstanding the fact that I generally oppose it universally. Neither his death nor a life term in prison are going to bring Heather Heyer back, of course, but one can hope that bringing someone like Fields to justice will send a message that his kind of hate-based violence is not going to be tolerated in modern America regardless of who the President happens to be.