Whites Leaving Democratic Party
The Republicans are increasingly the party of white America. That's short term good but long term bad for the GOP.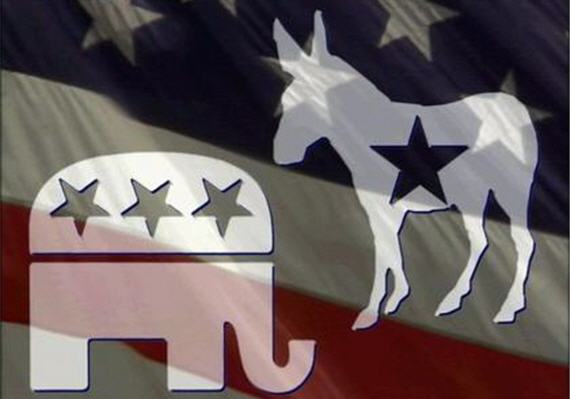 Ron Brownstein looks at the 2010 exit polls and concludes that President Obama's path to re-election is to gin up turnout in states with large minority populations.
Fully 60 percent of whites nationwide backed Republican candidates for the House of Representatives; only 37 percent supported Democrats, according to the National Election Poll exit poll conducted by Edison Research. Not even in Republicans' 1994 congressional landslide did they win that high a percentage of the white vote.

Moreover, those results may understate the extent of the white flight from the Democratic Party, according to a National Journal analysis of previously unpublished exit-poll data provided by Edison Research.

The new data show that white voters not only strongly preferred Republican House and Senate candidates but also registered deep disappointment with President Obama's performance, hostility toward the cornerstones of the current Democratic agenda, and widespread skepticism about the expansive role for Washington embedded in the party's priorities. On each of those questions, minority voters expressed almost exactly the opposite view from whites.

[…]

With so much of the white electorate, especially working-class whites, dubious about the president's direction, to win a second term he will likely need to increase turnout and improve his showing among the groups that keyed his 2008 victory—minorities, young people, and white-collar white voters, especially women. In 2012, Obama may be forced to build his Electoral College map more around swing states where those voters are plentiful (such as Colorado, North Carolina, and even Arizona) and less on predominantly blue-collar and white states such as Ohio and Indiana that he captured in 2008.

[…]

Given the trends among the white electorate evident in these exit-poll findings, that formula might represent Obama's most promising path to a second term. Because the 2010 elections dealt such a heavy blow to the Democrats' old models of electoral success, the imperative of electoral transformation is looming ever larger for the president. "He has to make an effort to reclaim some of the lost [white] vote," says Simon Rosenberg, president of NDN, a Democratic analysis and advocacy group. "But he's got to push the new electorate harder."
Which, ironically, will exacerbate white-Other tensions further.
Adam Serwer thinks this is a function of Republican scare tactics:
If you're curious as to why we spent the late summer discussing the New Black Panther Party, the so-called Ground Zero Mosque, Shirley Sherrod, and birthright citizenship, I think you have your answer. Ever since the first genuine race pseudo-scandal, Barack Obama suggesting the the Cambridge Police acted "stupidly" in arresting Harvard Professor Henry Louis Gates Jr. in his own home — Republicans sensed an opportunity in exploiting the anxieties of white voters.

So it's no surprise that formula — blowing a minor incident out of proportion to suggest the president has, as Glenn Beck put it, "a deep-seated hatred for white people," has been replicated over and over again ever since. Republicans characterized the Affordable Care Act as "reparations" and Finreg as "racial quotas."
I think that gets things backwards, though.  Whites and blacks simply have fundamentally different reactions to the police and to government welfare programs.  Jamelle Bouie comes pretty close to getting it right:
Economic downturns almost always come with a spike in "us against them" thinking. And in the United States, "us against them" most often translates into "white against black," or at least "white against other." What's more, political attitudes are strongly related to ethnocentric views; the more you view the world in ethnocentric terms, the more likely it is you oppose policies and parties that are perceived to help the other side.

This is mostly speculation, but I think it makes sense: As the economy worsened, ethnocentric views among whites strengthened, with this was most pronounced among conservatives and the less-educated, where ethnocentrism tends to hold more sway. It's no surprise that these whites—more concentrated in the South and Midwest—turned sharply against the Democratic Party. It's redistributive policies were perceived as being for the benefit of its minority voters and not the country at large.
While traditional white-black tensions are doubtless part of it, though, I think it's relatively minor.   Instead, working class whites seem to be much more concerned with Muslims (which they perceive as disloyal, if not potential terrorists, as well as a threat to the predominance of the Judeo-Christian culture) and Hispanic immigrants (which they perceive as threats to both their jobs and their culture, as well as a drain on the public treasury).   The black-white gap is mostly a function of blacks being intrinsically loyal to the Democratic Party and especially to President Obama.
Digby (Heather Parton) and Atrios (Duncan Black) both have different takes on the details, coming as they do from the other side of the aisle, but we agree on the implications.  In the near term, this puts the Democrats in the position of having to scrape together and motivate a very diverse coalition.   In the longer term, as the old white folks die out, it means the Republicans are a permanent minority party on the national level unless they figure out how to broaden their appeal.
Additionally, as I alluded to earlier, we're likely to see even more polarization in the short term.  The gold mine for Democrats, frankly, is to figure out how to get as many Hispanics as possible on the voter roles.  So, fights over counting illegal aliens in the Census and, especially, over border enforcement, Spanish language services, amnesty for illegal immigrants already here, and related issues will only heat up.
My guess is that Republicans will win these battles in the short run because they're on the side where the people are.   Even moderate to liberal whites would prefer to see America remain an English speaking country.  And it's hard to make a case for privileging those who violated our laws over those who sacrificed by waiting in line and following the rules.  (The practical case, yes.  The moral and visceral case, not so much.)
But the short term win may well come at the cost of making Hispanics "permanent" parts of the Democratic coalition.  And, within my expected lifetime, that will mean a Republican Party that's not competitive at the national level.