Why Rand Paul's Filibuster Mattered
Rand Paul's filibuster is one that all American's should thank him for that.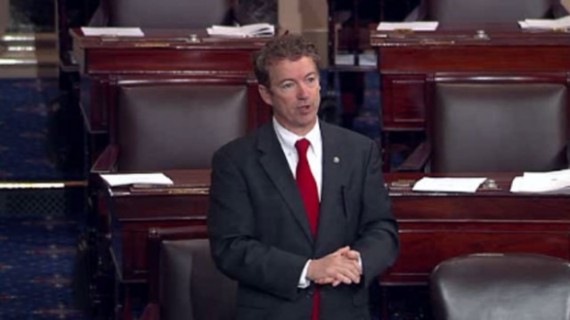 As I noted yesterday while it was going on, Kentucky Senator Rand Paul filibustered the nomination of John Brennan to be Director of Central Intelligence primarily to bring attention to the issue of the targeting of American citizens by the United States and the Administration's intentions regarding the possible future use of drones on American soil. It was clear to everyone involved that Paul wasn't going to do much to stop Brennan's nomination, of course. The most he could do is delay it for as long as he was able to hold the floor. As it turned out, he ended up lasting just under thirteen hours, and for pretty much the entire time he and a small group of Republicans managed to spend the entire time talking about an issue that doesn't get much attention among the Washington/New York pundit class:
WASHINGTON — A small group of Republicans, led by Senator Rand Paul of Kentucky, stalled the Senate on Wednesday by waging a nearly 13-hour old-school, speak-until-you-can-speak-no-more filibuster over the government's use of lethal drone strikes — forcing the Senate to delay the expected confirmation of John O. Brennan to lead the Central Intelligence Agency.

Mr. Paul, who opposes Mr. Brennan's nomination, followed through on his plan to filibuster the confirmation of President Obama's nominee after receiving a letter this month from Attorney General Eric H. Holder Jr. that refused to rule out the use of drone strikes within the United States in "extraordinary circumstances" like the Sept. 11 terrorist attacks.

On Wednesday, Mr. Paul did exactly as promised, taking to the Senate floor shortly before noon and holding forth for 12 hours and 52 minutes.

Mr. Paul finally wound down shortly before 1 a.m. on Thursday, surrounded by a group of Republican senators and House members who had joined him on the Senate floor in a show of solidarity.

"I would go for another 12 hours to try to break Strom Thurmond's record, but I've discovered that there are some limits to filibustering and I'm going to have to go take care of one of those in a few minutes here," Mr. Paul said to knowing laughter as he referred to the legendary South Carolina senator known for his 28-hour filibuster. (Mr. Paul could not leave the floor to use the bathroom, making his filibuster at a certain point seem less a standoff between the senator from Kentucky and the administration than a battle between Mr. Paul and his own bladder.)

After almost 13 hours, Mr. Paul offered his final words: "I thank you very much for the forbearance, and I yield the floor," he said, to loud applause.

Earlier in the evening, as the filibuster moved into its 11th and 12th hours, the mood grew increasingly punchy, with Mr. Paul's Republican Senate colleagues — who had joined him on the Senate floor periodically throughout the event — making repeat appearances and quoting liberally from pop culture and literature.

Senator Ted Cruz, Republican of Texas, at one point seemed to stage a mini-filibuster of the filibuster, reading from Shakespeare ("Henry V") and quoting from "Patton."

Not to be outdone, Senator Marco Rubio, Republican of Florida, took to the floor for his second appearance of the filibuster, quoting the rapper Wiz Khalifa, as well as "that modern-day poet by the name of Jay-Z." Mr. Rubio also quoted from "The Godfather" three times — including, he said, a quote that never made it from the script into the movie. ("A lawyer with his briefcase can steal more than 100 men with guns can steal.")

"I don't know how that's relevant to this," Mr. Rubio admitted, "but I thought I'd bring it up."

At a certain point, as the hour edged closer to midnight, participating in the filibuster seemed to become the gold standard among Senate Republicans, with a parade of Republican senators — Jeff Flake of Arizona; Ron Johnson of Wisconsin; Mitch McConnell of Kentucky, the Republican leader in the Senate; and Tim Scott of South Carolina — emerging for the first time to show their support for Mr. Paul's cause, not to mention the C-SPAN cameras.
I suspect that more than a few of the Senators who showed up in the late evening hours last night were motivated less by the sudden concern over U.S. drone policy and that limits of Presidential authority than they were by their own political fortunes. Indeed, one can clearly see that as being the case when it comes to Mitch McConnell. who surprised pretty much everyone by showing up not long before midnight. Whatever their motivation, though, each of the Senators that appeared ended up assisting Paul to some extent by at least giving him a chance to rest his voice. For the most part, though, it seemed clear to me that most of the Republican Senators that came to the floor did so only after it became clear that Paul had captured public attention. By the evening, the story was trending worldwide on Twitter and was receiving coverage on all three of the cable news networks. Paul was even receiving support from the ACLU, Code Pink, and Jon Stewart before the evening had ended. In the end, though, it was obvious that the filibuster wasn't going to last forever.  During the evening, there were many who speculated that Paul was aiming for the record of 24 hours, 18 minutes set by Strom Thurmond in 1957, and though it turned out that he lasted for just half that time, one could argue that he accomplished far more than Thurmond did when he spent an entire day reading from various documents in a doomed effort to stop the passage of the Civil Rights Act of 1957.
National Journal 's Matthew Cooper, for example, notes that, by holding forth on the Senate floor for more than half a day, Senator Paul revealed something about Washington that isn't all that good:
Rand Paul's filibuster was surprising, compelling, and a perfect window into Washington's hypocrisy.

Because it was so simply framed–the question of using drones to kill Americans on American soil–it was compelling in a way that, say, the Chuck Hagel filibuster–a knotty bundle of resentments and exaggerations–couldn't be. The Kentucky Republican's crusade also gained strength from being the old-timey kind of filibuster where senators actually talked at length and everyone speculated about the size of their bladder. (Paul gave in after about 13 hours, around 1 a.m.) It wasn't the lazy obstructionism of recent years.

Paul had tapped into something primal, not only on the right where the likes of Grover Norquist cheered him on, but also on the antiwar left where Code Pink, the plucky protesters best known for disrupting hearings and speeches weighed in. No wonder Republican senators, including Senator Majority Leader Mitch McConnell, raced to the floor to join in. Paul had beaten McConnell's hand-picked candidate in the 2010 GOP primary, and McConnell is concerned about a primary challenge from the right so it's no surprise he Velcroed himself to the upstart.

And therein lies the first part of the hypocrisy. Republican senators who had embraced Cheneyism–enhanced interrogation, Guantanamo, rendition, military tribunals–last night evinced a touching, tender sympathy for civil liberties and due process. Conservative bloggers were quick to say there was no hypocrisy: Cheney-era policies were about enemy combatants, foreigners with fewer if any rights, as opposed to American citizens. But that doesn't explain why the same conservatives had nothing to say for the rights of Bradley Manning, the Army soldier who transferred thousands of files to Wikileaks. Whether he's a traitor or simply a well-intentioned whistle-blower gone awry, the point is that he was treated with questionable due process, and none of the Republicans who had hastily refashioned themselves as ACLU members had said a wit about it even though Manning is very much an American.

Greater hypocrisy lies with Democrats, who have expressed only modest interest in Paul's cause. Where was Al Franken last night? Or Barbara Boxer? They could have joined Paul on the floor briefly, as did Democratic Oregon Sen. Ron Wyden, all while pledging to vote for the president's pick to head the CIA, John Brennan. But their voices were in absentia.
Indeed, Paul's position on drone strikes, as well as many other areas of U.S. foreign and military policy is not exactly in tune with what polite Washington considers the mainstream view. He rejects the idea of pre-emptive war, for example, which remains one of the pillars of whatever is left of the Bush-era consensus that still seems to be the controlling  foreign policy zeitgeist of the Republican Party. Many of the Senators who came to the floor to support him last night would likely oppose him on issues ranging from aid to the rebels in Syria to the question of exactly what the United states ought to do in response to the Iranian nuclear weapons program. On the left side of the spectrum, as Cooper notes, the only Democrat who came to the floor was Oregon's Ron Wyden. As Cooper notes, Paul's filibuster served an important purpose by revealing what is essentially partisan hypocrisy on both sides of the aisle. The Republicans who joined him on the floor, by and large, would be silent if a Republican were in the White House, and indeed many of them were silent during the Bush era when it came to issues ranging from enhanced interrogations to extraordinary renditions. The Democrats in the Senate who claim to care about civil liberties and checking the power of an overly powerful Executive Branch, showed their true colors by not appearing on the floor at all.  It's a reality I'm sure we all knew existed before, but Senator Paul did a fine job of exposing it last night, even if that wasn't his actual intention.
There's something more important about Paul's filibuster, though. For nearly 13 hours, a United States Senator held forth on issues ranging from war policy, to the powers of the Presidency, to civil liberties and raised questions for the Executive Branch, and the American people, that rarely get asked. Unlike most instances when these issues are part of the public debate, this wasn't simply an instance where platitudes were raised and slogans were repeated. As I've said repeatedly in the past, the American people have a right to know what is being done in their name, and they have a right to know exactly what their government thinks it can do in their name. Over the past several years, the President has asserted broad new powers in the form of a drone war that doesn't just assist ground forces in combat, but is also used to target people believed to be involved in terrorist activities. Most controversially, it's been used to target an American citizen determined by the President to have been a terrorist without even a modicum of due process.  Paul's filibuster raised important questions to which we deserve answers, and for that at least he deserves our thanks.