Rand Paul Filibustering Brennan Nomination
Mr. Paul Goes To Washington.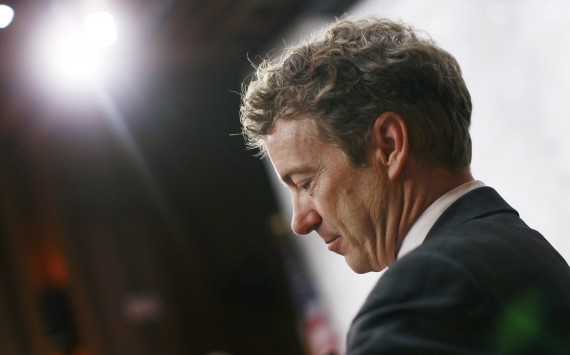 For roughly the last three hours as of the time this post is being written, Kentucky Senator Rand Paul has held the floor of the Senate in an effort to block a vote on the nomination of John Brennan to head to the CIA:
Sen. Rand Paul (R-Ky.) is staging a talking filibuster against the nomination of John Brennan to be director of the Central Intelligence Agency (CIA).

"I'm here to filibuster John Brennan's nomination to be director of CIA," Paul said on the Senate floor Wednesday. "I will speak for as long as it takes.

"I will speak today until the president says, 'no' he will not kill you at a café."

Paul has said he wants more answers from the administration on whether American citizens can be targeted by armed drones inside the United States before he'll lift his filibuster on Brennan's nomination.

The senator has spoken from the Senate floor for more than two hours so far.

"No American should be killed by a drone on American soil without first being found guilty of a crime," Paul said. "That an American could be killed on American soil is an abomination."

Paul noted that his throat was getting dry as he passed the one-hour mark of the talking filibuster, which has become rare in the upper chamber. Senators are allowed to filibuster without commanding the floor, so few choose to hold up nominations or legislation by speaking.

"This is the first time I've come to the floor to use a true talking filibuster," Paul said. "It almost never happens. … I don't think I've ever seen some one come and speak in a filibuster before."

Senate Majority Leader Harry Reid (D-Nev.) said earlier Wednesday that he had hoped to have a vote on Brennan's nomination so that lawmakers could leave town before a snowstorm prevented members from heading home for the weekend.

The Senate Intelligence panel in a 12-3 vote on Tuesday approved Brennan, but Paul has said he will keep his filibuster going until President Obama says he will not kill Americans by drone attack on American soil.

"Has America the beautiful become 'Alice in Wonderland'?" Paul said. "When I asked the president can you kill an American on American soil, it should have been an easy answer — an unequivocal no.

"But his answer was, 'I haven't killed anyone yet and I have no intention of killing Americans, but I might.' "

Paul said the possibility that a citizen could be targeted without being charged in the courts went against the Fifth Amendment of the Constitution, which gives citizens the right to a trial by a jury of their peers.

"The Fifth Amendment should also protect you from a president who might kill you with a drone," Paul said. "No American should be killed in their house without a warrant. … But [Obama] says trust him, he hasn't done it yet.
The last time we saw a true talking filibuster on the floor of the Senate was back in December 2010 when Vermont Senator Bernie Sanders took to the floor of the Senate for roughly nine hours to speak out against the deal that President Obama had made with Republicans to extend the Bush Tax Cuts. That speech, however, wasn't really a true filibuster since it wasn't really disrupting Senate business and was done largely with the consent of Senate leadership. That isn't the case this time. Paul is holding up a vote on the Brennan nomination, which will likely pass when a vote actually occurs.
Paul says that he will continue this filibuster until he gets an answer from the Obama Administration regarding the use of drone strikes on American soil that is far less ambiguous than the one that Attorney General Holder issued late yesterday. He's spent a good deal of his time pointing out the hypocrisy of the left on this issue, arguing quite convincingly that their silence over drone strikes under President Obama is starkly different from their justified criticism of the Bush Administration's extraordinary tactics in the War On Terror. He's also raised legitimate concerns about the use of military force on American soil, something that ought to be illegal under the  Posse Comitatus Act. Given that fact, it would seem as though the answer to Paul's original question to Holder is crystal clear, which just makes it even more strange that the Administration has chosen to be so ambiguous about what ought to be an easy question.
Another question Paul is raising goes to the question of targeting non-combatants, or ore precisely the idea of carrying out strikes against supposed targets with little regard for the collateral damage. As we've seen in both Pakistan and Afghanistan over the years, it is the killing of innocent civilians in drone strikes that has raised the most public ire against the U.S. and, arguably, served to create new American enemies in nations where the people already have a negative opinion of the United States. Along with the targeted killing of Americans and the exceedingly important Constitutional issues it raises, this is another topic that rarely gets discussed in the United States.
Paul's filibuster can't last forever, of course, and Brennan is likely to get confirmed at some point. However, the Senator is raising important questions that we deserve answers to from the Administration. For that, at least, he deserves some thanks.