Will A Republican Congress Impeach President Obama ?
Will a Republican-controlled Congress bring about the third Presidential Impeachment in American history? Jonathan Chait thinks it's virtually certain that it will, I'm not so sure.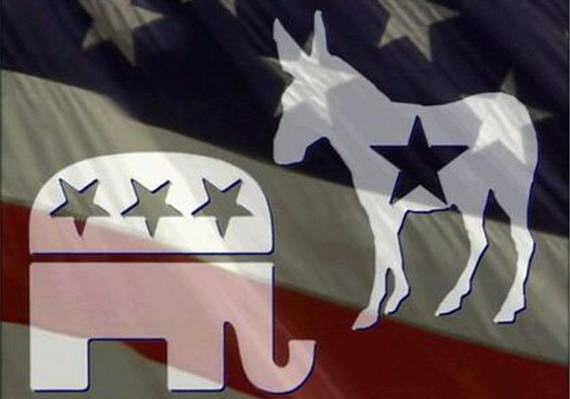 Today at The New Republic, Jonathan Chait seems to think that Republican control of Congress will lead to another attempt at impeachment of a sitting Democratic President:
Hear me now and believe me later: If Republicans win and maintain control of the House of Representatives, they are going to impeach President Obama. They won't do it right away. And they won't succeed in removing Obama. (You need 67 Senate votes.) But if Obama wins a second term, the House will vote to impeach him before he leaves office.

Wait, you say. What will they impeach him over? You can always find something. Mini-scandals break out regularly in Washington. Last spring, the political press erupted in a frenzy over the news that the White House had floated a potential job to prospective Senate candidate Joe Sestak. On a scale of one to 100, with one representing presidential jaywalking and 100 representing Watergate, the Sestak job offer probably rated about a 1.5. Yet it was enough that GOP Representative Darrell Issa called the incident an impeachable offense.

It is safe to say that Issa's threshold of what constitutes an impeachable offense is not terribly high. As it happens, should Republicans win control of the House, Issa would bring his hair-trigger finger to the chairmanship of the House Oversight and Government Reform Committee. The Sestak pseudo-scandal disappeared because there was no process to drive the story forward. Had Issa been running the Oversight Committee, it would have been the subject of hearings and subpoenas.
In some ways, this isn't exactly news. Back in August, I noted that Republicans like Issa and Michelle Bachmann were already promising that the Sestak story, which seems to have been proven to be much ado about nothing, the New Black Panther Party story, and any other number of supposed "scandals" inside the Obama Administration would become the subject of Congressional investigations if the GOP took back the House. As I noted back then, it's fairly apparent that the Republicans would be making a huge mistake if they turned their return to power into an excuse for partisan witch hunt on the eve of the 2012 election season:
The problem isn't so much whether or not the GOP makes this investigation meme a part of the 2010 campaign, but what they do if and when they regain control of the House and/or Senate. While they haven't done many smart things, I will say that the one thing that the Democratic Congressional leadership has been right about is resisting the temptation to give in to the demands of many on the left to launch Congressional investigations of the Bush Administration, either while Bush was still in power or after he left in January 2009. Politically, such hearings would have accomplished nothing and would have left the Democrats open to the charge that they wasted time on hearings while the economy burned (whether what they did instead of hearings was any better is, of course another question).
Chait, however, thinks that Republicans will ignore the political downside and go for blood against Obama the same way the did against President Clinton in 1998:
The Republicans wouldn't dare repeat the mistake they made by impeaching Clinton, you say? You're not thinking like a Republican. In the conservative mind, the impeachment crusade was not a political miscalculation but a misty, watercolored memory. A 2006 National Review retrospective of impeachment leader Henry Hyde captures the right's view:

His only regret involves tactics. … "I should have demanded that Monica Lewinsky and Clinton testify." Although Hyde did not achieve his main objective, it would be wrong to view the entire project as a failure.

In this interpretation, the process sufficiently tarnished Clinton so that his vice president was unable to run on the administration's accomplishments and was easily tarred as a liar during the crucial stretch in October 2000 when the media pounced upon Gore's veracity. "There are 13 people who are responsible for where we are now," a Bush adviser told The Weekly Standard shortly before the 2000 election. "They are the House impeachment managers."

The Clinton impeachment does not offer a useful guide to the Obama presidency if you think of it solely as a punishment for Clinton's crime. But it's more accurate to think about the Clinton impeachment as political warfare by other means against a president conservatives deemed illegitimate.
Some Republicans in Congress already seem to be embracing this view. While Issa is only talking about investigations, Michelle Bachmann, a Minnesota congresswoman who stands to gain a Committee Chairmanship if the GOP retakes the House, has openly talked about impeachment already:
When asked for her take on a recent charge made by former Congressman Tom Tancredo (R-Colo.) that Obama stands vulnerable to impeachment based on a disputed claim from Sen. John Kyl (R-Ariz.) that he's declining to secure the country's border along Mexico for political gain, Bachmann had this to say:

Whether or not this is an impeachable offense is one that the Congress would have to make a determination on. But I think clearly the president isn't acting out of the best interests of what would be good for people's safety and good for our economy.

But this isn't the first time that Bachmann has found herself talking about the impeachment issue. Just last month the conservative congresswoman exclaimed, "Everywhere I go, people ask me, "Michele, can we impeach the president?" She added, "They want a referendum on him."
Of course, by the time that Bachmann had made this statement, Kyl had already walked back his claim that the President had made any such statement. It doesn't matter, however, because that statement has become part of the zeitgeist of conservative talk radio and blogs, and it's a charge that we can expect to see raised again when the 2012 campaign begins in earnest.
Chait's basic argument is that, much as they did in the 90's, House Republicans will find something, anything, on which to hang the charge of wrongdoing in office on the President at some point before he leaves office. While he does have a point that GOP animus toward President Obama is as strong as it was against President Clinton, Chait misses several differences between now and then which may make it harder for an impeachment effort to be anything other than a fringe movement led by people like Bachmann.
For one thing, the House GOP leadership is far different today than it was then. Say what you will about them, but neither John Boehner nor Eric Cantor are Gingrich-style bomb throwers, and neither one of them strikes me as being the type of person who would be willing to risk GOP credibility on a specious charge of "high crimes of misdomeanors." For another, Barack Obama is no Bill Clinton in that he does not carry the same baggage that the 42nd President did. There is no Whitewater in Barack Obama's past, for example, no allegation that his wife made an extraordinary amount of money trading cattle futures for the first time in her life, and no history of infidelity and alleged sexual harrasment that made the Paula Jones and Monica Lewinksy tales credible even to people who had a positive opinion of President Clinton. So far, all the right has been able to bring up against Obama is the allegation that the Administration may have offered someone a job in the hopes that it would preclude him from entering a Senate race in Pennsylvania, and a much-ado-about-nothing story about voting rights violations by a bunch of hotheads in Philadelphia. Neither one of these even approach being illegal.
If the GOP is going to take down Obama, politically or legally, it's going to have to be something much more serious than what the Sean Hannity's of the world have been complaining about so far.
Chait closes with a question:
The history of modern Washington is a history of the social norms that once restrained political parties from no-holds-barred warfare falling by the wayside, one by one. Why would Republicans impeach Obama? The better question is, why wouldn't they?
He does have a point, I suppose. American politics has become more absurd theater than rational debate, and pursuing baseless impeachment charges against the President would be right up that alley. At the same time, though, Republican politicians aren't totally crazy and, like their Democratic counterparts who rejected efforts by Dennis Kucinich and others to pursue impeachment against President Bush after they gained control of Congress in 2006, I suspect that they'll be just rational enough to  realize that impeachment would be a suicide mission.