Will One Election Decide The Fate Of The Ryan Plan?
Voters in New York State may help move the budget debate on Capitol Hill.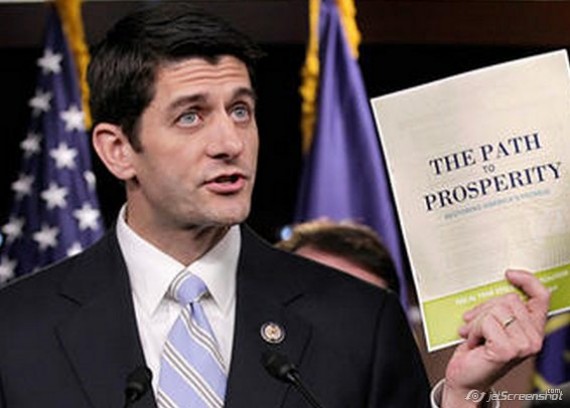 Voters in Western New York are headed to the polls today in an election that, whether it should or not, is being viewed by many as a referendum on the Ryan Plan:
It's election day in a once little-talked-about contest to fill a vacant congressional seat in upstate New York, that is now firmly in the national political spotlight.

And over the past month, the race in New York's 26th congressional district between Republican state Assemblywoman Jane Corwin, Democrat Kathleen Hochul, the Erie County clerk, and Jack Davis, a once-conservative Democrat who is running as a so-called tea party candidate, has to a degree turned into a proxy battle on House Republican plans to alter Medicare.

When it comes to Medicare, some national Democrats see this contest as a testing ground for next year's elections. But national Republicans disagree, saying the reason the contest between the Democratic and Republican candidates is close is because of the inclusion of the third party candidate.

The Democratic and Republican candidates have been using the issue to attack each other, and both campaigns, party committees, and outside groups have flooded the airwaves with television commercials, with many of the ads spotlighting the political battle over House Budget Chairman Paul Ryan's plan to dramatically cut federal spending by reforming Medicare.

"Jane Corwin has 100 percent embraced the Paul Ryan budget. Even when Republicans in Washington walk away from it, she's been asked again and again and she continues to support it," Hochul told CNN.

"I think it boils down to score tactics used on my opponent's part. She's trying to put out the idea that I'm trying to end Medicare. There's nothing further from the truth, I'm working to protect Medicare," responded Corwin.

The winner of the May 24 special election will fill the seat of Republican Rep. Chris Lee, who quickly resigned in February hours after the gossip website Gawker posted a shirtless photo and e-mails from the married congressman soliciting a date with a woman through the website Craigslist.
A loss by the GOP candidate here would be something of a surprise given that the 26th District has been in Republican hands for sometime, and went for John McCain by six points in 2008. However, as Nate Silver points out drawing national implications from a special election in one House District isn't always a good idea:
As to the interpretation of the results, one thing I'd remind the readers of is that the margins matter as much as the victor: if Ms. Hochul wins by a single vote, that tells us almost exactly the same thing as if she loses by a single vote. Also, Ms. Hochul's share of the vote matters: the lower Mr. Davis's vote goes, the more we can read into the results. As I noted two weeks ago, if Ms. Hochul finishes with a vote share in the mid-to-high 40s, that would be consistent with how Democrats performed in the district in the strong Democratic years of 2006 and 2008 and is a result that Democrats could be pleased with.

There is also some evidence that Republican plans to significantly alter Medicare, which has been the focal point of Ms. Hochul's campaign, may indeed have made some difference in the race. In the Siena poll, voters were asked to identify their most important issue. Of the 21 percent who picked Medicare, some 80 percent said they planned to vote for Ms. Hochul

(…)

If the results end up something like Ms. Hochul 46 percent, Ms. Corwin 44 percent and Mr. Davis 9 percent, that will reflect a fairly big departure from typical outcomes in the district. What will be more difficult to determine is whether they represent any sort of leading indicator. Medicare is likely to be more important in this district than in most others because of its preponderance of older voters, and Ms. Corwin has committed at least one major gaffe in the race unrelated to the issues themselves. At the same time, it would be naive to suggest that the Medicare issue has had no impact at all.

Once there have been several special elections, they may begin to have some predictive power — but reading too much into the results of any one of them is dangerous. Nevertheless — since Democrats are going to hammer away at the Medicare issue almost no matter what — the burden of interpretation will be with Republicans if they have a disappointing evening. They'll face a choice between toeing the party line on the issue of entitlements and allowing their candidates more wiggle room. Because of the issue's salience in the presidential primaries, it's a choice that they'll have to make on an accelerated timetable without the luxury of waiting for more data to come in.
For better or worse, and no matter how accurate it actually is, a Republican loss in this one Congressional District in New York, which may not even exist after New York finished redistricting, will be interpreted as a rebuke of the Ryan Plan. It will likely lead to more GOPers throwing the plan under the bus in the manner Scott Brown did yesterday, and it will hand Democrats a temporary, but perhaps important, victory in the ongoing budget debate. All of which just makes this story from yesterday's Politico all the more mind-boggling:
It might be a political time bomb — that's what GOP pollsters warned as House Republicans prepared for the April 15 vote on Rep. Paul Ryan's proposed budget, with its plan to dramatically remake Medicare.

No matter how favorably pollsters with the Tarrance Group or other firms spun the bill in their pitch — casting it as the only path to saving the beloved health entitlement for seniors — the Ryan budget's approval rating barely budged above the high 30s or its disapproval below 50 percent, according to a Republican operative familiar with the presentation.

The poll numbers on the plan were so toxic — nearly as bad as those of President Barack Obama's health reform bill at the nadir of its unpopularity — that staffers with the National Republican Congressional Committee warned leadership, "You might not want to go there" in a series of tense pre-vote meetings.

But go there Republicans did, en masse and with rhetorical gusto — transforming the political landscape for 2012, giving Democrats a new shot at life and forcing the GOP to suddenly shift from offense to defense.
Now there's nothing wrong with the GOP taking a position that is political unpopular, but to do so without any clear plan about how you're going to explain that plan to the public with the hope that you'd educate them about why your ideas are better is just plain dumb. Also dumb is letting your political opponents define the debate, which the GOP did almost from the moment the Ryan Plan was introduced. There's nothing wrong with being bold, but being bold and stupid is a fatal combination.