Would Romney Spend The Nation Into Debt To Increase Defense Spending? Yes, He Would
Left with a choice between their hawkish foreign policy and their supposed commitment to fiscal conservatives, Republicans will, without fail, spend the nation into debt.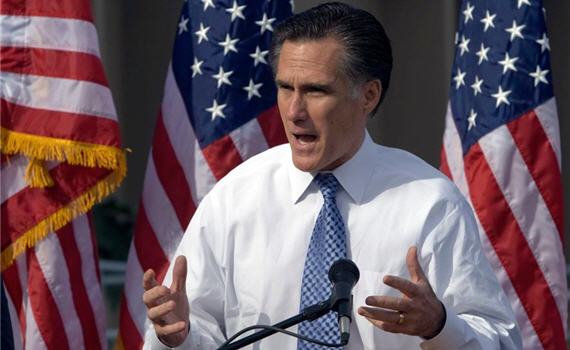 David Frum pushes back against those who take the position that a Romney Administration would engage in a far more aggressive and expansive foreign policy than the Obama Administration has:
If we've learned anything from this campaign, it is the supreme overarching importance to Republicans of tax reduction. The current proposal is to make permanent the Bush tax cuts of 2001 and 2003, and then go further with an additional cut to a maximum top rate of 28%.

Of course, George W. Bush cut taxes while mounting a very aggressive foreign policy. But here's the difference: over the past five years, the Republicans voting base of older voters has suddenly become acutely conscious that today's deficit implies tomorrow's tax increase. (Robert Barro, collect your Nobel Prize.) Mitt Romney seems to have internalized that argument too. And if your top priority is reducing debt so as to obviate the tax threat – well, the sheer daunting cost of foreign policy entanglements will temper your adventurism.

It will temper in particular your enthusiasm for an Iran adventure. An Iran war will be a big war. The contingency plans for an Iran war include the possibility of a breakdown of civil order in Iran and the deployment of foreign peacekeepers. I know this is utterly hypothetical. But imagine the reaction around the briefing table in a Romney Situation Room when the generals introduce such a topic – and a Romney OMB chair unveils the cost. The very fact that the Bush administration low-balled the cost of Iraq will bias a Romney administration to worry about high-cost scenarios.
I'm not sure what crystal ball Frum is looking into here, but it strikes me that he may want to take it back for a refund. Romney has already said that he wants to delay the defense sequestration cuts while Republican Senators and Members of Congress have said they want to outright eliminate them. Here in Virginia, eliminating the defense sequestration cuts has been a major theme of George Allen's Senatorial campaign against Tim Kaine. In his famous 59 point plan, Romney has proposed defense budget increases totally $2.1 trillion over ten years and has spoken of massive expansion of the Navy based largely on false premises about our current Naval capabilities. Meanwhile, the defense lobbyists that are whispering in Republican (and Democratic) ears are spreading the false argument that the military budget must be sacrosanct because it is, in reality, a jobs program. This is what Mitt Romney and, more importantly, the Congressional Republicans that would be voting on budgets under a Romney Administration, believes in and it makes Frum's attempt to reassure those of us concerned about the direction of foreign policy may take under a Romney Administration seem kind of foolish.
One need only look to history to see how conservatives actually feel about the balance between their supposed commitment to fiscal conservatism and the hawkish militarism that has come to represent the mainstream of Republican foreign policy thought in recent years. During the Reagan Administration, defense spending was increased dramatically as part of a more assertive foreign policy at the same time that taxes were cut in an effort to stimulate the economy. One of the results was dramatically higher deficits, although I think most of us would gladly return to the days of $250 billion per year deficits after four consecutive years of deficits over a trillion dollars. Twenty years later, President George W. Bush implemented two rounds of tax cuts even after the nation was thrust into war after the most destructive and deadly attack on American territory since Pearl Harbor. Two years later, the nation embarked on a voluntary, and I'd submit totally unnecessary, second war in Iraq. At no time did anyone in the Bush Administration or the Republican Party talk about repealing the Bush Tax Cuts to pay for the costs of the war, or increasing taxes in some way to accomplish that tax. There were no serious suggestions about cutting spending either. Instead, the Bush Administration and the Republican Congress passed a massive new entitlement program called Medicare Part D, a law that massively increased Federal involvement in K through 12 education, and many, many other bills that increased Federal spending. Instead, we financed all that spending, and both wars, entirely on debt.
Frum also seems to think that Romney would be deterred from war against Iran by a OMB director showing him a few spreadsheets. This strikes me as overly optimistic, and I would have thought that someone like Frum who has been critical of the current state of the GOP  would know better. With foreign policy advisers like Dan Senor and, potentially, John Bolton whispering in his ear, and the possibility (as some have suggested) that Joe Lieberman could end up being Secretary of Defense in a Romney Administration, does anyone really think that mere money is going to deter Republican hawks from something they've been wanting to do for years? I find that kind of hard to believe. Left with a choice between their hawkish pro-Israel foreign policy, not to mention the chance to blow up a lot of stuff, and their supposed fiscal conservatism, you can always count on Republicans to just let the debt pile up and say that they're doing it in the name of "national security."