2016 Presidential Election Prediction
And the winner is......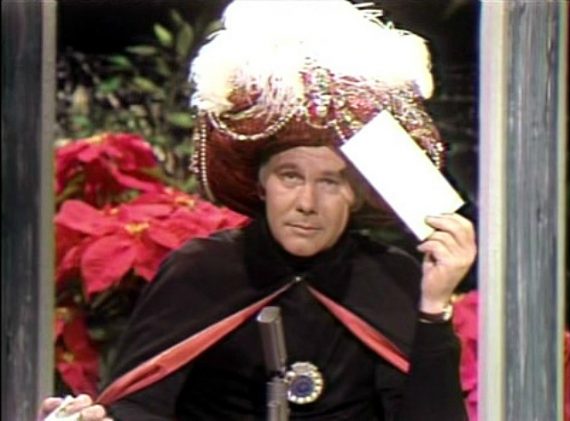 As I write this in the afternoon on the day before the election, we're just about twenty-nine hours from the point at which we'll start getting election results in the U.S. Presidential Election, and Americans will begin settling down to the quadrennial ritual of watching the election results pour in and the states start being painted red or blue. Kentucky and Indiana, both of which are expected to be easy states for Republicans, will be among the first states to report, with far more important states such as Virginia, North Carolina, and others closing starting at 7pm Eastern time and then, for the most part, on an hourly basis right up until 11pm when the West Coast finishes voting. By the time it's all over, and probably some time much earlier than that, we'll know who the next President will be and, quite possibly, who will control the Senate starting in January. The final numbers are, of course, in the hands of the voters, but as I've done in the past here are my projections about what's likely to happen. These projections are based on the polls, on Electoral College trends and the potential path to victory for both candidates, and on a little bit of guesswork regarding how I think voting is likely to go tomorrow.
Popular Vote:
Hillary Clinton — 49.5%
Donald Trump —  43.3%
Gary Johnson —    5.0%
Dr. Jill Stein —       1.2%
Other — < 1.0%
In both of the past Presidential elections, both the winner and the loser have outperformed the final RealClearPolitics average by several percentage points and I expect that the same thing will happen this time around as well. Much of Clinton's vote will come from states that she's guaranteed to win, such as California and New York, so it won't necessarily help her in the Electoral College, but it will bring her closer to 50% than current numbers are suggesting. Trump will also see his numbers do better than the polls, but the benefit won't be nearly as big and that will mean that the gap between him and Clinton will be larger than currently projected. Once again to a large degree this will happen because he is likely to receive fewer votes in solid blue, and possibly even some solid red, states than a Republican candidate might otherwise get. This seems as though it will be especially true in states like California where the Republican Party tends to be more moderate than the national party. I'm also predicting that Gary Johnson will end up getting 5% of the vote. This appears to be a larger margin than many pundits are predicting, but it still feels to me as though there is a significant portion of the population that is disgusted enough with the campaign and the two major party candidates to vote for a third-party candidate. In any case, even if he falls short of 5%, Johnson will most assuredly get a higher percentage of the vote, and a larger measure of votes, than any Libertarian Party nominee has ever gotten before. Jill Stein has been falling steadily in the polls and may continue to do so through Election Day, but I'll peg her final nationwide number at just above one percent mostly because I think that frustration with the two major party candidates will bring some stray voters into her camp.
Electoral College:
When Donald Trump won the Republican nomination, the prospect of a true electoral disaster for the party seemed readily apparent. Many people, even including some Republicans, began predicting a General Election blowout for the Democrats. There was talk of red states turning blue, Electoral College landslides akin to what we saw in 1984 or 1988, and political disaster for the Republican Party. As time has gone on, though, it's become clear that, while Trump was at a disadvantage in the race against Clinton and her Electoral College advantage, the political divide in the country was strong enough that Clinton would not be able to break through and win in states where Democrats have not won in a long time. As a result, though I'm predicting that Trump will lose, it's not as bad a loss as may have been anticipated when this campaign started.
Here's the map: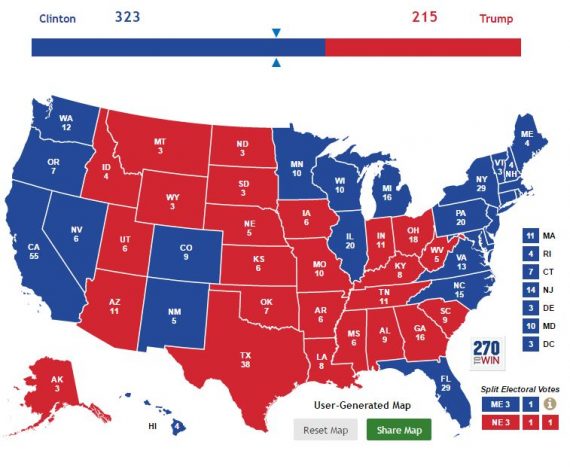 As I noted when I looked at the Electoral College late last week, Clinton walks into this election with a significant advantage and the data makes clear that she's likely to build on that advantage as the results come in tomorrow. I expect that she will win North Carolina, Florida, Nevada, and New Hampshire, thanks in no small part to turnout among her supporters. Trump, on the other hand, will win Iowa and Ohio, which is a state that has been hotly contested but which also is well situated to be one where Trump can do well due largely to demography. Additionally, Trump will hold on to three red states that have been heavily contested this year, Georgia, Arizona, and Utah. Obviously, if any of these states are reversed than the totals will change accordingly, but I still expect that, in the end, Hillary Clinton will pull out a victory in the Electoral College just like she'll win the popular vote.
Update: My predictions for the House and Senate are up.