Bill Clinton Set To Play Bigger Role In His Wife's Campaign In The New Year
Former President Clinton is set to hit the campaign trail for his wife in the New Year, and that could make things quite entertaining.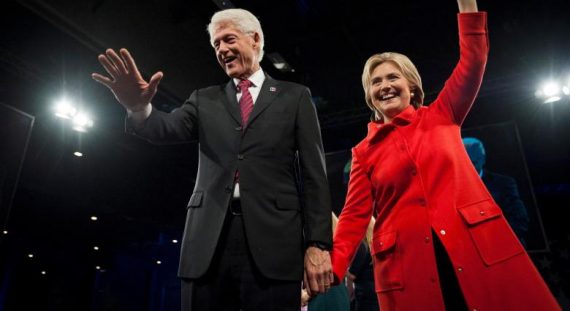 For the most part, former President Bill Clinton has stayed in the background during much of 2015 as his wife has built her campaign for the Democratic Presidential Nomination and, in the longer term, a General Election next November. While Hillary Clinton has toured the country and concentrated on carefully selected media appearances, the former President has largely stuck to his schedule of fundraising and other activities under the auspices of the Clinton Foundation. For some time, though, the question of when Clinton's Presidential campaign would start rolling out the former President has been asked by political analysts and pundits and, at least according to The Wall Street Journal, we're about to get a bigger dose of the former President in the New Year. For Hillary Clinton, though, this could be something of a double-edged sword:
A new and more combative phase of Hillary Clinton's presidential campaign opens next month when she sends her husband out to stump for her in important early states.

Waiting for him will be businessman Donald Trump, the Republican front-runner.

The former president has been a low-key figure since Mrs. Clinton entered the race for the Democratic nomination in April, offering private advice and helping her raise money at closed-door fundraisers. In January, the campaign intends to showcase him in public forums in Iowa and New Hampshire, two states where the front-runner is locked in a tight race against Vermont Sen. Bernie Sanders.

Speaking to supporters recently, Mrs. Clinton described her husband as a "secret weapon."

Throwing Mr. Clinton into the mix could further escalate the rhetoric between the Trump and Clinton campaigns. In the 2008 presidential race, the former president would bristle at criticism directed at his wife and got in hot water when he suggested Barack Obama's victory in the South Carolina primary was less significant because of the large African-American vote.

This past week saw back-and-forth volleys over whether comments Mr. Trump made about Mrs. Clinton were sexist. He said Mr. Obama "schlonged" her in the 2008 race and said her brief absence from a recent Democratic debate stage, when she was reportedly using the restroom, was "disgusting."

In an interview with the Des Moines Register, Mrs. Clinton said Mr. Trump has "demonstrated a penchant for sexism." That drew a response from Mr. Trump on Twitter: "Hillary, when you complain about 'a penchant for sexism,' who are you referring to. I have great respect for women.' " In capital letters he then wrote, "BE CAREFUL!"

Asked what Mr. Trump meant, his campaign manager, Corey Lewandowski, said: "Mr. Trump speaks for Mr. Trump and his tweets speak for themselves. And he's very clear about what those tweets say."

Another Trump spokeswoman, Katrina Pierson, suggested in an interview with CNN that the Trump campaign intends to make Mr. Clinton's behavior an issue should Mrs. Clinton pursue this point. Mr. Clinton, during his presidency, paid $850,000 to settle a sexual harassment case brought by Paula Jones stemming from an encounter when he was governor of Arkansas. His affair with then-White House intern Monica Lewinsky led to his impeachment by the U.S. House in 1998. He was acquitted by the Senate the following year.

(…)

Mr. Clinton is a revered figure in Democratic circles and was a key surrogate for Mr. Obama in his 2012 re-election bid. A survey conducted in part by The Wall Street Journal last year said he was by a margin of more than 2 to 1 the most admired president of the past quarter century.

Marc Lasry, a friend of Mr. Clinton's and head of New York hedge fund firm Avenue Capital Group, said: "President Clinton campaigning for Hillary is a huge asset. People love seeing him and he's able to explain things to people in a way that's unique."

(Friday, authorities in Hope, Ark., said a fire that caused minor damage to Mr. Clinton's childhood home, now a National Historic Site, was apparently caused by arson, according to the Associated Press.)

Because of the spotlight he attracts, some analysts said the Clinton campaign would be wise to have the two campaign separately so that Mr. Clinton doesn't overshadow the candidate.

"He's a luminescent figure. That's always an issue," said David Axelrod, a senior adviser in both of Mr. Obama's presidential campaigns. He added, "It's important for people to see her out there on her own."
The attraction for Hillary Clinton's campaign in bringing out Bill Clinton at this point is rather obvious. He remains the most popular living former President by a substantial margin over the rest of the group, and he is even more popular among base Democratic voters. In addition to fundraising events, the former President's role for the campaign is likely to largely consist of rallying Democratic voters in early states such as Iowa, New Hampshire, South Carolina, Florida, and Nevada as part of the campaign's largely get out the vote effort heading into the beginning of the primaries in February. It's a role Clinton has played before for his own campaigns, as well as Barack Obama's campaign in 2008 notwithstanding the bad blood that had developed between the Clinton and Obama campaigns during the long primary battle that year. One group of voters that former President Clinton has been very successful at persuading over the years, of course, have been African-American Democrats, and while that is a small amount of the electorate in states like Iowa and New Hampshire, it is far more substantial in states like South Carolina and, of course, in the states across the southern United States that will be voting in early primaries beginning in March. Hillary Clinton, of course, is immensely popular among African-American voters on her own, of course, which is one of the reasons why she does so much substantially better outside of states like New Hampshire than Bernie Sanders, who has struggled to gain any foothold at all among that immensely important segment of the Democratic Party, Finally, the former President on the campaign trail would be entirely consistent with the Clinton campaign's current campaign, which is clearly aimed more toward the General Election than a nomination fight that largely seems to be over and done with.
This isn't to say that there aren't downsides to having Bill Clinton out on the campaign trail, of course. As we learned in South Carolina in 2008 when he essentially said that then Senator Obama was only doing well in the polling in that state because of it's large African-American population, he was widely condemning inside the Democratic Party and caused headaches for his wife going forward as some alleged that the campaign was playing the 'race card.' For the most part, though, the former President seems to have learned his lessons from that debacle and seems unlikely to repeat incidents of that kind going forward, especially since Bernie Sanders is obviously not as serious a competitor as Obama was eight years ago. Given that, the danger of Bill Clinton going "off script" seems less likely this time around than it was eight years ago.
There is, however, one wild card here that could make the entry of Bill Clinton into the race as a campaigner for his wife quite interesting, and his name is Donald Trump. Trump has already shown that he has no compunction about hitting Hillary Clinton by making reference to Bill Clinton's past issues with women and, of course, the Monica Lewinsky scandal that led to President Clinton's impeachment. For Trump, of course, these comments go over well with die-hard conservatives who have a hatred of the Clintons that runs as deep as the hatred for President Obama, if not deeper, so it's not surprising he would bring these issues up in the course of the GOP primary. The entry of Bill Clinton into the race would likely prove far too tempting for Trump not to lob some attacks toward the Democratic frontrunner and her husband. As I noted last year when Rand Paul started crossing into the same territory that Trump has entered, though, bringing up these issues form the past are just as much a double edged sword for Republicans as they are for Democrats, if not more so. References to Bill Clinton's infidelity, for example, are more likely than not to increase public sympathy for Hillary Clinton than to harm her. Inside the Democratic Party, it's likely to help her rally base Democrats to her side even more than she already has, and among independents, and especially female voters, it's likely to make her seem likely a sympathetic figure, thus reviving all the old arguments about the Republican "war on women." And, of course, there's also the question of how former President Clinton will act react to attacks from Trump regarding the past. Given his own reputation for being able to play the political give-and-take game, one suspects Bill Clinton wouldn't take such attacks lying down. This could get quite interesting and entertaining folks.