Clinton Cleared Legally, But Her 'Extreme' Carelessness Will Follow Her To The White House
Hillary Clinton's extreme carelessness with classified information probably won't cost her the election, but it should.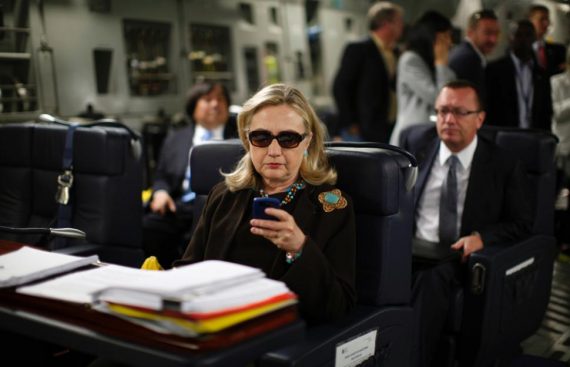 Yesterday's announcement by F.B.I. Director James Comey that the Bureau would recommend to the Justice Department that no charges should be filed against Hillary Clinton or any of her aides arising out of her use of a private email server notwithstanding the fact that the investigation did indeed uncover mishandling of classified information that was "extremely careless" lifted a massive cloud that had been hanging over her campaign. However, that doesn't mean that the issue itself will disappear, or that Clinton may not face consequences for her and her staff's negligence:
Hillary Clinton may avoid criminal charges, but the searing rebuke of her "extremely careless" email practices Tuesday by FBI Director James B. Comey is likely to reverberate through the November election and, if she wins, well into her presidency.

In a methodical, 15-minute statement bringing an end to the FBI investigation of Clinton's personal email system while she was secretary of state, Comey laid bare a litany of facts that amounted to a stern admonishment of her judgment, management and stewardship of state secrets.

Even as Comey lifted a legal cloud by announcing that the FBI would not recommend criminal charges, he systematically obliterated many of the key defenses Clinton and her advisers have offered to reassure the public in the 15 months since the discovery that she used a private email system. For instance, Clinton had insisted that she did not send or receive classified materials, but Comey said the FBI found that 110 of her emails contained classified information.

For weeks now, Clinton, the presumptive Democratic nominee, has been arguing that her Republican opponent, Donald Trump, is unfit to be president and cannot be trusted in the Oval Office. She had hoped that a rally Tuesday afternoon in Charlotte with President Obama — their first joint appearance of the campaign — would underscore that contrast with Trump.

Instead, the remarks by Comey — a Republican with a sterling reputation among leaders of both parties — delivered from a lectern at FBI headquarters cast fresh doubt on Clinton's own fitness and trustworthiness.

"Although we did not find clear evidence that Secretary Clinton or her colleagues intended to violate laws governing the handling of classified information, there is evidence that they were extremely careless in their handling of very sensitive, highly classified information," Comey said.

(…)

Public polls show that many voters do not trust Clinton and that the email controversy already has harmed her political standing. Polls consistently show that roughly two-thirds of Americansdo not consider Clinton "honest and trustworthy" — typically her lowest rating in a series of attribute questions.

A Washington Post-ABC News poll in June found that 56 percent of all adults disapprove of her handling of questions about her email use — 44 percent of them "strongly disapproving."

It is unclear whether the FBI's findings, delivered by Comey on Tuesday, will further erode Clinton's standing with the public. Republican pollster Neil Newhouse described the FBI's findings as "damning results, just not indictable," and expects fallout in the polls.

"Very little of her explanations hold up, most are at odds with the facts, and it was much worse than she admitted," Newhouse said in an email Tuesday. "I'm not sure voters are going to be surprised, but when she's already trailing on the key attributes of 'honest and trustworthy' to Donald Trump, today's FBI findings are going to dig her hole even deeper
Patrick Healy in The New York Times calls Comey's comments about Clinton's "extreme recklessness" and the fact that the investigation found that many of the initial claims that Clinton and those around her made regarding the email issue were simply not true, a "ready made attack ad" for the Trump campaign and the GOP:
Mrs. Clinton's campaign is built on the premise that she has the national security experience and well-honed instincts to keep Americans safe in the age of terrorism, and that Donald J. Trump does not. Nearly every day, she seeks to present herself as a more thoughtful and responsible leader.

She has spent months describing Mr. Trump as "reckless," "unprepared" and "temperamentally unfit" to be president, and she has pointed to her four years as secretary of state and eight in the Senate as unparalleled preparation for becoming commander in chief.

Yet in just a few minutes of remarks, Mr. Comey called into question Mrs. Clinton's claims of superiority more memorably, mightily and effectively than Mr. Trump has over the entire past year. And with potentially lasting consequences.

To her charge that he is "reckless," Mr. Trump may now respond by citing Mr. Comey's rebuke: that Mrs. Clinton and her team "were extremely careless in their handling of very sensitive, highly classified information."

To her promises to defend the United States, Mr. Trump may now retort with Mr. Comey's warning that "it is possible that hostile actors gained access" to Mrs. Clinton's email account and the top secret information it contained.

And to her reproofs about his temperament and responsibility, Mr. Trump may now point to Mr. Comey's finding that "there is evidence of potential violations of the statutes" on handling classified information — though Mr. Comey said that other factors, like Mrs. Clinton's intent, argued against criminal charges.

Worst of all was the totality of Mr. Comey's judgment about Mrs. Clinton's judgment.

She is running as a supremely competent candidate and portraying Mr. Trump, in essence, as irresponsible and dangerous. Yet the director of the F.B.I. basically just called her out for having committed one of the most irresponsible moves in the modern history of the State Department. And a day that should have been one of Mrs. Clinton's best of the campaign — as she stumped alongside President Obama for the first time and received his hearty endorsement — ended up as one of her worst.

Her clearest selling point — that she, unlike Mr. Trump, can manage challenging relationships with allies and adversaries — has now been undercut because she personally mismanaged the safeguarding of national security information.

These were only Mr. Comey's words, of course: He did not recommend federal charges against Mrs. Clinton or any of her aides, which came as a huge relief to Democrats who feared worse.

Still, as the Republican strategist Russ Schriefer put it on Tuesday, "Any time a campaign is using 'Well, at least she wasn't indicted' as a cause for celebration isn't a good day for the campaign."

(…)

A more conventional Republican nominee would probably already be using Mr. Comey's remarks to churn out new attack ads and bombarding television and radio audiences until every voter had heard the phrase "extremely careless" more than he or she could count. A typical nominee would have allies memorizing Mr. Comey's best lines and repeating them on cable news and at local political events — assailing Mrs. Clinton's judgment and experience to exploit and deepen the mistrust that many Americans feel toward her, and to drive up her unfavorability ratings in public opinion polls.
Politico's Gabriel DeBenedetti and The Washington Post's Chris Cillizza both make similar points about how an F.B.I. report that simultaneously states that the Democratic nominee for President acted "extremely" recklessly and contradicts her on several key points with regard to how she has defended her use of a private email server over the past year or more would, ordinarily, hardly be considered good news by the campaign or its supporters. As Patrick Healy notes above, the attack ads against Clinton practically write themselves and the transcript of Comey's remarks provides the transcript for those ads. Hillary Clinton is running for President, we are told, based on her experience and judgment and yet here we have the head of the F.B.I., after a year long investigation that reportedly involved dozens of Bureau agents and experts, that she had acted extremely recklessly in connection with the handling of classified information and that, contrary to her own claims going back more than a year, she and her aides shared information that they either knew or reasonably should have known was classified to at least some degree. Notwithstanding the fact that he was simultaneously recommending no indictment even though the actions and failures to act that he described clearly seem to amount to violations of Federal law, including but not limited to 18 USC § 793(f), which covers those situations where people have handled or mishandled classified information, this is very damning information that ordinarily would cause real problems for a candidate for President, especially one that already has a problem with the public perceiving her to be dishonest or unethical.
Even if Clinton is elected in November, which still seems likely, the story of how she put herself above the law in setting up a private email server under her sole control, a move obviously intended to give her control over which emails would eventually be made public, and then flouting the laws regarding the proper handling of classified information will undoubtedly follow her into the White House just as questionable actions when she was First Lady of Arkansas followed her and her husband into the White House twenty-four years ago. House Speaker Paul Ryan has already said that there will be hearings regarding the F.B.I. probe and Clinton's handling of classified information in the House, for example, and one can easily see those hearings continuing well into an anticipated Clinton Administration. Additionally, the findings themselves are likely to come as little to no surprise to American voters, most of whom have already formed an opinion of both candidates for President that is, to put it mildly, less than favorable. If the only thing that Clinton's supporters can say in her defense is "well, she wasn't indicted," that's hardly an endorsement of her character or her trustworthiness, and hardly a sign that the deep cynicism with which most Americans view politics today is going to come to an end any time soon.
What's extraordinary about all of this, of course, is the fact that, despite the damning conclusions that the F.B.I. investigation reached, she is still likely to be elected President of the United States. In an ordinary election year, the Republicans would be all over these statements by the F.B.I. Director and would continue hammering on them from now until Election Day. As Megan McArdle reminds us, though, this is not an ordinary election year:
Perhaps this helps Trump a little bit, on the margin. But I doubt that it does any more than confirm what everyone already thought. Democrats will continue to stick their fingers in their ears and say Lalalalala-I can't-hear-you-and-anyway-Colin-Powell-did-it-too (he didn't). Republicans already thought she was a crook. Low-information voters, aka the people who swing elections, will not follow this closely enough to take subtle new insights from the wording of Comey's statement; they will go forward with the same vague sense that the Clintons are not very ethical people. When they weigh this against their similarly vague sense that Trump isn't very ethical either, it's probably a wash

Especially since Trump is the Republican worst positioned to take advantage of this opening. How many people are going to think that if Trump had been in Clinton's place, he would have said: "Heavens no, we can't go having a private server! That would be unethical and strictly against the rules! Put my e-mails on the State Department system so that it will be open to FOIA!" We're talking about a man whose dubious real estate seminars targeted parents with hungry kids, who has been sued for fraud more than once, who bans news outlets from his campaign events if he thinks they've been too mean to him. This is the man who's supposed to deliver hard-hitting attacks on Clinton's honesty and transparency?

In fact, rather than helping Trump, I wonder if this hurts him. Republicans, and especially Trump supporters, have been talking about the indictment the way people on the losing side of major wars start talking about some implausible outside relief, like England getting into the Civil War on the side of the Confederacy. The indictment was never very likely, and now that it has been put to rest, Republicans are going to have to look at Trump's chances without a deus ex machina to turn the tables for them.
McArdle is, of course, largely correct. The F.B.I.'s conclusions about Clinton are unlikely to benefit him to any significant degree for several reasons. First of all, as past news stories have demonstrated Trump quite simply lacks the discipline to stay on message long enough for a story like this to sink in with the public at large, and the fact that he and other Republicans have spent the better part of the past year claiming that an indictment was just around the corner means that yesterday's announcement was as much as setback for them as it is for Clinton herself. Even if Trump spends the next several days talking about this he will inevitably be distracted by something else, or say something offensive on a completely different topic, and that will be the story that comes to dominate the news cycle in the week leading up to the Republican National Convention. Second, Trump's own negative poll numbers are, if anything, worse than Hillary's and that appears to be resulting in her being able to maintain a lead over him in the polls at the national and the state level. Third, by all accounts, Trump lacks the cash on hand to mount the kind of media campaign that would seem to be called for in this situation and has shown little inclination to either raise more money, or contribute his own at a level that could actually compete with the tens of millions of dollars that Hillary Clinton has raised, and no doubt will continue to raise. Finally, the Electoral College advantage that Clinton has is not likely to be impacted by this report, even though it probably should be.
In other words, given the choice between a xenophobic demagogue and an ethically challenger former Secretary of State of limited accomplishment, and keeping in mind that most Americans will not take advantage of the availability of third-party candidates on the ballot, most Americans will reject the demagogue. That's good news on some level, I suppose, but it's just another sign of how unfortunate it is that one of the two major party candidates has to be the one who wins in November, because neither one of them deserves to.