Congress, White House Reach Budget Deal, John Boehner's Parting Gift To Paul Ryan?
Congress and the White House have reached a tentative deal on the budget and debt ceiling that promises to make Paul Ryan's initial months as Speaker a lot easier.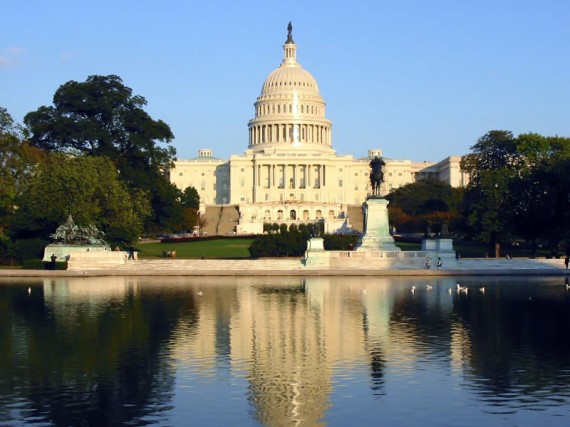 With just days to go before John Boehner steps aside as Speaker of the House and Paul Ryan steps into a position he had resisted taking for years, Congress and the White House have reached a budget deal that seems likely to make Ryan's first months on the job much, much easier if it goes through:
WASHINGTON — After five years of bitter clashes, Republican congressional leaders and President Obama on Monday night appeared to settle their last budget fight by reaching a tentative deal that would modestly increase spending over the next two years, cut some social programs, and raise the federal borrowing limit.

The accord, which must be approved by the House and the Senate, would avert a potentially cataclysmic default on the government's debt and dispenses with perhaps the most divisive issue in the capital just before Speaker John A. Boehner is expected to turn over his gavel to Representative Paul D. Ryan of Wisconsin.

Shortly before midnight, House Republicans posted the text of the 144-page bill, which was labeled a "discussion draft" but appeared to reflect the tentative agreement as described by congressional aides throughout the day.

The agreement would raise spending by $80 billion over two years, not including a $32 billion increase included in an emergency war fund. Those increases would be offset by cuts in spending on Medicare and Social Security disability benefits, as well as savings or revenue from an array of other programs, including selling oil from the nation's strategic petroleum reserves. The Medicare savings would come from cuts in payments to doctors and other health care providers.

The agreement would raise spending by $80 billion over two years, not including a $32 billion increase included in an emergency war fund. Those increases would be offset by cuts in spending on Medicare and Social Security disability benefits, as well as savings or revenue from an array of other programs, including selling oil from the nation's strategic petroleum reserves. The Medicare savings would come from cuts in payments to doctors and other health care providers.

The $80 billion increase amounts to little more than 1 percent per year of the nearly $4 trillion annual federal budget, but carries the politically charged significance of breaking through agreed-upon spending caps that Republicans had praised as a rare display of responsible cost-control and Democrats criticized as a wrongheaded drag on economic growth.

Nonetheless, the deal would represent a major breakthrough after years of gridlock in Congress, especially on fiscal issues, as each side compromised on core issues. It frees Mr. Obama from budget battles as he looks to secure his legacy in the remainder of his second term, and gives clean starts to Mr. Ryan as speaker and to Republicans trying to persuade voters that they can be an effective governing majority.

For Mr. Boehner, the deal would deliver on his pledge to clean up "the barn" by dispensing of potential crises in a way that he hoped would silence critics who said he overpromised and underdelivered. Mr. Boehner was repeatedly caught in spending fights between hard-line conservatives in his own party and a White House eager to blame Republicans for any impasse, such as the government shutdown in 2013.

(…)

An official briefed on the terms of the spending agreement said the deal fulfilled all of Mr. Boehner's goals in the talks by securing long-term changes in social programs, offsetting spending increases with corresponding cuts or savings; increasing military spending; achieving a net reduction in the deficit; and locking in an agreement on spending for the 2017 fiscal year.

Democrats, too, said they had achieved their goals, particularly lifting the prior spending caps and by assuring roughly equal increases to military and nonmilitary programs.

The Treasury Department had said that the government would default on its debt if the statutory borrowing limit was not raised by Nov. 3. And a temporary spending measure, which kept the government from shutting down at the start of October, will run out on Dec. 11.

The tentative agreement reached Monday night would solve each of those problems. It would keep the government financed through Sept. 30, 2017, well after Mr. Obama leaves office. And, the debt limit would be raised — technically suspended, allowing the Treasury to borrow whatever it needs — until March 2017.

And while the annual spending caps would be raised for two years, the 10-year spending caps enacted in 2011 would remain in place. Those caps will frame spending negotiations between Mr. Obama's successor and leaders of the next Congress.

Rank-and-file House Republicans, in particular, have been resistant to authorizing an increase in the debt limit without some accompanying adjustments to mandatory federal spending programs. They have voiced opposition even as financial experts warned of the potentially devastating economic consequences of a default, and noted that raising the limit merely covers previous expenses and does not authorize any new spending.
The New York Times' Carl Hulse notes that, while this agreement isn't the "Grand Bargain" that Boehner and other Republicans have tried to reach for years now, it comes pretty close:
WASHINGTON — It is no grand bargain, but it is a big deal.

As he prepares to vacate the House at the end of the week, Speaker John A. Boehner helped engineer an $80 billion bipartisan budget agreement with the Obama administration that may fall far short of earlier visions of budget grandeur but would still get Congress through a potentially dangerous period for both the economy and itself.

The agreement, negotiated in secret by top congressional and White House aides, is a recognition by Mr. Boehner and Senator Mitch McConnell of Kentucky, the majority leader, that they were staring into a fiscal and political abyss.

With just days remaining before the Treasury Department estimated it would run short of cash to pay the federal government's obligations, the two leaders of the House and Senate majorities had no clear path toward raising the federal debt limit. Many House Republicans and some in the Senate refuse to vote for any increase in federal borrowing power no matter the dire circumstances. Support for a debt-limit increase has become a sure ticket to a primary challenge from the right for many of them.

But Mr. McConnell has repeatedly promised no default. And he and Mr. Boehner, with their ties to high-ranking allies in the business and financial worlds, knew that failure to head off a threat to the government's creditworthiness could boomerang badly on Republicans just one year from Election Day.

While fiscal turmoil might energize conservatives demanding that Republicans hold firm against the Obama administration, it probably would not sit well with many other American voters as they watched their retirement savings plummet, their mortgage rates soar, their car andstudent loan costs climb and unemployment tick back up.

Now the tentative budget agreement gives the Republican leadership the chance to persuade a sufficient number of Republicans to join Democrats in approving an increase in the debt limit that should take the government into the administration of the next president.

In fact, if approved, the deal does much more — both politically and substantively.

On the political side, it is a parting gift from Mr. Boehner to his presumed successor, Representative Paul D. Ryan of Wisconsin, who is expected to be chosen as the next speaker on Wednesday by his Republican colleagues and on Thursday by the full House.

With passage of the deal, Mr. Boehner would make good on his promise to clean out the barn a bit for Mr. Ryan and allow him time to get his feet under him as the new leader without having to face the nearly impossible job of rounding up votes for the debt limit increase.

It would give a little breathing room for more spending on politically popular domestic programs like health care research, federal law enforcement and the Coast Guard, while defusing tension between Republican hawks itching for more military spending and budget hawks demanding strict adherence to statutory spending limits. And it would avert premium increases of as much as 50 percent for millions of older people on Medicare, a potent political force.

The question remains, however, if the deal will weaken the conservative standing of Mr. Ryan — and upset his looming election — whether he had a hand in the negotiations or not.

And those conservative activists who helped push Mr. Boehner to an early retirement were not looking kindly on the agreement as details began to trickle out Monday. The group Heritage Action for America labeled Mr. Boehner a "rogue agent" working for special interests in his final hours.

"In Washington cleaning the barn is apparently synonymous with shoveling manure on the American people," said Michael A. Needham, the head of the group, which is the political arm of the Heritage Foundation.

On the policy side, it potentially buys Republicans, congressional Democrats and the White House two years of relative budget peace by setting agreed-upon spending limits for this year and next, getting both parties through the election with a legislative truce that spares them tough political votes. It will then be up to the next Congress and president to renew the budget wars — or not.

For Democrats and President Obama, it provides the added domestic spending they had demanded and resolves some of the pressing problems they had seen in the Social Security disability fund.

Lawmakers of both parties frustrated with the haphazard way Congress has performed its fundamental duty of passing appropriations bills in recent years also see a real benefit in the budget deal. With spending levels set for the next two years, members of the appropriations committees believe they can return to the traditional process of crafting, debating and passing individual appropriations bills and have more impact on the way the government spends its money.

It is also a fitting coda for Mr. Boehner. He never did get his "grand bargain" of up to $4 trillion in sweeping tax and spending changes that he sought with Mr. Obama four years ago to right the country's listing long-term fiscal ship. Those negotiations collapsed in acrimony — an outcome that colored the relationship between Mr. Boehner and the White House for the rest of his tenure and reduced the chance of legislative bargains between them.
In the weeks since John Boehner announced that he was stepping aside as Speaker and resigning from Congress, there has been much discussion about the outgoing Speaker using his remaining time in office to "clear the barn" by dealing with many of the long-term issues that have been sitting on the House's docket for some time now and which cause difficulties going forward for whomever ended up replacing Boehner. This included everything from the budget for the current Fiscal Year, which was punted to mid-December thanks to a Continuing Resolution passed in late September that avoided a shutdown over Planned Parenthood funding, to the debt ceiling, which the Treasury Department says we will reach by November 3rd if nothing is done to extend it, to funding for the Export-Import Bank and a highway bill. When Kevin McCarthy followed Boehner's lead and also stepped aside in the Speaker's race as Republican leaders turned to Paul Ryan to step up and lead the House, the idea of taking care of these issues before the end of the month seemed to take on a new urgency. In some sense, it seemed as though leadership in the House felt that they owed it to Ryan to at least try to resolve these issues before he steps up to the plate. What was unclear to those of us on the outside, of course, was the extent to which whatever behind the scenes talks were taking place were actually accomplishing anything and whether their efforts would even have a chance of succeeding. Last night's announcement, while tentative, would seem to suggest that they were about as successful as any reasonable person could have expected them to be.
To a large degree, of course, the fact that the talks seem to have succeeded, or that they took place at all, can be attributed to the fact that Boehner leaving office gives the rest of the House leadership a significant degree of political cover to negotiate a deal that would have been next to impossible to get done if he were staying in office and worried about further challenges to his leadership. Whatever consequences might fall from this deal, including the potential that the House leadership may have to violate the largely non-existent Hastert Rule to get it done by relying on Democratic votes to get to the 218 votes needed to get it through the House, will fall on Boehner rather than on Ryan. Indeed, I wouldn't be surprised to see Ryan and some other members of House leadership vote against this deal notwithstanding the fact that they were obviously aware of the negotiations and likely agreed to the deal so that they have at least some sense of deniability when it conservatives wake up and realize how skillfully they have been played here. Most importantly, though, if they deal goes through then it would effectively neuter many of these conservative critics since it would take away from them what is arguably the most powerful weapon in their quiver, the threat that they could force a government shutdown over debt ceiling or budget issues some time between now and the 2016 General Election.
That last point is perhaps the best thing about the deal itself. With this agreement, Congress would effectively not have to worry about budget or debt ceiling issues until well after the 2016 elections have taken place and the next Congress in office. There won't be any worries about having to negotiate either one of these hot button issues in the midst of a Presidential and Congressional campaign that promises to be about as contentious as any we've seen in recent history. If nothing else, taking those issues off the table for the next 16-23 months will do a lot to remove the "govern by crisis" atmosphere that has pervaded Washington for the past decade or more. For that alone, perhaps, we will all end up thanking John Boehner for taking the steps necessary to make this happen.