Democrats Failed To Capture Virginia's Senate, In Part Because Of The Politics Of Gun Control
Virginia Democrats tried to capture control of the Virginia State Senate by, in part, emphasizing gun control issues. The fact that they failed is instructive.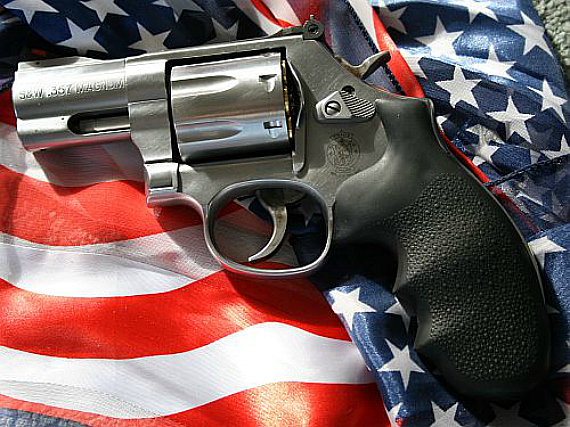 As I noted this morning, Virginia Democrats failed in a highly publicized effort to regain control of the Virginia Senate, which effectively means that Terry McAuliffe is a lame duck Governor for the remaining two years of his term and the attention of the Commonwealth's political operatives will now shift to the Democrats and Republicans who will run to succeed him in 2017 in addition, of course, to the 2016 Presidential race. To some degree, the effort to retake the Senate was an uphill battle to begin with due to the fact that many of the State Senate's districts are drawn in an a way that makes it hard for challengers to succeed in a General Election absent something politically unusual. This year, though, Democrats in Richmond and many outside groups attempted to create an opening that could flip even one seat into the Democratic camp by emphasizing gun control issues, especially in districts in Northern Virginia where polling indicates support for some gun control measures:
Republicans held onto the Virginia Senate in fiercely contested elections Tuesday, leaving Gov. Terry McAuliffe without legislative leverage or political momentum as he works to deliver Virginia for his friend and ally Hillary Rodham Clinton in 2016.

The outcome was a blunt rebuke to McAuliffe (D), who had barnstormed the state with 24 events over the past four days and who portrayed the elections as a make-or-break moment for his progressive agenda.

(…)

Having one chamber on McAuliffe's side could have, at least in theory, led to the sort of bipartisan deal-making that allowed then-Gov. Mark R. Warner (D) to pull off a record tax hike in 2004. But Warner could appeal to a host of moderate Senate Republicans and a more closely divided House. McAuliffe faces a more conservative Senate Republican caucus and a House with a wide GOP majority.

For that reason, the biggest prize the elections offered was momentum — the opportunity for the winning party to claim that voters in this key presidential swing state were leaning its way one year ahead of the White House contest.

McAuliffe, once a record-smashing fundraiser for his close friends Bill and Hillary Clinton, had hoped a win would help sway purple Virginia in 2016.

National donors and outside groups on the left and right seized on the state Senate races. A gun-control group backed by former New York Mayor Michael R. Bloomberg pumped more than $2.3 million into the two most hotly contested Senate races, one in Northern Virginia, the other in the Richmond suburbs. Donating in smaller amounts were the Koch brothers' Americans for Prosperity, the National Rifle Association and the Republican State Leadership Committee.
As this pre-election article in The Washington Post notes, by the time the campaign came to crunch time the election had boiled down to Democrats and their supporters emphasizing gun control issues while Republicans concentrated on a debate to create toll lanes on a major Northern Virginia highway:
Gov. Terry McAuliffe (D) has made a Democratic takeover of the closely divided state Senate his top priority this fall. For several months, he's tried to convince voters that control of the chamber is the only way he'll be able to pass his agenda, which includes expanding Medicaid and passing new gun-control legislation.

But this week, he's been tangling on the radio with Republicans not about health care or firearms but congestion plans for one stretch of road inside the Capital Beltway.

Currently, rush-hour restrictions apply to single drivers on that busy section of Interstate 66; under the governor's plan, single drivers could pay to join the other commuters. Republicans have seized on the issue, accusing the governor of planning a new toll road that would increase the cost of commuting. House Republicans more than doubled their original spending on TV commercials knocking the I-66 toll plan for a total ad buy of $850,000, according to Matt Moran, spokesman for Speaker William J. Howell (R-Stafford).

(…)

In addition to tolls, which will probably help the race become one of the most expensive in state history — with about $4 million raised — the contest has attracted groups seeking tighter gun-control laws. About a quarter of that money comes from Everytown for Gun Safety, an advocacy group launched by former New York mayor Michael Bloomberg to help candidates who support stricter access to guns. Everytown is spending $1.5 million backing McPike. "You can't turn on the TV for two minutes without seeing one of those ads," said Senate Minority Leader Richard L. Saslaw (D-Fairfax).

But despite that flood, as well as the advocacy of the parents of a Roanoke television reporter slain on live television in August, Republicans say momentum is on their side.

"It feels good out there," said Ed Gillespie, former Republican National Committee chairman who is considering a run for governor in 2017. "I think we're going to expand our majority in the Senate. . . . We may even expand the majority in the House."
There were obviously issues beyond gun control that led to the failure of Virginia Democrats to flip even one Senate seat yesterday, but the fact that they put so much time and money in that issue, and concentrated that effort on districts where it seemed as though this kind of message would have an impact. Specifically, we're talking about the kind of middle-class suburban communities where polling shows that there is broad support for stricter gun control laws, including not just background checks but also other provisions. The fact that the effort was unable to motivate voters to get to the polls, or to vote for the Democratic candidate if they did vote, is an object lesson in the political realities of gun politics in the United States. As I've noted before, even where polling shows that there is strong support for at least some forms of gun control it has often proven difficult for advocates to turn that support into the kind of political action necessary to win elections. To a large degree, that is because of the fact that gun control is largely a low-priority issue for all but the most committed voters, and even then it is usually the people on the gun rights side of the argument that seem most heavily motivated to be "single issue" voters on gun issues. As I've said before, perhaps the best evidence of this is the fact that the uptick in support for gun control measures that occurred in the wake of the shootings in at Sandy Hook Elementary School had returned to its pre-existing levels by the one-year anniversary of the shootings. The most recent evidence of this fact before yesterday's election results in Virginia can be found in polling that was released last month that showed increased support for "stricter' gun control laws, without going into specifics about what that means, but also showed strong support for allowing people carry legally obtained weapons concealed as well as opposition to some of the more restrictive ideas of gun control advocates. The fact that the rather well funded for an off-year election efforts to use the issue to try to flip even a single Senate seat in Virginia failed, then, is not entirely surprising.
The results in Virginia and the lesson they seem to teach us could also have implications for the 2016 elections. In the wake of the most recent mass shooting incident in Roseburg, Oregon, President Obama tried to ignite a public debate on the issue of gun control with comments that pretty much just amounted to empty rhetoric about policies that most likely wouldn't have any reasonable chance of passing at the national level and wouldn't have done anything to stop any of the recent shootings even if they did. Hillary Clinton, meanwhile, responded by unveiling what she said would be an aggressive push for broader gun control laws if she's elected President, including the possibly use of Executive Orders and other powers if Congress fails to act. More recently, Clinton used last week's Democratic Presidential debate to attack her chief rival Vermont Senator Bernie Sanders for a record on gun control issues that doesn't fit easily into the Democratic Party's current narrative and even suggested that she would consider the type of mandatory gun buyback program, essentially gun confiscation, utilized by Australia in 1996 and 2003. Inside the Democratic Party, this type of rhetoric is likely to play well, of course, but that's not necessarily the case in the General Election. If the Clinton campaign and the Democrats choose to make this an issue then, it could have very interesting implications for states that will be crucial to the outcome of the campaign such as Ohio, Florida, New Hampshire, and, of course, Virginia. It could also have implications in closely contested Senate races, where the balance of control in that body will be decided. Perhaps it will turn out that Democrats are finally able to use this issue to their advantage, but recent history, going all the way back to the 1994 election, indicates that the result would more likely backfire on them.