Donald Trump Makes More Bizarre, Baseless Claims About Voter Fraud And Voter ID
Donald Trump is engaging in another round of baseless and bizarre conspiracy theories about alleged voter fraud.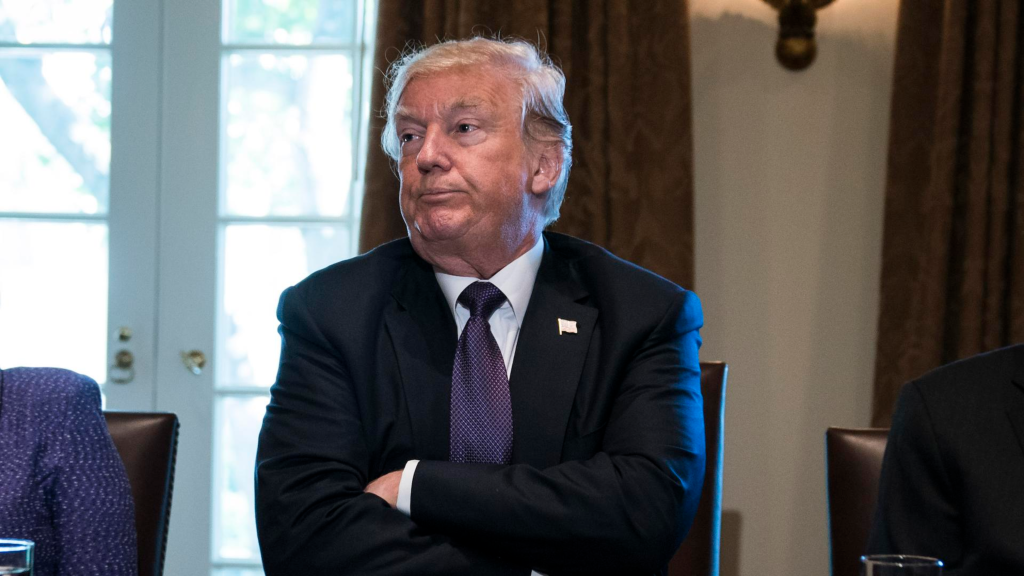 In his latest bizarre effort to undermine the voting process, President Trump made a series of ridiculous claims in an interview that honestly make one wonder about his grip on reality:
There's no good argument underlying President Trump's insistence that U.S. elections are undermined by rampant voter fraud. There's no evidence at all that they are, despite years of looking and years of rhetoric like Trump's. There's no evidence of rampant voter fraud in Florida in the wake of last week's midterm elections, either, despite Trump's tweets and commentary.

But there are particularly bad arguments for the existence of voter fraud, two of which Trump offered in an interview with the Daily Caller on Wednesday afternoon. The outlet's Benny Johnson and Saagar Enjeti interviewed Trump in the Oval Office, and the conversation turned to the recount in that state.

Here's the first claim Trump made, hoping to bolster his assertion that fraud is rampant: "When people get in line that have absolutely no right to vote and they go around in circles. Sometimes they go to their car, put on a different hat, put on a different shirt, come in and vote again. Nobody takes anything. It's really a disgrace what's going on."

Here's the second claim he made, hoping to bolster the idea that photo ID should be required at polling places: "If you buy a box of cereal — you have a voter ID. They try to shame everybody by calling them racist, or calling them something, anything they can think of, when you say you want voter ID. But voter ID is a very important thing."
The second claim, of course, is utterly silly and it led to several hours of jokes on Twitter at Trump's expense. You don't need identification to buy that box of Corn Flakes, of course, although I suppose that on some level Trump can be excused for not knowing this because he most likely has not had to shop for his own groceries in decades and it's entirely possible that he's never actually been inside a grocery store of any kind as a customer at any point in his life. Amazingly, though, this isn't the first time Trump has made this claim. As Philip Bump notes in The Washington Post, Philip Bump notes that he made a similar claim back in August. Again, this is an utterly silly claim. Perhaps you need to show identification if you're paying by check, but if you want to go to the grocery store and buy a box of Corn Flakes, and pay with cash, credit, or debt, then nobody is going to ask you for identification.
As Bump goes on to note, though, it's Trump's first claim that is even more absurd:
If you have ever voted, you know how ridiculous this is. While you don't always need a photo ID to vote, you do need to be registered (in nearly every state) and somehow verify your identity, often by matching your signature against one on file.

Unless you live in a small community in which two people are identified solely by their hat colors, and unless you convince the person at the polling place to ignore your face and just focus on your hat color and unless there are for some reason no other checks to validate your registration, your hat-switching or shirt-changing strategy isn't going to work.

It's sort of amazing that the president of the United States doesn't know this or pretends he doesn't.

Trump should certainly know how hard it is to vote because he famously had to travel to multiple polling places in 2004 when trying to cast his presidential vote, camera crew in tow. (It was for a show hosted by Billy Bush, who has a habit of starring in videos that don't cast Trump in the greatest light.) Trump wasn't on any of the voter registration lists and ultimately had to cast a provisional ballot.
These latest claims come, of course, as various states around the country seek to count and certify votes in a variety of close races around the country, most notably in Georgia and Florida but also including a number of Congressional races around the country that are still considered too close to call. Virtually from the day after the election, Trump and other Republicans have done everything they possibly can to undermine the validity of this counting process and, in some cases, filed lawsuits to stop authorities from counting or recounting ballots.  As Steven Taylor notes, this kind of questioning of the validity of the election process, unsupported by evidence, is nothing short of an effort to undermine the validity of the democratic process itself. Given the fact that we're talking about a President who has already sought to undermine public trust in the media by labeling it "fake news" and an "enemy of the people," of course, this hardly comes as a surprise.
To respond to Trump's claims, the truth is that there is no credible evidence of voter fraud during the recently concluded specifically and, more generally speaking, little evidence of the kind of in-person voter fraud that Voter ID laws are supposedly intended to combat, Instead, as several studies have shown, those laws end up having the primary impact of making it more difficult for poor and minority voters to vote, something that has caused several Federal Courts across the country to strike down Voter ID laws in states such as Wisconsin, North Carolina, and Texas, Time and again, evidence has shown that Voter ID laws disproportionately make it more difficult for people of color to vote. The laws are usually passed by Republican legislatures in no small part because they tamp down a voting base assumed to support Democrats. In fact, in the past, courts have explicitly called voter ID laws in Texas and North Carolina discriminatory based not just on their impact on voting behavior but due to the fact that there have been statements made on the record by the drafters of these bills that make it clear that the intent of the bill was to provide on political party with an advantage by making it harder for the voters of the other party to vote. Combine this with the fact that there is little evidence that there is any actual voter fraud problem that these laws would address, and there's really only one conclusion can be drawn.
In any case, even if one supports Voter ID as a concept, and I still count myself in that group provided that the identification is made as easy to obtain as possible, that it does not unduly burden one group of voters, and that the cost of obtaining a valid voter identification card is zero, the lies that someone like the President spin makes it harder and harder to support the cause. This becomes especially true when one is dealing with the kind of absurdity that the President spewed in this interview.