Hillary Clinton Accepts Nomination To Cap Off A Largely Successful Convention
Hillary Clinton delvers a largely successful acceptance speech that caps off a convention that ran far smoother than its Republican counterpart.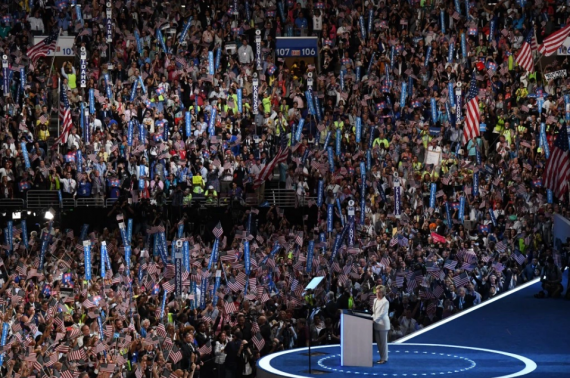 Capping off a convention that, notwithstanding some bumps at the beginning thanks to Bernie Sanders supporters still holding on to the emotion of a campaign that has been over since June and related controversy regarding former Democratic National Committee Chairwoman Debbie Wasserman-Schultz, seems to have gone far more smoothly than last week's Republican Convention, Hillary Clinton took the stage late last night to claim the nomination for President that she has been seeking for at least the last decade or more, thus setting in motion a campaign that is likely to be among the hardest fought in recent memory:
PHILADELPHIA — Hillary Diane Rodham Clinton, who sacrificed personal ambition for her husband's political career and then rose to be a globally influential figure, became the first woman to accept a major party's presidential nomination on Thursday night, a prize that generations of American women have dreamed about for one of their own.

Declaring that the nation was at "a moment of reckoning," Mrs. Clinton, 68, urged voters to reject the divisive policy ideas and combative politics of the Republican nominee, Donald J. Trump. She offered herself as a steady and patriotic American who would stand up for citizens of all races and creeds and unite the country to persevere against Islamic terrorists, economic troubles, and the chaos of gun violence.

"Powerful forces are threatening to pull us apart, bonds of trust and respect are fraying," said Mrs. Clinton, who worked on the speech until the early hours of Thursday morning. "And just as with our founders there are no guarantees. It truly is up to us. We have to decide whether we all will work together so we all can rise together."

Mrs. Clinton radiated confidence, from her pungent delivery and easy laugh to the unusually expressive ways she shifted her tone and delighted in her own best lines. She smoothly acknowledged her own limitations and trust issues as a public figure and forcefully challenged Mr. Trump over his claims that he alone could fix America's problems.

And after 25 years in a sometimes brutal national spotlight, Mrs. Clinton tried to explain who she is and what drives her — from her Methodist faith to her passion for government policy that could mean all the difference for people.

"I sweat the details of policy," Mrs. Clinton said. "Because it's not just a detail if it's your kid — if it's your family. It's a big deal. And it should be a big deal to your president."

It was one of several contrasts she drew with Mr. Trump, who has barely explained how he would carry out his policy goals. And she received help from several Republicans and military veterans who took the convention stage earlier in the evening to warn that Mr. Trump was not fit for the presidency and would take the United States to "a dark place of discord and fear," as a retired general, John Allen, put it. Democrats in the convention hall broke out into a booming, lengthy chant of "U.S.A., U.S.A.!"

(…)

Few recent political conventions have had a night gusting with so much history and high emotion. If elected, Mrs. Clinton would become the 45th president of the United States, as well as the first to be married to a former president, Bill Clinton, the nation's 42nd.

She would be the latest in a long line of Yale graduates and accomplished lawyers to lead the country, but she would also be the first mother and grandmother to be commander in chief, decades after women became heads of state elsewhere.

Democrats roared with passion and pride as a beaming Mrs. Clinton took the stage after her daughter, Chelsea, introduced her as an American who was inspired by her own mother's impoverished childhood and had faced personal and professional choices that defined generations of women. The two locked eyes and fell into a long embrace as Mrs. Clinton patted her back. A moment later, Mrs. Clinton waved at Mr. Clinton, and he blew her a kiss.

Then Mrs. Clinton, who has given only a few major political speeches in her life, delivered her biggest yet. She offered a positive portrait of America that felt like a different country than the nation in decline that Mr. Trump often describes and that many voters fear has come to pass after years of terrorism at home and abroad and the growing gap between rich and poor.

"He's betting that the perils of today's world will blind us to its unlimited promise," Mrs. Clinton said. "He wants us to fear the future and fear each other. Well, a great Democratic President, Franklin Delano Roosevelt, came up with the perfect rebuke to Trump more than 80 years ago, during a much more perilous time: 'The only thing we have to fear is fear itself.'"

Mrs. Clinton, facing a three-month general election campaign against an unpredictable Mr. Trump, who has risen in the polls since his convention speech last week, hoped that her remarks here would not only energize her party, but also help her connect with undecided and independent voters who are skeptical of her candidacy.

She nodded toward the political work she still had to do. Praising her rival for the Democratic nomination, Senator Bernie Sanders of Vermont, she told his mostly liberal supporters — some of whom booed or staged a "silent protest" in the hall, declining to applaud her speech — "I want you to know, I've heard you. Your cause is our cause."

And she acknowledged that many voters still do not relate to her after her eight years as first lady, eight as a senator, and four as secretary of state.

"The truth is, through all these years of public service, the 'service' part has always come easier to me than the 'public' part," Mrs. Clinton said. "I get it that some people just don't know what to make of me," she added before sharing memories of her humble roots and life lessons from church and her mother — particularly, "no one gets through life alone."
More from The Washington Post:
PHILADELPHIA — Hillary Clinton sought to transcend doubts about her character by presenting an uplifting vision for the nation's future, delivering the biggest speech of her enduring public life here Thursday as she formally accepted the Democratic presidential nomination.

Declaring that the United States is at "a moment of reckoning," Clinton promised that "progress is possible" and offered herself as a fearless executive who would get the job done. She also warned against what she considers the dangers represented by Republican nominee Donald Trump, who she said would usher in "midnight in America."

In an address that electrified delegates and put a personal exclamation point on the four-day Democratic National Convention, Clinton yoked the history of Philadelphia, the cradle of American democracy, with her own historic candidacy to become the country's first female president.

"Powerful forces are threatening to pull us apart," she said. "Bonds of trust and respect are fraying. And just as with our founders, there are no guarantees. It truly is up to us. We have to decide whether we all will work together so we all can rise together."

Clinton's 57-minute address was a coda to a convention week in which Democrats offered a meticulously choreographed answer to Trumpism and its apocalyptic view of the nation. They espoused service and diversity, inclusion and acceptance, and spoke of how the nation is "stronger together" — the newly energized anthem of the Clinton campaign.

The candidate delivered a scathing, although at times humorous, dressing-down of Trump and his polarizing brand of politics, declaring that as president she would neither ban a religion nor build a wall to keep immigrants out of the country.

"He's taken the Republican Party a long way, from 'Morning in America' to 'Midnight in America,' " Clinton said, the former a reference to Ronald Reagan's 1984 campaign theme. "He wants us to fear the future and fear each other. . . . We are clear-eyed about what our country is up against. But we are not afraid. We will rise to the challenge, just as we always have."

Throughout the speech there were spasms of protest and boos — some people unfurled banners reading "#WIKILEAKS" and "KEEP YOUR PROMISES" — which were mostly drowned out by shouts of "Hill-a-ry." The scene served as a reminder that Clinton is continually trailed by those who find her objectionable, even when accepting her party's nomination.

Clinton narrated the crusades of her nearly five decades in public service from an idealistic young activist lawyer to a globe-trotting diplomat. She cited not only her years in government, but also her personal experiences as a woman, as qualifications to be president.

She made no explicit reference to the controversies that have dogged her campaign, chief among them her use of a private email server as secretary of state, but cast herself as resilient in the face of challenges: "More than a few times, I've had to pick myself up and get back in the game."

The former secretary of state offered what she hopes will be an unimpeachable rationale to restive voters for keeping the White House in Democratic hands by distilling what she would do on issues foreign and domestic, how she would build on President Obama's legacy and why she thinks Trump is temperamentally unfit to hold the office.

"He loses his cool at the slightest provocation," Clinton said. "When he's gotten a tough question from a reporter. When he's challenged in a debate. When he sees a protester at a rally. Imagine him in the Oval Office facing a real crisis. A man you can bait with a tweet is not a man we can trust with nuclear weapons."

Over the convention's first three days, a parade of Clinton advocates — the president and vice president, her former primary rivals, virtually every prominent Democratic leader and a diverse array of everyday Americans — extolled her virtues and eviscerated her opponent.

But it ultimately fell to Clinton to make her own case. It was a major test for a candidate who has struggled all year to galvanize liberals, not to mention persuade independent voters.

The address closed an unexpectedly difficult chapter for Clinton. Long considered Obama's heir apparent, she endured a persistent primary challenge from Sen. Bernie Sanders (Vt.), a self-described democratic socialist who rose from relative obscurity to rally grass-roots liberals.

Sanders's improbable success provided daily reminders of Clinton's difficulties as a political performer and her vulnerabilities as a creature of the old order at a time when voters crave change.

Capping a week orchestrated to foster party unity, Clinton made a direct appeal to Sanders's most fervent supporters who have resisted her candidacy.

"I want you to know, I've heard you," she said. "Your cause is our cause. Our country needs your ideas, energy and passion."
By all accounts, it seems apparent that the Democratic Convention ended up coming off far more smoothly than the Republican convention the week before. Notwithstanding the issues I noted above relating to Sanders supporters and the email debacle at the Democratic National Committee, the convention itself did an effective job both of putting forward the message that the Clinton campaign wishes to present to the public for the next three months, but also countering the message that the Trump campaign has been communicating from the beginning of his campaign. The most notable difference between the two conventions, of course, was the contrast between the positive tone that seemed to emanate from Philadelphia as compared to the rather negative, often defensive, tone of the convention in Cleveland the week before. Where Republicans were seemingly embarrassed at having selected a nominee like Donald Trump, Democrats were largely united behind Hillary Clinton in a way that Republicans were not. You didn't see many, if any, sitting Democratic office holders or former office holders skipping the Democratic convention, for example, and you didn't hear anyone make a speech where they told voters to 'vote their conscience' instead of voting for the party nominee like Ted Cruz did. And, perhaps most importantly, you didn't hear the nominee deliver a dark, dystopian acceptance speech in which he returned to the main themes of a campaign that began with the pronouncement that 'the American dream is dead." In its place was the kind of positive, forward-looking speech that, as with President Obama's speech the night before, seemed as if it could have been edited just a little bit and delivered by Ronald Reagan himself. If nothing else, the speech emphasized even more the extent of the differences between the two parties at this point, and the extent to which their roles have reversed from where they were in the 1980s and the years that followed.
The question going forward, of course, is which message resonates more with the American public. It's long been a general rule that positive messages tend to sell better in politics than negative ones, but that hasn't been the case lately. To a large degree, both Donald Trump and Bernie Sander thrived this past year by emphasizing what they contend is wrong with America rather than on Reaganesque rhetoric about a "shining city on a hill" and the idea of our country's best days being ahead of it. To listen to Donald Trump, for example, one would be led to believe that unless we elect this one man to the Presidency, then our future is largely doomed. Many of Trump's fellow Republicans have thrived on similar messages in recent years as they spend more time attacking President Obama and the Democrats on Capitol Hill than discussing exactly what they would do to change the direction of the country. For many reasons having to do with everything from the state of the economy and the fact that many Americans feel displaced in a changing economy where traditional jobs are not nearly as abundant as they used to be to the fact that we live in a media culture that obsesses over bad news and makes it seems as though isolated problems like increased crime in a particular area are a nationwide problem, Donald Trump has succeeded in no small part because a lot of Americans are afraid that they've lost the America they once knew. When you reach that point, listening to the voice of a demagogue promising simplistic answers to complex questions becomes quite easy. This is potentially a problem for the Clinton campaign going forward.
The question, of course, is what impact all of this is going to have on the race for President in general and the polls in particular. As early as Sunday, it was apparent that Donald Trump had received somewhat of a bounce out of his convention notwithstanding the problems it faced and some polling released since then has confirmed that fact. Four polls taken at least in part after the Republican convention — from Gravis, CBS News, CNN/ORC, and The Los Angeles Times — showed Trump with a lead of some kind, with the L.A. Times poll showing Trump with the largest lead of all at seven points. All of this leaves Trump (45. 6%) with a 0.9 point lead in the RealClearPolitics national average over Clinton (44.7%) in a head-to-head matchup and a .2 point lead in a four-way matchup that gives also puts Libertarian Party nominee Gary Johnson at 7.2% and Green Party nominee Jill Stein at 3.0%. We'll find out what impact the Democratic Convention has had on the race over the coming week or so, as well from the polling at the state level, but as many observers have noted if Hillary Clinton doesn't find herself back in the lead when the dust settles, then this is going to be a tough race on both sides.
If you missed Clinton's speech, you can read the full speech and watch the video here: