Hillary Clinton Has A Theory To Explain Why White Married Women Didn't Vote For Her
Hillary Clinton has found another group to blame for her loss, educated white married women in suburbia.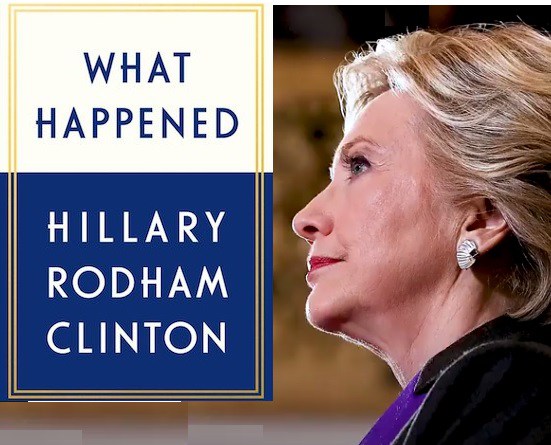 Last week, as part of the book tour for her new book, Hillary Clinton made one somewhat astonishing claim in her interview with Vox's Ezra Klein about why a majority of white married suburban women ended up voting for Donald Trump instead of her: (Emphasis Mine)
[Clinton] believes James Comey's October announcement that the FBI would further investigate the handling of her emails while she was secretary of state especially hurt her with women, she told Vox's Ezra Klein in an interview Tuesday morning. After Comey's announcement, men could turn to their wives or girlfriends and say, "I told you, she's going to be in jail. You don't wanna waste your vote." And women voters who might have been on the fence decided not to vote for Clinton. "Instead of saying, 'I'm taking a chance, I'm going to vote,' it didn't work," Clinton said.

"I believe absent Comey, I might've picked up 1 or 2 points among white women," she said. She carried the women's vote overall, she noted. But white women, she said, tend to base their politics on their understanding of their own security — maybe the idea of voting for a candidate who was about to be "locked up" (in Donald Trump's words) made some white women voters feel insecure about her.

(…)

She also cited something Sheryl Sandberg told her before the campaign: When a woman advocates for others, she tends to be well-liked. The moment she starts advocating for herself, people tend to turn against her. (She said something similar in an interview with Klein last year, arguing that "when I have a job, I have really high approval ratings," but when she starts angling for a new job, that goodwill evaporates. She chalked it up to a negative media environment, but others have seen sexism at work in the peaks and valleys of her popularity.)
Clinton made similar comments in an interview with NPR as reported on Twitter:
From Hillary's NPR interview, young women apparently voted for Sanders because their fathers/husbands/boyfriends told them to. Huge if true. pic.twitter.com/douIiM0aSK

— Julie Ann Johnson (@Julie_Johnsoned) September 12, 2017
NPR's Emma Vigeland criticized Clinton for these remarks:
.@HillaryClinton: Insinuating that women voted for @SenSanders because of male pressure belittles our agency and is the opposite of feminism pic.twitter.com/EXUBU0Uq2f

— Emma Vigeland (@EmmaVigeland) September 13, 2017
And Newsweek's Lineley Sanders:
It's an inherently sexist idea—that women are incapable of thinking independently from their husbands and partners—particularly when research indicates that men and women both cast their votes based on major issues, such as the economy, terrorism and jobs.

In the interview, Clinton suggested that women heeded pressure from men not to vote for her, citing a conversation with Sheryl Sandberg, a Facebook executive and women's rights activist.

"Many women, and let's talk about white women since that's the group I lost, are really quite politically dependent on their view of their own security and own position in society and what works for them," she said.

Clinton received 43 percent of the white women's vote in 2016, while Trump took 53 percent, according to exit polls. But Clinton did win a majority of white female college graduates, while Trump won non-college-educated white women.

Clinton admits that she hoped gender would play a role in getting her more votes than a traditional Democratic nominee. Clinton felt the female demographic would share her goal of becoming the first female president of the United States.

"But gender is not the motivating factor that race was for President Obama," she said.
I have criticized Clinton on a few occasions (see here and here) for blaming other people for her loss rather than looking in the mirror and realizing that her own flaws and mistakes, and the mistakes her campaign made during the General Election likely played a much larger role in the outcome of the election than any other single factor. That being said, it's not unfair at all for her to say that Comey's decision to release that letter in late October was one of the many events that occurred in 2016 and well before that played a role in shaping public opinion about Clinton as a person and that these opinions helped shape their opinions as to how to vote. At some point, we're likely to see a detailed analysis of Exit Polling and other data that looks at these various factors and tries to determine what the major factors in deciding the election might have been. Even before then, though, it would be foolish to deny that any number of factors might have played a role on the level of the individual voter and that these individual votes may have even had some impact on the outcome of the vote in some states. In a nation where more than 136 million people cast ballots, though, it's difficult if not impossible to say that any single factor played enough of a role to make a difference in the outcome of the election. As a result, this is a subject that is likely to be hotly debated for some time to come, or at least until the next election rolls around and we have something else to talk about.
Putting that part of Clinton's statements to the side, what caught my eye was what Clinton said in an effort to explain why she lost the vote of married white women in suburban communities, a voting block that has been increasingly leaning Democratic in elections across the country for years now, especially in swing states.
To put it bluntly, and this is based on my interpretation of what she said, what Clinton seems to be plainly arguing here is that some percentage of these voters voted the way they did because their husbands, boyfriends, or other male family members told them to vote a certain way and that they did so notwithstanding the fact that voting is an inherently private act, meaning that nobody will ever know how you voted. It strikes me that this is a view of women, particularly educated suburban women, many of whom are in the working world while juggling a marriage, a household, and living their own lives, that sees them as being so weak-minded that they can be intimidated into deciding who to vote for by the men in their lives be it a husband, boyfriend, father, brother, or close friend. Is it possible that this is true in some cases? Certainly, anything is possible, but it seems hard to believe that a sizeable number of these women who voted for Trump did so for this reason, and there doesn't appear to be any evidence to support this contention. Indeed, as Sanders notes above, post-election polling by Gallup shows that men and women both based their vote on the same basic reasons that voters have been doing for countless years, the economy, terrorism, and jobs. If a man were stating this, they would undoubtedly be called misogynistic for asserting that women are so simple-minded and pliable that they can be influenced into deciding who to vote for by other people, especially when the women in question are, as I said, generally educated and many of them work outside the home.
I bring this up for two reasons.
First of all, this is yet another example of Clinton attempting to find someone else to blame for her loss other than herself and her campaign. Since her book was released, she's blaming everyone from James Comey and the Russians to the media and the way the debates were handled. As I said above, it is no doubt the case that some or a group of these factors may have had an impact on the outcome of the race on an individual level, and that these individual voters could have had some impact on the outcome of the election. It's far too early to say that these individual factors, or any group of them, had a decisive impact on the race, of course, and we may never know for sure. However, it's not illegitimate for a losing a candidate but it's not entirely illegitimate for a losing campaign to point to these factors as at least a partial explanation for what happened.
The second reason I bring this up is that of a line of argument I've seen from Clinton supporters in conversations online in social media world and elsewhere. Basically, for these people, anyone who seems to be a suggestion that Clinton lost because of some of her own personal flaws and mistakes or the mistakes of her campaign is automatically labelled a misogynist, especially if the person making the comment happens to be male. Is it possible that some of the people who say stuff like this actually is a misogynist? I suppose so, but the fact of the matter is that these types of questions get asked about every candidate who loses an election. Indeed, similar questions were asked back in 2008 when Clinton what seemed at first like it was going to be an easy victory for the Democratic Party's nomination to a guy named Barack Obama. There is nothing wrong with asking these questions, and asking them does not make one a "misogynist."
However, after reading the comments Clinton made in her interviews with Ezra Klein and NPR, if criticizing Clinton can be misogynist, what does that mean for a woman who is essentially arguing that (1) she was entitled to the votes of women simply because she was a woman and (2) that many women didn't vote for her because the men in their lives told them not to?