Joe Biden 2020?
Will Joe Biden be 'tan, rested, and ready' enough to take on 2020?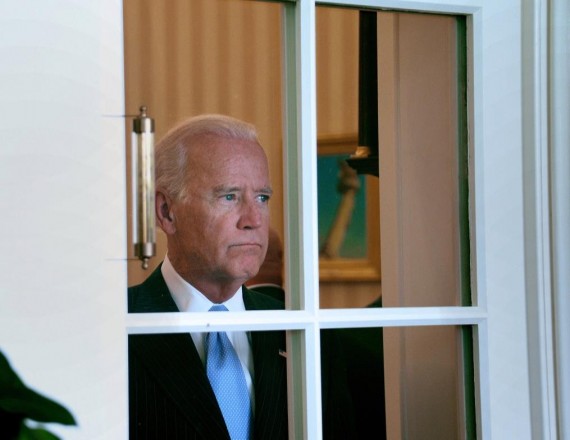 Former Vice-President Joe Biden sees Democrat who can beat Donald Trump in 2020, and his name is Joe Biden:
Joe Biden thinks it's critical that Donald Trump not get a second term — and though it's early, he doesn't yet see anyone else who could stop that from happening.

So, he's been telling people privately, that might mean he'll just have to run himself.

After beginning the year both teasing a 2020 bid and ruling one out — sometimes on the same day — Biden in recent months has shifted unmistakably in favor of running, say multiple people who've been in touch with the former vice president and his team.

For the first time in what would be the sixth presidential campaign that he's either seriously flirted with or launched, Biden sees an argument for a candidacy for which he is the only answer: An elder statesman who can help repair the damage and divisions in the country and around the world, unite the competing wings of the Democratic Party, and appeal to traditional Democratic voters who fled last year for Trump.

"He's a great respecter of fate," said one person close to the former vice president. "At some point, it may turn into fate and planning."

Many Democrats are wary about pegging the future of the party with Biden, who will be 77 by 2020, the oldest potential candidate in the field other than Bernie Sanders. Though a clutch player in both Obama campaigns, he has proved to be bad at running for president himself, and would likely be facing a raucous and crowded primary full of candidates determined not to step aside and repeat the Hillary Clinton coronation.

Next week, Biden will launch a tour for his new book, "Promise Me, Dad," a memoir of his relationship with his son Beau, whose death in May 2015 triggered both the last-minute exploration by Biden of a 2016 run and the emotional devastation that ultimately caused him to pull the plug.

People familiar with the planning describe the tour as deliberately structured to avoid politics. Biden's staff is pushing off nearly every request to appear at fundraisers or other political events while he's traveling for it.

But there's another, more subtle purpose, some acknowledge: to test Biden's emotional stamina, should he decide to throw himself fully into a presidential run.

"Right now, he's pretty laser-focused on the book tour. Get through that and go see what we can do in '18, and see where things are then," said a person in touch with Biden's advisers, who have stayed in close communication since leaving their government jobs in January.

On top of an already busy travel schedule, his book events will kick off with an Oprah Winfrey interview and keep him on the road through mid-December. He has stops scheduled in New York, Washington and Boston, but also Tennessee, Wisconsin, North Carolina, Texas and Michigan.

With former President Barack Obama largely sitting out politics and many Democrats wary of reaching out to the Clintons, Biden's appeal as a party leader has grown since January. He has received at least five requests for endorsements or events each week, sources close to him say.

Biden is planning to spend the first quarter of 2018 focused on fundraising for old friends in the Senate, with possible additional appearances for state parties or directly backing House candidates. Twelve of the 14 candidates he backed in Tuesday's election won, including a Washington state Senate race that flipped the chamber to Democrats and the Manchester, New Hampshire, mayor's race. He also supported, Danica Roem, the transgender candidate who won a seat in the Virginia House of Delegates. Roem first met Biden after traveling to Wilmington, Delaware, for the Beau Biden wake.

Another person close to Biden stressed that his focus now is on helping elect other Democrats.

"The VP is out working furiously to support and promote Democrats at all levels because he believes the future of the party is bright," the person said.

In op-eds and speeches, Biden has gone after Trump without mentioning him by name. He uses words like "incoherence" and "inconsistent," and notes that many foreign leaders have reached out to him, confused by Trump's actions.

(…)

While some big money Democrats have been wary about pegging the future of the party with a former two-term vice president, some former Clinton donors have reached out with interest, as have former Obama donors.

"If someone emerges that the former VP believes can beat [Trump], I think he is at peace with that," said one Biden-friendly donor. "On the other hand, if that person doesn't exist or doesn't run, you can expect Joe Biden to take a very serious look."

Biden spokesman Bill Russo declined to comment.

The chatter has gotten so intense in some corners that there's even scuttlebutt among Democratic operatives that Biden could launch his candidacy with California Sen. Kamala Harris as his running mate from Day One. People close to both of them insist that talk didn't start with them. When Biden was exploring a 2016 bid, there was similar speculation that he would run with Massachusetts Sen. Elizabeth Warren.

Biden has been reading articles about Trump's dealings abroad and the Russia investigation, and getting more upset.

He outlined this thinking in a speech last week to the Chicago Council on Global Affairs peppered with projections.

"How many of you — I mean this sincerely — how many of you, when the president was elected, were either happy or bemused or a little embarrassed or not quite sure, but now are really fundamentally worried about our democracy or the prospect of an international conflict or nuclear war?" Biden said. "How many of you now, whether you voted for him or not, are beginning to wonder whether or not the very roots of the invisible moral fabric that holds everything up is eroding in a way that's going to be dangerous for democratic institutions?"
This isn't the first time that we've seen Presidential speculation swirl around the former Vice-President, of course. In addition to his failed bids for the Democratic nomination in 1988 and 2008, there was a plethora of speculation that Biden would jump into the 2016 race notwithstanding the fact that he would have been among the oldest persons ever to run for the office in American history and despite the fact that his two previous efforts ended in failure. That speculation began several years before the 2016 election, and at the time it seemed more like Biden was keeping mum on the subject mostly because he wanted to maintain some level of influence in the Democratic Party leading up to the race for the nomination but that he didn't necessarily intend to actually run, especially if Hillary Clinton did enter the race as pretty much everyone believed that she would. After Clinton entered the race and the news reports about things such as her use of a private email server while serving as Secretary of State and the links between companies who did business with the State Department and had also made contributions to the Clinton Foundation became more of a headache for the Democrats, that speculation returned and we spent much of the fall of 2015 waiting to see if Biden would enter the race. Ultimately, of course, Biden decided he wasn't going to enter the race and the rest, of course, is history. This also isn't the first time there's been speculation about Biden entering the race for the 2020 Democratic nomination. That very thing was being talked about openly as recently as this past May, and even though Biden said on the record at the time that he wasn't running, he has kept up a fairly steady schedule that looks for all the world like someone who is at least considering the idea of entering the Presidential field for what would be a third run at the White House.
As I've said before, a run by Biden in 2020 seems as though it would be unlikely. As noted above, he'd be 77 years old before the race even began, and 78 years old by Inauguration Day in 2020. By the end of a hypothetical first tern, he would be 82 years old and, while one hopes that Biden lives a long and healthy life it's clear that he's got more days behind him than ahead of him. Does he really want to spend those days on a campaign that he well knows will be grueling, exhausting, and emotional for himself and his campaign? It's also unclear whether he'd have the energy for such a campaign, and it's likely that his every move would be watched for signs that he might not be physically or mentally up for the task of running for President, never mind the toll that actually serving as President should he actually win. Is Biden prepared for that? That's something only he can answer, but at the moment at least he seems to be at least thinking about it.
Even taking all that into account, it's fairly easy to see why Democrats might be willing to turn to Biden as the antidote to Trumpism in 2020. As I've noted before, there have been many Democratic insiders and political pundits who have opined that the party's fortunes might have been different had Biden decided to challenge Clinton for the nomination and become the party's nominee instead of her. Clinton lost in no small part because of her failure to connect with white working-class voters in states such as Wisconsin, Michigan, Ohio, and Pennsylvania, many of whom had voted for the Obama/Biden ticket in 2008 and 2012. This is a constituency that Biden has always fared very well with, and it's possible that he could have garnered their support in a way that Clinton failed to do. As I've noted before, Clinton lost the election largely because of what ended up being a very narrow loss in those upper midwest states. In fact, she would have won the election outright but for just 77,741 votes in Michigan, Wisconsin, and Pennsylvania. Biden at the top of the ticket instead of Clinton could have pushed enough of those votes into the Democratic column to give them a narrow Electoral College victory instead of the narrow loss that they suffered one year ago.
None of this means that Biden is actually running, of course, and it certainly doesn't mean that he could win the nomination. He certainly does seem to be entertaining the possibility, though, and the fact that he's fast becoming the most vocal spokesman the party has against Trump and Trumpism seems like a deliberate effort on his part to put himself at the front of the pack of potential challengers. Even if he doesn't ultimately run, he's likely to have a big influence on who does run and on the message that the Democrats formulate in response to Trump between now and 2020. For that reason alone, Joe Biden will be someone worth paying attention to.