Justice Department Opens Investigation of Baltimore Police Department
The Baltimore Police Department will finally be under the Federal microscope. But it took the death of Freddie Gray for it happen.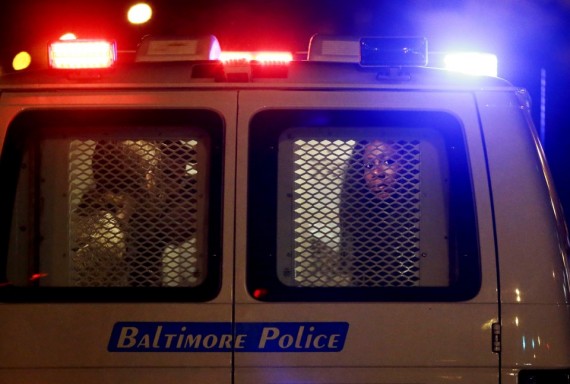 Yesterday, Attorney General Loretta Lynch announced that the Department of Justice was launching what is called a"pattern or practices" investigation into the Baltimore Police Department to determine if the department as a whole is run in a manner that is leading to widespread violation of civil rights and racial discrimination:
The Justice Department has opened a formal investigation into the Baltimore Police Department to determine whether officers have committed systemic constitutional violations, Attorney General Loretta E. Lynch announced Friday, putting the city's force under rigorous federal scrutiny.

The broad investigation, known as a "pattern or practice" review, will focus on the police department's stops, searches and arrests, its use of force, and the question of whether there has been a practice of discriminatory policing. The review was requested by Baltimore's mayor and will be a "collaborative reform process," Lynch said, adding that she was optimistic that federal and city officials could work together to create a "stronger, better Baltimore."

The investigation is separate from the Justice Department's criminal civil rights probe into the case of Freddie Gray, the 25-year-old man whose death while in police custody ignited protests and rioting in Baltimore. Gray suffered a severe spinal injury in the back of a police van while his pleas for medical help were ignored, according to Baltimore prosecutors.

"We've seen events change in Baltimore and become more intense over a short time," Lynch said during a news conference at the Justice Department, her first since becoming attorney general. "It was clear to a number of people looking at the situation that the community's frayed trust — to use an understatement — was even worse and has in effect been severed in relationship to the police department.

"We felt the best thing to do was to conduct an investigation to see if these issues arose to the level of federal civil rights violations," she said.

Since 1994, the Justice Department has been able to investigate local police departments under the Violent Crime Control and Law Enforcement Act. The department has opened more than 20 investigations of police departments under the Obama administration, including in Ferguson, Mo., where a white police officer fatally shot unarmed teen Michael Brown in August.

In addition to gathering information directly from community members, pattern or practice investigations involve interviewing police officers and local officials and gathering information from public defenders and prosecutors. The investigations also involve observing officer activities through ride-alongs and reviewing documents and specific incidents relevant to the probe.

Federal "pattern or practice" probes focus on the entire police department, rather than investigating the conduct of certain officers.

In that way, they are different from civil rights investigations of certain individuals, such as the two-year-long probe into the death of Trayvon Martin, the 17-year-old African American from Florida who was unarmed when he was fatally shot by a former neighborhood watchman.

(…)

Baltimore's police union issued a statement welcoming the review. But in a sign of the tension between police and city leaders, the union also encouraged the Justice Department to expand its review to focus on Mayor Stephanie Rawlings-Blake (D).

Rawlings-Blake issued her own statement that she was pleased by the Justice Department's decision, saying: "Our city is making progress in repairing the fractured relationship between police and community, but bolder reforms are needed and we will not shy away from taking on these challenges."

Lynch visited Baltimore earlier this week and met with the mayor, law enforcement officials and community leaders. She also met with Gray's family and spoke with an officer who was injured in the violence.

In her remarks Friday, the attorney general said Baltimore has struggled with many of the same issues facing other cities.

"We have seen the tragic loss of a young man's life. We have seen a peaceful protest movement coalesce to express the concern of a beleaguered community," she said. "We have seen brave officers upholding the right to peaceful protest, while also sustaining serious injury during the city's unfortunate foray into violence. And we have watched it all through the prism of one of the most challenging issues of our time: police-community relations."
The Atlantic's Russell Berman comments:
Policing practices have come under scrutiny in cities across the country in the last year, police-related deaths have repeatedly made national headlines, whether in Staten Island, Cleveland, Ferguson, Baltimore, or South Carolina. On Thursday, the district attorney in San Francisco announced an inquiry into racial bias in the city's police department following reports of racist and homophobic texts among police officers and the discovery that officers had gambled on forced fights between inmates in city jails.

"We're talking about generations not only of mistrust but generations of communities that feel very separated from their government overall," Lynch said. Yet she also acknowledged that the Justice Department had neither the intention nor the resources to investigate every local law enforcement agency. "We cannot litigate our way out of this problem," she said. The broader goal of inquiries like the one in Baltimore is to prompt cities to look into their own departments and make fixes on their own or in collaboration with other jurisdictions.
As noted, this isn't the first time that the Justice Department has undertaken this kind of investigation of a law enforcement agency as a whole based on allegations of improper practices, racial discrimination, and abuse. Maricopa County, Arizona Sheriff Joe Arpaio, who has been at the center of anti-immigration politics for years now and has become something of a celebrity in conservative circles for years, has long been accused of running a department that discriminates against Latino-Americans, for example. Three years ago, he and his department were sued in Federal Court by the Justice Department based on those allegations and other evidence, and two years ago a Federal District Court Judge found evidence of widespread discrimination against Latinos after a long and detailed trial. Ultimately, the Judge appointed a monitor for the department and placed other restrictions on its activities.
More recently, the Justice Department concluded that the Cleveland Police Department had engaged in activities that amounted to "unreasonable and unnecessary use of force" based on information uncovered in an investigation lasting more than two years. That report was released while Cleveland was still dealing with the case of Tamir Rice, a young African-American boy who was shot and killed by a Cleveland Police Officer in an incident that defies logical explanation. Additionally, the Justice Department concluded that the Police Department in Ferguson, Missouri had long acted in a manner that evidenced widespread racial bias against the city's African-American population in an investigation that had run parallel to its investigation of the shooting of Michael Brown in August. These are all just the most recent examples of such investigations, and they all seem to point to serious problems in law enforcement when it comes to violations of civil liberties and the relationship between the police and, most especially, minority communities.
Depending on what the investigation uncovers, the potential remedies that the Justice Department has at its disposal are quite numerous and range from the mild to the severe. At the mild end, the Department could simply seek to enter into a consent agreement with the department that would set forth an understanding about changes to procedures and other matters. More severely potential sanctions include the appointment of a monitor who reports back to a Federal Judge and/or the Department of Justice along with restrictions on police activity. In some severe cases, a police department can actually be disbanded and its responsibilities assumed by another department, either from a neighboring town or, more commonly, the surrounding county. This is what happened to the Police Department in Jennings, Missouri in 2011, which coincidentally the department that Darren Wilson worked at before becoming an officer in nearby Ferguson. It does not appear, though, that anything similar to that has happened in a major metropolitan area, and it seems rather unlikely in Baltimore, Instead, we're likely to see the appointment of a monitor and an effort to implement reforms in how the department operates. Of course, the real problem is that it has been well known for years that the Baltimore Police Department was troubled and that the city's African-American residents were being mistreated. It took the death of Freddie Gray for anyone outside of the city's minority neighborhoods to take notice.
Photo via The Atlantic