Mitt Romney Reportedly Considering Bid For Senate In 2018
Mitt Romney is reportedly considering running for Senate in Utah if Orrin Hatch decides to retire.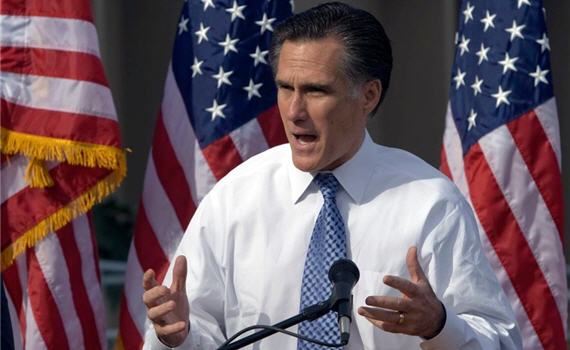 Mitt Romney is reportedly considering running for United States Senate in Utah in 2018:
Republican leaders and high-powered donors in Utah are waging a quiet but concerted campaign to convince 83-year-old incumbent Senator Orrin Hatch not to seek reelection next year—and now, they may have found a successor. Mitt Romney, the one-time presidential nominee and leading Trump critic, is exploring a run for Hatch's Senate seat.

According to six sources familiar with the situation, Romney has spent recent weeks actively discussing a potential 2018 Senate bid with a range of high-level Republicans in both Utah and Washington, and has privately signaled a growing interest in the idea. Romney, though, has made clear he would not pursue the seat without Hatch's blessing.

Hatch, who has served in the Senate for more than four decades, seemed to signal a willingness to step aside during an interview last week with National Journal's Alex Rogers. "If I could get a really outstanding person to run for my position, I might very well consider [retiring]," Hatch said, adding, "Mitt Romney would be perfect."

After the comment prompted a flurry of headlines in the Utah press—catching Romney by surprise, according to two people close to him—Hatch's office moved to publicly tamp down the buzz. In a statement to The Atlantic, Hatch said he was "giving careful consideration as to whether I will seek reelection" and has "yet to make a final decision." He also said, "While it's no secret that I hold Mitt Romney in extraordinarily high esteem, my musing aloud on the subject has apparently snowballed into a frenzy of premature speculation." The "overhyped intrigue," he said, "doesn't reflect the reality of the situation, especially this soon after the last election."

Behind the scenes, though, Hatch's remark was widely interpreted among Utah politicos as an intentional trial balloon. "That was no accident," said one senior Republican in the state.

For his part, Romney, who owns a house outside Salt Lake City, appears to be taking the potential Senate bid seriously. In addition to discussing it with Hatch and other party leaders in Utah, sources said Romney has spoken with Senate Majority Leader Mitch McConnell. According to two people with knowledge of the conversation, McConnell encouraged Romney to run if Hatch's seat opens up, and sought to assure the former GOP presidential nominee that he would have more influence in the chamber than a typical junior senator. (A spokesman for McConnell declined to comment; a representative for Romney said he was traveling abroad an unavailable to answer questions for this story.)
This isn't the first time that there's been speculation about Mitt Romney returning to the political arena after losing the 2012 Presidential election, of course. In the month leading up to the start of frenzied campaigning for the Republican nomination for the 2016 election, for example, there was open speculation about Romney running for President a third time that the former candidate denied, but which later turned into a rather public "behind the scenes" movement that eventually led to Romney formally announcing to supporters that he would not seek the nomination after all. Last year, the rise of Donald Trump led Romney to reappear on the scenes to deliver a blistering attack on Trump that was particularly biting but which, in the end, did little to stop Trump's momentum. That speech, however, led to much speculation about Romney stepping into the nomination fight at the last minute as part of an effort to stop Trump on the floor of the Republican National Convention, or even to run against him as an independent conservative alternative to a controversial Republican nominee. None of that speculation came true, of course, but it did indicate the extent to which Romney was still operating behind the scenes. Most notably, Romney was among the handful of top Republicans who declined to formally endorse Trump prior to the General Election and, much like the Bush family, to rumors that he preferred Hillary Clinton to the Republican nominee. Despite that, Romney's name was in the news again after the election with the possibility that he would be named Trump's choice for Secretary of State.
 If Romney did run for Senate in Utah, he'd likely win easily. In 2012, he won the primary by more than 210,000 votes, although to be fair most of the other candidates left in the race at that point didn't really bother to campaign there given Romney's popularity in the polls in the Beehive State. In the General Election, Romney beat President Obama by nearly 500,000 votes, the largest margin of any Republican since at least 1968. Perhaps the only potential candidates that have that level of popularity in Utah are Senator Hatch himself and former Governor Jon Hunstman, who has been named, but not yet confirmed, as United States Ambassador to Russia. If Hatch does decide not to run for reelection, something that isn't entirely clear at this point, Romney would be well-positioned to make a run that no Republican in Utah is likely to challenge, and in a General Election Romney would most likely easily defeat any Democratic opponent.