Obama's Path To Victory
Despite the seeming odds against him, the Electoral College map is very favorable for President Obama.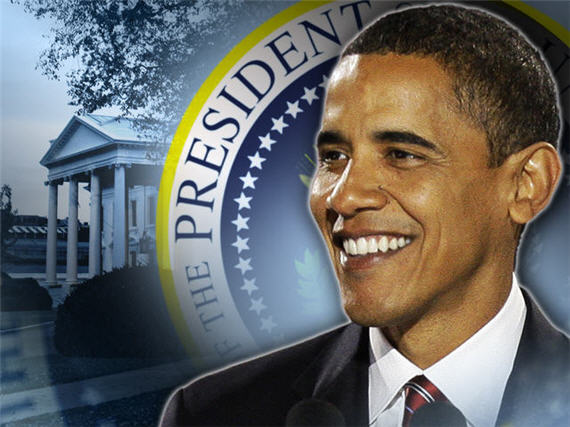 There's no question that President Obama faces a tough road in 2012. His approval ratings remain below 50%, on the economy his job approval is even worse off, the American public is clearly not pleased with the direction of the country, and he's under 50% in head-to-head matchups with all the leading Republican candidates. Moreover, the economic picture over the next twelve months doesn't look promising at all. GDP growth isn't expected to be much better than the 2.5% we saw in the 3rd Quarter, job growth remains anemic at best, and the unemployment rate is unlikely to be all that different from where it is right now. In modern, post World War 2, American history no incumbent President has been elected with an unemployment rate higher than 7.0%. Despite all of that, though Chris Cillizza points out that the President still has a  path to victory in the Electoral College, which is all that matters:
But with one year to go before the 2012 election, a state-by-state examination of the battleground map suggests that the president still retains several plausible pathways to the 270 electoral votes he needs.

"Although Obama has historically awful numbers, it still requires a herculean effort to defeat him," said Steven Law, the president of American Crossroads, a conservative group pledging to spend upward of $200 million on the race. "He will have the resources to contest and even give up huge chunks of territory — Florida, Ohio, Virginia and North Carolina — and still win."

To understand how Obama can maintain that edge — despite opinion polls showing that a majority of Americans think the country is on the wrong track and disapprove of the job he is doing — you need to start with the fact that he won 365 electoral votes in 2008, the largest haul since President Bill Clinton's 1996 reelection.

Obama won three states — Indiana, North Carolina and Virginia — that no Democrat had carried at the presidential level in at least two decades, and he scored victories in six other states (Colorado, Florida, Iowa, Nevada, New Mexico and Ohio) that George W. Bush had won in 2004. Those nine states will account for 112 electoral votes in 2012 and stand at the center of the fight for the presidency.

If Obama loses every one of them but holds on to the others he won, he will drop to 247 electoral votes and Republicans will win the White House. (The decennial reapportionment of congressional districts after the 2010 Census subtracts six electoral votes from states Obama won in 2008.)

But with the exception of Indiana and its 11 electoral votes, Obama is very much in the game in those states. In several, even Republicans acknowledge that he is favored.

In New Mexico (five electoral votes) and Iowa (six electoral votes), Obama has an edge. New Mexico's substantial Hispanic population — and Obama's dominance among that community in 2008 — makes it a tough pickup for Republicans. Iowa is more competitive — Republicans won the governorship there in 2010 — but Obama has long had a connection to the state that his advisers think is lasting and strong.

Assuming Obama can win those two states again — and hold the 19 other states he won that also went to the Democrat, Sen. John F. Kerry (Mass.), in 2004 — he would be just 12 electoral votes shy of 270.

That means Obama could would need to win only one of the following states to be reelected: Florida, North Carolina, Ohio or Virginia. (If he won Virginia and lost Colorado, Florida, Indiana, Nevada, North Carolina and Ohio, his electoral vote total would stand at 271 — the same number Bush won in 2000.)
The other option to this kind of scenario, of course, is a blowout victory by the Republicans or something akin to the victory of Obama had in 2008. This seems to be what many conservatives I talk to seem to be anticipating in 2012, especially the ones who tell me that "anybody" can beat Obama, meaning that it doesn't really matter if the nominate Mitt Romney, Jon Huntsman, Herman Cain, or Michele Bachmann. That is an attitude that seems to defy reality in many respects. As James Joyner has noted here more than once over the past several months, Barack Obama's approval numbers, while low, are actually in pretty good shape given the state of the country and the statistics I cited above. More importantly, it's quite clear that the Republican candidates for President that appeal most to the Tea Party crowd are not the ones most likely to appeal to the independent voters that will decide this election in battleground states. If things improve just a little bit, and the Republicans end up inexplicably nominating a candidate that doesn't appeal to the voters that control the outcome in states like Virginia and Ohio, then President Obama will have a chance.
Of course, as Cillizza points out, there is one factor that could make things much more difficult for the President. There's no real indication it's happening in the polls just yet, but if Barack Obama is unable to hold on to the core group of states that John Kerry won in 2004 and he won in 2008, then it's incredibly unlikely that he'd be able to win an Electoral College majority. We're unlikely to see states like California, the Pacific Northwest, or New York in play this time around, and the Northeast all the way down to Maryland, with the exception of  New Hampshire, is likely to be safely blue as well. The one vulnerability is in what's left in the core of America's manufacturing industry:
The epicenter of that potential Democratic problem is in the Rust Belt, where an aging white population, the continued struggles of the manufacturing economy and large numbers of rural voters could make for a dangerous electoral brew.

Taken together, Michigan, Pennsylvania and Wisconsin will award 46 electoral votes in 2012.

No Republican since George H.W. Bush in 1988 has won Michigan or Pennsylvania, and Ronald Reagan was the last GOP presidential candidate to win in Wisconsin, in 1984.

But there have been close calls in the not-so-distant past.

In 2000, George W. Bush came within 5,500 votes of carrying Wisconsin. In Pennsylvania, he took 49 percent in 2004. And Republicans made gains in the three states in the 2010 election, winning the governorship in each and claiming Senate seats in Pennsylvania and Wisconsin.
In 2010, of course, Republicans made substantial gains in many of these states. Republicans captured the Governor's office and the State Legislature in Wisconsin, Ohio, Michigan, and Pennsylvania and picked up U.S. Senate seats in Wisconsin and Pennsylvania. Leaving aside the rather obvious fact that voter turnout in 2010 was very different from what it's likely to be in 2012, those events no doubt serve as warning signals to the Obama campaign. Take Pennsylvania and Wisconsin out of the Democratic table, for example, and give the GOP Ohio, and this race is pretty much over and done with.
This is why I think you've seen Democrats spend so much time opposing Republican efforts to scale back public union bargaining rights in states like Ohio and Wisconsin this year. For one thing, it helps to energize the core of their base in that part of the country. For another, it may be the one avenue they have to appeal to independent voters there. The effort in Wisconsin was largely unsuccessful because the law that became the focus of a months-long protest in Madison still stands, and the recall effort against Republican State Senators fell short of dislodging them from  majority control in that body. There will apparently be an effort to recall Governor Walker next year, but recent polls seem to indicate that many Wisconsin voters are weary of all the recall elections so it's unclear how far that will go. We'll get another test this week in Ohio as a ballot initiative intended to overrule that states Wisconsin-style law is on the ballot in what has turned into a heavily fought election. Based on current poling, it looks quite likely that the Ohio law will go down to defeat, which Democrats will inevitably see as a sign that things are turning their way. Whether that's true is, of course, another question.
In the end, I remain convinced we're looking at a close election in 2012. Something more akin to 2004 or 1976 than anything we saw during the Clinton years or in 1988. Things could change, of course. Obama's poll numbers could collapse in the face of a weak economy, leading to a Republican blowout. Or, the Republicans could decide to nominate their 21st Century version of Barry Goldwater or George McGovern, thus giving the President an unlikely cakewalk to re-election. Neither of these seems likely, though, and as we sit here one year before the day after the 2012 Election, it's entirely possible that we'll still be waiting for returns from some obscure district in Ohio, Colorado, Virginia, or North Carolina before we know who our next President will be, and I don't discount in the least the possibility that his name will be Barack Obama.