Pelosi Attack a Turning Point?
What will it take to end the cycle of violence?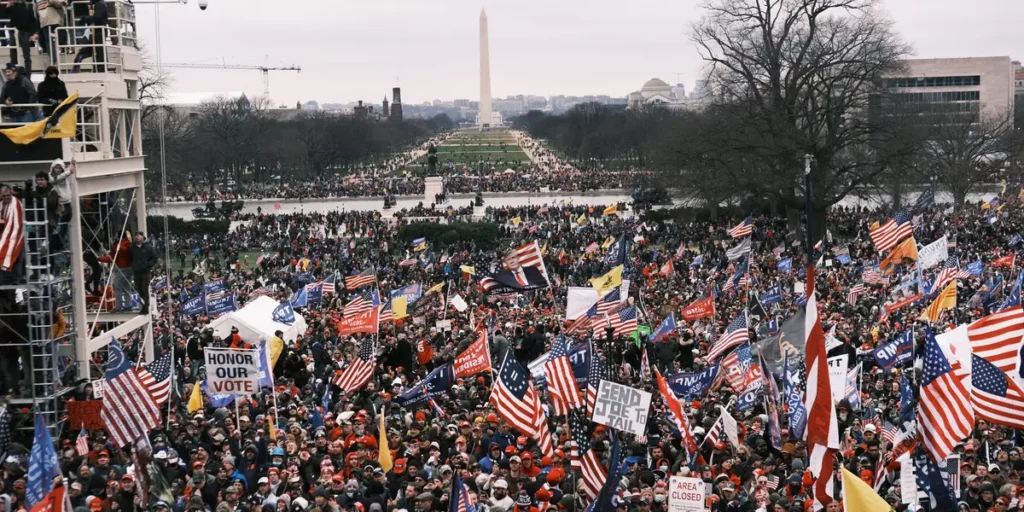 AP ("Pelosi attack shocks country on edge about democracy threats"):
An America that can already feel like it's hurtling toward political disintegration has been jolted yet again, this time by the violent attack on the husband of House Speaker Nancy Pelosi less than two weeks before Election Day.

[…]

The ambush was a particularly savage reminder of the extremism that has coursed through American politics in recent years, adding to a sense of foreboding with the Nov. 8 election nearly at hand.
The opener sparked a thought that, surprisingly, hadn't previously occurred to me: could the attack have an impact on the election? Could it be a catalyst for getting folks to realize how untenable the poisonous atmosphere is?
One can hope, I suppose, but one would have thought the Capitol Riots of January 6, 2021 would have had that effect and, if anything, the opposite occurred. A survey this past July showed an increase in support for political violence, with 20 personally saying it was "sometimes justified" and 12 percent "somewhat willing" to engage in it personally.
The rest of the AP report simply aggregates examples of the impact this attitude is having on our democracy.
Armed watchers are staking out ballot drop boxes in Arizona to guard against false conspiracies about voter fraud. Threats against members of Congress have risen to historic levels. Public opinion surveys show fears for a fragile democracy and even of a civil war. Former President Donald Trump continues to deny that he lost the 2020 election to President Joe Biden, and his acolytes are attempting to consolidate their power over future elections.

A new domestic intelligence assessment from the Department of Homeland Security and other agencies said extremists fueled by election falsehoods "pose a heightened threat" to the upcoming midterms.

The assessment, dated Friday, said the greatest danger was "posed by lone offenders who leverage election-related issues to justify violence."

"It is worse than it's ever been," said Cornell Belcher, a Democratic pollster. "This is uncharted waters." Belcher blamed "the mainstreaming of behavior in politics that was, once upon a time, left or right, abhorrent."
To be sure, this isn't the first time in American history we've seen it.
From the Civil War and attacks on Black voters during Jim Crow to the assassination of elected leaders like John and Robert Kennedy, the United States has experienced spasms of political violence. No party or ideology has a monopoly on it.
While true and I point I made myself yesterday, the current threat is mostly from the far right.
Five years ago, a left-wing activist opened fire on Republicans as they practiced for an annual charity baseball game. Rep. Steve Scalise of Louisiana was critically wounded. In 2011, then-Rep. Gabrielle Giffords, D-Ariz., was shot in the head at an event outside a Tucson grocery store.

Today, violent rhetoric and imagery have become a staple of right wing politics in the United States, and it escalated during Donald Trump's presidency. Democrats viewed the intrusion into Pelosi's home as an extension of the attack on the U.S. Capitol on Jan. 6, 2021, when Trump's supporters interrupted the peaceful transition of power to Biden.

On that day, protesters searched for Pelosi and chanted that they wanted to hang then-Vice President Mike Pence, who had defied Trump's demands to overturn the election results.

Less than two years later, only 9% of U.S. adults think democracy is working "extremely" or "very well," according to this month's poll from The Associated Press-NORC Center for Public Affairs Research.
More crucially, as David Frum notes in his Atlantic essay "Only the GOP Celebrates Political Violence,"
[I]f both Republicans and Democrats, left and right, suffer political violence, the same cannot be said of those who celebrate political violence. That's not a "both sides" affair in 2020s America.

You don't see Democratic House members wielding weapons in videos and threatening to shoot candidates who want to cut capital-gains taxes or slow the growth of Medicare. Democratic candidates for Senate do not post video fantasies of hunting and executing political rivals, or of using a firearm to discipline their children's romantic partners. It's not because of Democratic members that Speaker Nancy Pelosi installed metal detectors to bar firearms from the floor of the House. No Democratic equivalent exists of Donald Trump, who regularly praises and encourages violence as a normal tool of politics, most recently against his own party's Senate leader, Mitch McConnell. As the formerly Trump-leaning Wall Street Journal editorialized on October 2: "It's all too easy to imagine some fanatic taking Mr. Trump seriously and literally, and attempting to kill Mr. McConnell. Many supporters took Mr. Trump's rhetoric about former Vice President Mike Pence all too seriously on Jan. 6."

The January 6 insurrection is the overhanging fact above all this rhetoric of political violence. That was the day when Trump's ally Rudy Giuliani urged, "Let's have trial by combat"—and thousands heeded and complied. That terrible day, incited by President Trump and organized by Trump supporters, should have chastened American politics for a generation. It did not. Armed and masked vigilantes are intimidating voters right now in Arizona and other states, inspired by Trump's continued election lies, as amplified by his supporters to this very day.
As the AP report notes, threats of violence hang over the impending election:
Members of the House committee investigating the Jan. 6 attack have received a steady stream of threats for their work.

If we do not stop the big lie, perpetuated by those who seek to win at any cost, our democracy will cease to exist," Rep. Elaine Luria, a Virginia Democrat who was assigned a security detail in recent months because of her work on the committee, said in an interview. "Then nothing else we do will have mattered."

[…]

A 36-year-old man was arrested this past week for allegedly breaking into the campaign headquarters of Katie Hobbs, the Democratic nominee for governor and the current secretary of state. There's no indication the burglary was politically motivated, but it alarmed her staff, which is constantly on guard for threats.

Federal prosecutors have charged three people with threatening to harm Arizona election officials, including Hobbs, since the last election.

Earlier in the week, three men were convicted of supporting a plot to kidnap Michigan Gov. Gretchen Whitmer after a trial that raised fears about paramilitary training and anti-government extremism.

And on Friday, a man pleaded guilty to threatening to kill Rep. Eric Swalwell, D-Calif. Also, a Kansas man is facing a felony charge of threatening to kill one of the state's congressmen, Republican Jake LaTurner.

Rep. Val Demings, a Florida Democrat who is running for Senate, has campaigned with a large private security detail for much of the year. It is a necessary precaution, she said in an interview, given an uptick in violent threats in the months since she served as a House manager in Trump's first impeachment trial.

"I never thought that I would have my worst moment, feeling like I was really going to die, in the Capitol on Jan. 6," said Demings, a former Orlando police chief. "When I had been in back alleys and bar fights and arresting people who killed other people, and never did I have the feeling on the streets like I had that day. And it was all in politics, and I'm like, 'What is going on?'"
The poisonous atmosphere has so too many causes to disentangle. The advent of 24-hour news and the rise of political talk shows to provide a use for the AM radio band happened decades ago and both changed the information dynamic, leading to a permanent campaign. The emergence of blogs and social media 20-odd years ago have accelerated the phenomena, steadily ratcheting up the level of angst and vitriol necessary to stay relevant in an attention economy. The fact that everyone carries around a smart phone, encouraging constant connection to the world outside for a dopamine hit factors in as well.
The conservative movement dominated talk radio, both because its target demographics were more able to listen to radio for hours on end during the workday and because that viewpoint was underrepresented on other media. Progressives dominated blogs and then Twitter for a host of reasons, both because their rise coincided with the George W. Bush presidency and the Iraq War and because its target demographic was more tech savvy and likely to be online during the day.
The fights were always ugly but they got progressively worse over time. Newt Gingrich and company perfected disciplined messaging using focus-group-tested buzzwords designed to strike emotional chords. And things really started going off the rails with the rise of the Tea Party movement in 2009. They not only dialed up the rhetoric to 11 but ousted most of the old-style conservatives from the Republican Party, replacing them with "populist" yahoos. And, then, Trump extended that to the top.
I'm not sure any of these matters, though, without an underlying alienation. There's a long-running sense among the white working class that they don't matter anymore and they resent the hell out of it. That's the common thread running from Rush Limbaugh through Newt Gingrich to the Tea Party to Trump. While there are certainly pockets of alienation on the left that Democratic populists from John Edwards to Bernie Sanders have tried to exploit, it hasn't yielded much violence because they're winning the cultural wars if not the economic ones.
Our enemies, most notably Russia, have expertly exploited all of this, adding fuel to the fire for years.
I don't think a non-fatal attack on the Speaker's husband will wake us up. But something has to.