Preliminary Thoughts on the Ukraine Situation
Russian invasion or legitimate secessionist movement? And does it matter?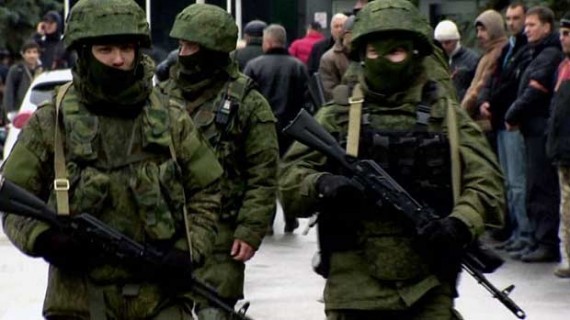 Russia's parliament has legimated the reality, formally authorizing the use of troops in Ukraine. What, if anything, the United States and its European allies can or should do about it is unclear.
President Obama had previously announced that there would be "costs."
President Barack Obama is warning Russia "there will be costs" for any military maneuvers it launches in Ukraine, a move U.S. and Ukrainian officials say they believe to be already underway.

Officials say Obama may retaliate by canceling a trip to Russia this summer for an international summit and could also cut off trade discussions with Moscow. But it's unclear whether those moves will have any impact on Russia's calculus in Ukraine, which is at the center of what many see as a tug of war between East and West.

"Any violation of Ukraine's sovereignty and territorial integrity would be deeply destabilizing," Obama declared Friday in a statement from the White House. Such action by Russia would represent a "profound interference" in matters that must be decided by the Ukrainian people, he said.

Separately, Defense Secretary Chuck Hagel said that while he would not address specific U.S. options, "this could be a very dangerous situation if this continues in a provocative way." Asked about options in a CBS News interview, he said that "we're trying to deal with a diplomatic focus, that's the appropriate, responsible approach."

As Obama prepared to speak late Friday, a spokesman for the Ukrainian border service said eight Russian transport planes had landed with unknown cargo in Ukraine's Crimea region. Serhiy Astakhov told The Associated Press that the Il-76 planes arrived unexpectedly and were given permission to land, one after the other, at Gvardeiskoye air base.

U.S. officials said they also believed Russian personnel had entered Crimea. The State Department urged U.S. citizens to defer nonessential travel plans in Ukraine because of "the potential for instability."
Old hands will be reminded of President Carter's boycott of the 1980 Moscow Olympics in response to the invasion of Afghanistan. The more contemporary example of Obama's "red line" against the use of chemical weapons in Syria also comes to mind. But it's not as though better options are readily available. Nor, frankly, is it completely obvious that the majority-Russian border provinces ought remain part of a politically divided Ukraine.
Regardless, the Duma has given Putin domestic cover.
Russian President Vladimir Putin asked parliament Saturday for permission to use the country's military in Ukraine, moving to formalize troop deployments that Ukrainian officials have described as an ongoing invasion of the strategic region of Crimea.

Putin's motion loosely refers to the "territory of Ukraine" rather than specifically to Crimea, raising the possibility that Moscow could use military force in other Russian-speaking provinces in eastern and southern Ukraine where many oppose the new authorities in Kiev. Pro-Russian protests were reported in the eastern cities of Kharkiv, Donetsk and Odessa.

Ukrainian officials and some Western diplomats said that a Russian military intervention is already well underway after heavily armed gunmen in unmarked military uniforms seized control of local government buildings, airports and other strategic facilities in Crimea in recent days.

Ignoring President Barack Obama's warning Friday that "there will be costs" if Russia intervenes militarily, Putin said the "extraordinary situation in Ukraine" was putting at risk the lives of Russian citizens and military personnel stationed at a naval base that Moscow has maintained in the Black Sea peninsula since the Soviet collapse.

"I'm submitting a request for using the armed forces of the Russian Federation on the territory of Ukraine pending the normalization of the socio-political situation in that country," Putin said in a statement released by the Kremlin.

Putin sent the request to the Russian legislature's upper house, which was expected to rubber-stamp it in a vote Saturday.

In Crimea, the pro-Russian prime minister who took office after gunmen seized the regional Parliament claimed control of the military and police there and asked Putin for help in keeping peace, sharpening the discord between the two neighboring Slavic countries.

Ukraine's acting president Oleksandr Turchynov said the election of the election of Sergei Aksyonov as prime minister of Crimea was invalid.

It was the latest escalation following the ouster of Ukraine's pro-Russian president last week by a protest movement aimed at turning Ukraine toward the European Union and away from Russia.

Ukraine has accused Russia of a "military invasion and occupation" — a claim that brought an alarming new dimension to the crisis, and raised fears that Moscow is moving to intervene on the strategic peninsula where Russia's Black Sea fleet is based.

Ukraine's population is divided in loyalties between Russia and Europe, with much of western Ukraine advocating closer ties with the European Union while eastern and southern regions look to Russia for support. Crimea, a semi-autonomous region of Ukraine, is mainly Russian-speaking.
How one views this largely depends on the degree to which this is a Russian invasion and the degree to which this is Russia backstopping a legitimate secessionist movement. It's clearly some of both but I lack both the regional expertise and on-the-ground intelligence to know what the proportions are.
There was a referendum set for late spring that has now been moved up to the end of this month. I'd have much preferred to have that take place without Russian troops on the ground. But we're here now.
Some smart hands are calling for taking this to the UN Security Council to force Russia to cast an embarrassing veto. I don't have a strong opinion on that, even though I think Russia's national interests here are going to outweigh such considerations. Further, even if Russia didn't have veto power, I'm not at all persuaded that a united Ukraine—much less one that's being held together despite the wishes of a geographically compact and easily separable minority nationality—is something worth American blood and treasure.
Additionally, this highlights my longstanding opposition to further NATO expansion. The closer we get to Russia's borders, as with Georgia and Ukraine, the more likely confrontation exists. And I'm not prepared to consider the use of military force against either of those countries an attack on the United States.
UPDATE:  I think Daniel Serwer gets it exactly right here:
It looks as if Russia has already taken a big slice of what it wants-effective control of the main governance and security centers in Crimea.  Similar moves in Russian-speaking portions of Moldova and Georgia have led to "frozen" conflicts in which Moscow occupies portions of those countries, backing up Russian-speaking local governments, despite many international community (not to mention Moldovan and Georgian) protests.

I'll be happy to be proved wrong, but it is likely Moscow has already succeeded in putting Crimea back within its control, without firing a shot.  Moscow is showing little interest in the rest of Ukraine, which is an economic and financial mess it will be glad to see picked up by Europe, the US and the International Monetary Fund.  You've got to admire the statecraft, even if you object to the outcome.

The downward spiral in US/Russian relations won't, as some fear, generate a new Cold War, because the ideological clash is not dominant and Russia no longer poses the global threat to America's interests that the Soviet Union once did.  But we could certainly see some some future tit-for-tat. The Washington Post is calling for heavy diplomatic and economic sanctions.  It is not clear what those might be. Military action against the Russians in Crimea would be foolhardy.

Whatever he does, President Obama has to worry about Russian retaliation.  That could take the form of hindering US withdrawal from Afghanistan through the northern distribution network, which Russia controls, or hampering P5+1 (US, UK, France, Russia, China and Germany) coordination of the nuclear talks with Iran.  Moscow wouldn't mind keeping the US in Afghanistan a while longer, as it fears the consequences of withdrawal.   It is less likely to mess with the nuclear talks, as they are aimed at preventing Iran from getting nuclear weapons, which Moscow definitely doesn't want to see happen.

It's all over but the shouting, which may go on for a long time.
Like Serwer, I don't much like any of this. But I think this encapsulates the reality nicely.