Prospects For GOP Senate Takeover Appear To Be Slipping Away
It's looking less likely that the GOP will be able to gain control of the Senate.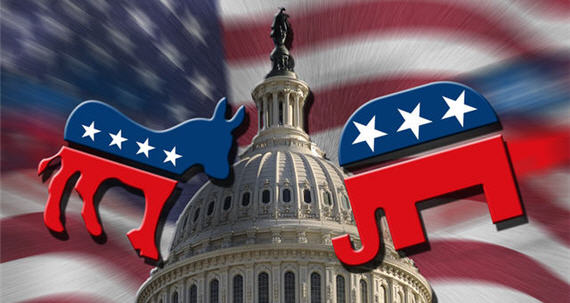 In addition to aiming for the White House, Republicans and Republican-leaning SuperPACs have been putting tremendous resources in the battle for the Senate. Currently, the Democrats hold a 53-47 seat majority in the body, and the number of potentially vulnerable Democrats on the ballot this time around led many on the right to think that it wouldn't be hard at all for the GOP to pick up the minimum of four seats necessary to win control of the Senate. Quickly, though, events started happening that made things problematic for the GOP. Richard Mourdock's defeat of Dick Lugar led Democrats to view Indiana as a seat they could possibly win, rather than won they'd have to write off. Olympia Snowe's retirement from the Senate made the prospect of the GOP holding on to the Maine Senate seat less likely, especially after popular former Governor Angus King entered the race as an independent. Scott Brown ended up with the well-funded Elizabeth Warren has his opponent. And then, of course, Missouri Republicans gave their Senate nomination to Todd Akin, who proceeded to turn Claire McCaskill into a favorite by making idiotic comments about rape.
Now, with 47 days left to go until the election, Democratic Senate candidates are surging in the polls and Republican hopes of a Senate takeover seem to be slipping away:
Democratic candidates in some of the most critical Senate races in the country are surging, putting the party in its best position of the election cycle to keep its majority in November.

The reasons range from the post-convention bounce led by President Barack Obama, to potent Democratic attack ads, to anemic performances of some GOP candidates.

Fresh polling in marquee contests shows a distinct trend line in the Democrats' favor, making the GOP's narrow path to a Senate majority significantly more difficult with less than two months until the election.

Democratic candidates in Virginia, Massachusetts and Wisconsin are on the rise after navigating a summer of challenges, and benefiting from Obama's growing strength in all three states. In Florida and Ohio, Democratic incumbents have so far withstood a tidal wave of spending by conservative super PACs and outside groups.

Senate Democrats said Wednesday that stumbles by Republican Senate candidates, infighting between the tea party movement and establishment wings of the GOP and effective Democratic ads have all helped their cause. The Democratic convention, they say, firmed up the party's base.

"Obama's convention bounce is going to — in the short term — make taking the Senate majority look near impossible for a little bit," acknowledged one top GOP strategist.

Democrats came into the cycle defending 23 seats, versus only 10 for Republicans. Obama and the Democrats had taken a historic beatdown in the 2010 midterm elections, and the president was polling behind Senate Democratic candidates and incumbents in key swing states. Many in the party feared an unpopular president combined with a bad economy would cost the party the White House and the Senate.

The race for the Senate is far from over, but those fears are nowhere near as acute seven weeks out from the election.

Obama is far stronger, especially in battleground states. And Sen. Olympia Snowe's (R-Maine) decision to retire was a huge gift, putting a safe GOP seat into play.

"A year and a half ago, no one gave us a shot at all of being in the majority after November," said Washington Sen. Patty Murray, chairman of the Democratic Senatorial Campaign Committee. "We have increased the odds dramatically."
On Tuesday, Nate Silver published his first protection for the race for control of the Senate, and concluded that, at present, the situation looks really good for the Democrats:
An unusually large number of Senate races remain competitive, meaning that a wide range of outcomes are still possible. Republicans have about a 10 percent chance of winning a net of at least six seats from Democrats, according to the forecast, which would give them control of at least 53 seats next year. However, there is also about a 20 percent chance that Democrats could actually gain Senate seats on balance, giving them at least 54. The only thing that seems completely assured is that neither party will control enough seats next year to hold a filibuster-proof majority.

But the odds of a favorable overall outcome for Democrats have increased in recent weeks. The forecast model now gives them a 70 percent chance of controlling the chamber, either by having at least 50 seats and the presidency, or 51 without it.

Although this represents the first official FiveThirtyEight forecast for the Senate this year, I ran backdated forecasts to July 1 based on the polls that were available at that time. Two weeks ago, for example, the model would have given Democrats a 52 percent chance of retaining Senate control — and four weeks ago, it would have given them a 39 percent chance.

The trend toward Democrats is a relatively recent one. Part of the shift may reflect the bounce President Obama received from the Democratic convention. If so, it could recede, especially if Mr. Obama's poll numbers do so, too.

But our analysis also suggests that the Democratic advantage has probably been building over the past few weeks, and may not have any one root cause.
In the light of new polling, Silver revised that forecast today to give Democrats a 79% chance of retaining the Senate, and  it's easy to see why that's the case when you actually start looking at the polls.
Florida, for example is a state that Republicans once thought they would certainly be able to pick up even with three-term incumbent Bill Nelson on the ballot. Now, though, Nelson has a comfortable lead over Republican Connie Mack, including a recent poll that put the incumbent Senator 14 points ahead of his opponent. Absent some kind of major mistake in the upcoming debates by Nelson, or a surge in the polls by Mitt Romney on the Presidential side, where Obama currently has a +2.0 lead in the RealClearPolitics average, it seems highly unlikely that Nelson will be defeated. So, that's one potential GOP pickup off the list.
Another state where the GOP hopes to be able to pick up a Democratic seat is Virginia, where two popular former Governors, Tim Kaine and George Allen, are facing off against each other. For most of the summer, this race has been as tight as the Presidential race in Virginia, with Allen and Kaine staying within a few percentage points of each other in poll after poll. More recently, though, Tim Kaine has started to pull ahead in recent polls, although a  new PPP Poll only gives him a one point lead, and now has a +4.4 lead in the RealClearPolitics Average. This has coincided with President Obama's own rise in the polls in the Old Dominion, where he now has a +4.7 advantage in the RCP Poll Average. This race is likely to remain competitive right to the end, though, and with a series of candidate debates beginning today we're likely to see some movement in the poll numbers. In the end, though, if President Obama does well in Virginia, then he's likely to pull Tim Kaine into the Senate with him.
Republicans have also looked to Wisconsin as a takeover target, especially given the fact that their nominee is popular former Governor Tommy Thompson. Thompson has been leading in some recent polls, but this week Marquette University released a poll showing Democratic nominee Tammy Baldwin up by nine points, giving her a +1.3 lead in the RCP Average. Thompson may still have a shot here, but it's looking like it's going to be much tougher for him than it was looking just a few weeks ago.
There are a number of states in which there hasn't been recent polling, but where Republican fortunes appear to be a bit better. These include North Dakota, Montana, Nebraska. and Nevada.  Three of these, North Dakota, Montana, and Nebraska, would be GOP pick ups if their nominee won and, at the moment, the only one where the GOP may have a problem is in Montana where Senator John Tester polled two points ahead of his Republican opponent in the most recent poll of the state. Tester may pull off a victory here, thus frustrating another path to a GOP takeover.
Then there are a group of four states where Republicans are in danger of losing a GOP held seat. The most obvious one, of course, is Massachusetts, where Elizabeth Warren's recent surge in the polls has given her a +4.3 lead in the RCP Average. Another state where Republicans are vulnerable is Indiana, where Richard Mourdock's defeat of Dick Lugar in the Republican Primary has given Democrats a hope for victory in an unexpected state. Mourdock may still win in the Hoosier State, but it will require Republicans to expend resources there  that they would not have had to expend had Lugar been the nominee. Additionally, the retirement of Olympia Snowe has led to a situation where the GOP could end up losing another Senate seat. Former Governor Angus King has been leading in that three-way race for awhile now, although his numbers slipped a bit in a recent PPP poll, and he currently has a +19.7 lead in the RCP Average. If, as expected, King wins in November and caucuses with the Democrats that will be a GOP loss. Finally, of course, there's Missouri, where the nomination of Todd Akin has led to a situation where Claire McCaskill, once thought dead, seems likely to be re-elected.
The one potential surprise for the GOP comes in Connecticut of all places, where Linda McMahon is running a much better race than she did in 2010. As a result, she's been leading in recent polls and has a slim lead in the RCP Polling Average. If she can pick up a win here, it would at the very least offset a loss in one of the vulnerable GOP states listed above.
Based on the current polling, it seems unlikely to me that the GOP is going to be able to grab control of the Senate unless there's a major turnaround in the way several of these races are going. Right now, it seems that the best the GOP can hope for is a net pickup of one seat, leaving the Democrats with a 52-48 majority, an outside shot at a two seat net pickup that would cut the majority to 51-49, and a longshot chance at a three seat net pickup that would leave the Senate tied at 50-50. There's also a better than even chance that, after it's all over, we'll be at precisely the same place we are now, 53-47, just with a bunch of different players. At this point, though, the least likely possibility would be the four seat net pickup that the GOP needs to gain control of the Senate without having to rely on a Vice-President's tie breaking vote.