Rand Paul: GOP Hawks Have Advocated Policies That Have Helped ISIS Flourish
Rand Paul is out with one of his more forceful attacks on Republican hawks to date.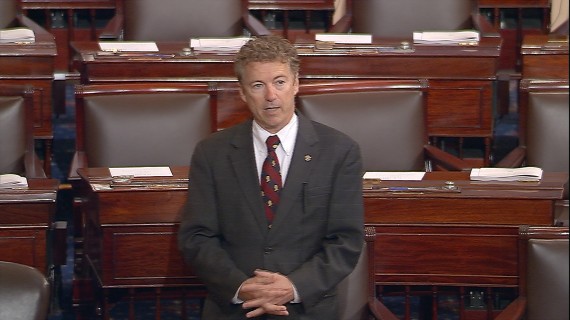 One of the recurring themes of the race for the Republican nomination is likely to be the debate between Republican foreign policy traditionalists on the one hand and those who advocate a less interventionist foreign policy on the other. Principally, of course, that second group is largely, indeed perhaps solely, represented by Kentucky Senator Rand Paul, who has made his name in no small part by advocating a more restrained foreign policy that is ordinarily heard from Republican politicians going as far back as three years ago in a speech at the Republican National Convention. During the 2012 campaign itself, he also openly criticized Republican nominee Mitt Romney when Romney laid out his own foreign policy during the General Election campaign. In the Senate, he's made a name for himself by leading campaigns related to the Administration's drone policy and, most recently, a campaign against renewal of certain provisions of the PATRIOT Act that has, for the moment at least been successful. Because of his willingness to stray from Republican orthodoxy on foreign policy, Paul has been the target of attacks from his fellow Republicans, including of John Bolton, Chris Christie, Dick Cheney, and Rick Perry.
More recently, the campaign has seemingly heated up. South Carolina Senator Lindsey Graham, who heretofore has shown absolutely no interest in running for President, is on the verge of entering the race for President and most observers believe that he is the race primarily to counter the arguments made by Senator Paul. Over the last two weeks, Paul has been the only Senator to definitively break with the party over the Iraq War, and now he is asserting that the rise of ISIS can largely be blamed on the policies of hawks in the Republican Party:
Sen. Rand Paul (R-Ky.) said Wednesday that the Islamic State flourished because of hawks in the Republican Party.

"ISIS exists and grew stronger because of the hawks in our party who gave arms indiscriminately and most of those arms were snatched up by ISIS," Paul, using an acronym for the Islamic State, said on "Morning Joe."

"The hawks wanted to bomb Assad, which would have made ISIS's job easier," Paul, a Republican presidential candidate, continued. "They created these people. ISIS is all over Libya because of the hawks in my party."

Paul said that Iraq is a "vassal state" for Iran and that the hawkish members of his party are wrong – and have been for decades.

"Everything they've talked about in foreign policy, they've been wrong about for 20 years but they have somehow the gall to keep pointing fingers and saying otherwise," Paul said.
This isn't the first time that Paul has made this argument. He made the same points, in greater detail, in a column in The Wall Street Journal last August, and he's made it in other forums on other occasions. To a large degree, of course, Paul is correct that many Republicans have advocated policies that, in the end, have done little but help to create situations that have made it easier for the Islamic State to consolidate and expand its power. The ultimate example of this, of course, is the Iraq War itself. Although Paul doesn't mention this directly, it seems fairly obvious that one can draw a direct line from the Bush Administration's decision to invade Iraq in 2003 and overthrow Saddam Hussein, and the policies it followed in the post-war years, to the rise of the organization that started out as al Qaeda in Iraq and is known as ISIS, or whatever one wishes to refer to it. Additionally, the Administration's decision to advocate the complete purging of Baath party supporters from the Iraqi military has also arguably played a role in the rise of ISIS since many of the top military commanders for the organization are men who used to be top officials in Saddam Hussein's armed forces. Since then, it has been Republican hawks like John McCain, Lindsey Graham, and Marco Rubio who have advocated policies such as arming the Syrian rebels and backing the rebels in Libya. Of course, it is worth noting that these are also policies that have been advocated by many top Democrats, including President Obama and former Secretary of State Hillary Clinton. In both cases, these policies have done little more than help to create the conditions of chaos that ISIS thrives on to the point where, one year after the President first made targeting ISIS a foreign policy priority for the United States, the group seems to be as strong as ever if not stronger.
Paul's comments this morning have already drawn an attack from one potential opponent, Louisiana Governor Bobby Jindal, who said that Paul's comments demonstrated that he is unfit to be Commander in Chief. Amusingly, though, Jindal sent his attack out using his office's official letterhead, which appears to be a violation of Louisiana state laws that forbid government officials from using state funds to campaign for or against any political candidate. Whether that's true or not is a matter for Louisiana voters to worry about , of course, but the more interesting things about his comments is that he never really bothered to address the substance of what Paul actually said. To a large degree, I suspect, that's because Jindal's primary motivation here was about getting attention for himself given his dismal poll numbers. As far as the substance goes, though, Paul's argument is seemingly irrefutable. While Republicans have criticized the President for a "weak" response to the threat posed by ISIS, they have yet to face up to the reality that they have spent the better part of the last several years advocating policies that have allowed ISIS to expand its influence. That's a hard truth for Republicans like Jindal to face, I would imagine, but it's one that they will need to acknowledge at some point if they are going to pull their party out of the foreign police morass it has been in since the George W. Bush Administration.