Rand Paul Warns Republicans That Voter ID Emphasis Is 'Offending People'
Once again, Rand Paul is challenging conservative orthodoxy.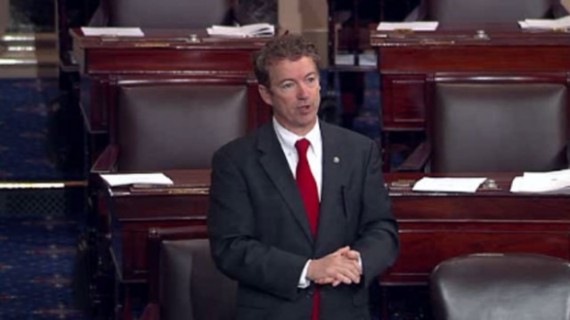 Kentucky Senator Rand Paul took a decidedly different tone on the issue of Voter ID from his fellow Republicans during a speech yesterday in Memphis:
MEMPHIS — Senator Rand Paul of Kentucky broke Friday with fellow Republicans who have pushed for stricter voting laws as a way to crack down on fraud at the polls, saying that the focus on such measures alienates and insults African-Americans and hurts the party.

"Everybody's gone completely crazy on this voter ID thing," Mr. Paul said in an interview. "I think it's wrong for Republicans to go too crazy on this issue because it's offending people."

Mr. Paul becomes the most prominent member of his party — and among the very few — to distance himself from the voting restrictions and the campaign for their passage in states under Republican control, including North Carolina, Ohio and Wisconsin, that can determine presidential elections. Civil rights groups call the laws a transparent effort to depress black turnout.

Speaking here in a mostly black and Democratic city with its own painful history of racism, Mr. Paul said that much of the debate over voting rights had been swept up in the tempest of racial politics.

The senator has had his own struggles with civil rights issues, hedging at times on his support for the Civil Rights Act of 1964. And, notably, he did not on Friday denounce voter ID laws as bad policy or take back previous statements in which he had said it was not unreasonable for voters to be required to show identification at the polls. He says these laws should be left to the states. (Kentucky does not have a restrictive voter identification statute.)

Instead, in his comments, he suggested that Republicans had been somewhat tone deaf on the issue. In the last three years, the voting rights fight has extended to more than 30 states and taken on a more partisan tone. The measures that have passed or are under consideration vary. Some require that voters come to the polls with a birth certificate, passport or other proof of citizenship. Others would cut back on early voting.

(…)

Mr. Paul's remarks seem certain to stir up concern among Republicans over whether the senator — a libertarian-minded ophthalmologist who was first elected to public office three years ago — can appeal to the conservative voters who have so much influence in selecting the nominee.

He is not getting much support from Republican leaders in his efforts to change the discussion or the party's tone. Colin L. Powell and Michael Steele, the former party chairman, have spoken against the restrictions. But no ranking Republican has done so, and there was no indication Friday that any would change their minds.

(…)

N.A.A.C.P. officials said they were encouraged that a prominent Republican would challenge his party. "But the proof is always in the pudding in terms of seeing exactly what policies and measures he might support as an elected official," said Jotaka Eaddy, the group's senior director of voting rights.

Mr. Paul is on a cross-country tour, stopping in Democratic strongholds like Chicago and Detroit where it might not seem obvious for a conservative Republican to seek out an audience.

After his meeting with the pastors in Memphis, Mr. Paul traveled a few blocks to address the Republican gathering, but he made no mention of voting rights. Instead, he hit on the message that the party needed to soften its edges and show more sympathy to populations that have felt overlooked and maligned by Republicans.

In the interview, Mr. Paul also stressed his commitment to restoring voting rights for felons, an issue that he said black crowds repeatedly brought up during his speeches.

"The bigger issue actually is whether you get to vote if you have a felony conviction," he said. "There's 180,000 people in Kentucky who can't vote. And I don't know the racial breakdown, but it's probably more black than white because they're convicted felons. And I'm for getting their right to vote back, which is a much bigger deal than showing your driver's license."
Paul's comments here seem addressed as much to messaging as to policy, if not more so. As noted, he didn't call on Republicans at the state level to abandon the push for voter ID laws that began with the Republican sweep of state legislative elections in 2010, nor did he seriously question the central premise behind those laws that there is a problem with in-person voter fraud that requires the adoption of these laws. Instead, Paul is essentially saying that the way that Republicans are communicating their position on this issue, combined with the manner in which they are aggressively pursuing the passage of Voter ID laws in state after state is hurting its reputation among minority and younger voters, which raises the question of whether this policy push is good for the party in the long run. Obviously, to those who are opposed to Voter ID laws, as well as the minority audiences that Paul is obviously trying to reach out to aren't going to see this as being good enough. As the statement from the N.A.A.C.P. notes, the real question is whether or not Paul would support such provisions as an elected official. And, much like his "state's rights" response on same-sex marriage, deferring this matter isn't likely to be good enough.
In any case, Paul does deserve some credit for speaking out on an issue that few other Republicans have felt free to do so. Moreover, even though I tend to support Voter ID laws for reasons I've noted before, I believe Paul is correct that the right has hurt itself with the push it has made on this issue. As I've noted before, there is little actual evidence that in-person voter fraud, which is the only thing that Voter ID laws would be capable of combating, is incredibly rare. Given that, it hardly seems like something that should be a top legislative priority given all of the other issues that state legislatures have to do deal with. Moreover, to the extent that pushing the issue heavily can be said to causing harm to the Republican Party it strikes me that they are pursuing a self-defeating strategy by emphasizing it.
Reacting to Paul's comments yesterday on Twitter, MSNBC political reporter Benjy Sarlin raised this interesting take:
Then again, worst case scenario for GOP: eventual nominee beats Rand Paul with thunderous defense of voter ID (a la Perry and immigration)

— Benjy Sarlin (@BenjySarlin) May 9, 2014
That brought this comment from Hot Air's Allahpundit:
One of the reasons Perry got nuked in 2012 was his "you don't have a heart" comment on in-state tuition for illegals. He got pounded for it in the primaries, including by Mitt "Self-deportation" Romney, and then Democrats turned around and pounded Romney on immigration. You might see the same thing on voter ID. Rand calls for a stand-down, Cruz or Rubio or Jeb or whoever tears him apart over it en route to the nomination, and then in the general election Democrats tear that guy apart for tearing Rand apart.
Could Voter ID become to the 2016 campaign what immigration was in 2012? It's certainly possible, and it if happens it would be comments like this from Rand Paul that lights the fire and causes the GOP to do itself more harm than good.