Republicans Claim That Obamacare Repeal Is Still On The Table, Don't Believe Them
Republicans are saying that repealing the PPACA isn't off the table, but practically speaking it probably is.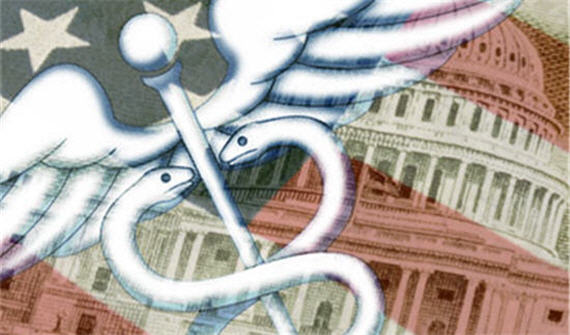 Just a few days after the failure of the American Health Care Act led President Trump, Speaker Ryan, and other top Republicans to say that health care reform was dead in Washington for the time being, there's already talk of reviving efforts to repeal the Affordable Care Act:
WASHINGTON — Under extreme pressure from conservative activists, House Republican leaders and the White House have restarted negotiations on legislation to repeal the Affordable Care Act.

But efforts to revive the legislation in the House could take weeks, lawmakers conceded, as Congress moves forward with a full plate of other time-consuming issues. And the renewed push did not meet with much enthusiasm from Senate Republicans, who said they had other priorities at the moment.

Nonetheless, Speaker Paul D. Ryan vowed to renew efforts to repeal the law, despite last's week crushing setback when House Republicans tossed aside a repeal bill because they lacked the votes to pass it.

Just days after President Trump said he was moving on to other issues, senior administration officials said they still hoped to score the kind of big legislative victory that has so far eluded the White House. Vice President Mike Pence was dispatched to Capitol Hill on Tuesday for lunchtime talks.

"We're not going to retrench into our corners or put up dividing lines," Mr. Ryan said after a meeting of House Republicans was dominated by talk of how to restart health negotiations. "There's too much at stake to get bogged down in all that," he added.

Democrats had celebrated what they thought was the demise of the repeal bill on Friday. But the House Republican whip, Steve Scalise of Louisiana, said on Tuesday, "Their celebration is premature."

"I think we're closer today to repealing Obamacare than we've ever been before, and surely even closer than we were Friday," Mr. Scalise said.

It is not clear what political dynamics might have changed since Friday, when a coalition of hard-line conservatives and more moderate Republicans torpedoed legislation to repeal President Barack Obama's signature domestic achievement.

"I don't know what has changed," said Representative Jim McGovern, Democrat of Massachusetts. "The bill went down because it was too bad for Republican moderates and not bad enough for their conservatives. I don't know how they reconcile the divides within their own conference, never mind find any Democratic votes."

The Republicans' repeal bill, according to the Congressional Budget Office, would have left an additional 24 million Americans without insurance by 2026, a major worry for moderate Republicans. It would also have left in place regulations on the health insurance industry that are anathema to conservatives.

Mr. Ryan declined to say what might be in the next version of the Republicans' repeal bill, nor would he sketch any schedule for action. But he said Congress needed to act because insurers were developing premiums and benefit packages for health plans to offer in 2018, with review by federal and state officials beginning soon.

The new talks, which quietly began this week, involve Stephen K. Bannon, the president's chief strategist, and members of two Republican factions that helped sink the bill last week, the hard-right Freedom Caucus and the more centrist Tuesday Group.

Any deal would have to overcome significant differences about how to rework a law that affects about one-fifth of the American economy. Those differences were so sharp that they led Mr. Trump and Mr. Ryan to pull the bill just before the House was to vote on it.

Still, Republican members of Congress said they were hopeful.

"I think everyone wants to get to yes and support President Trump," said Representative Dave Brat of Virginia, a Freedom Caucus member. "There is a package in there that is a win-win."

Representative Raúl R. Labrador of Idaho, also a Freedom Caucus member, said he hoped the discussions would yield a compromise after a divisive debate that revealed deep fissures within the party. "I think we will have a better, stronger product that will unify the conference," Mr. Labrador said.
To be honest, this seems like a lot of overly confident talk after the massive legislative failure that the Trump Administration and House Republicans brought about with the American Health Care Act after just seventeen days of work. Even if one agrees with the underlying premise that the Affordable Care Act ought to be repealed or at least radically changed, it seems clear from that battle the Republican Party quite simply isn't united on what kind of alternative it wants when it comes to dealing with the health care reform.
On one side of the debate, there's the Freedom Caucus and other hard-core conservatives who want nothing less than the complete repeal of the PPACA, including portions that are popular with the public such as guaranteed coverage for people with pre-existing conditions, the ban on lifetime coverage caps, and the provisions which allow adult children to remain on their parents policy up until the age of 26. As far as replacement goes, this group is often rather vague at what they are aiming at, but typically what you hear from them involves returning to some kind of "free market" in health care which they apparently (and falsely) think existed before the PPACA became law, allowing insurance companies to operate across state lines, which isn't really forbidden under current law but is also not as easy as they make it sound, and Health Savings Accounts combined with high-deductible catastrophic care coverage for things other than routine medical procedures. Most of these proposals also include tax credits designed to allow people to offset the cost of insurance, and provisions that provide that HSAs would not be considered taxable income as long as the proceeds were used for valid medical purposes. While some of these are good ideas, and could indeed be part of an overall reform package, taken alone they certainly aren't sufficient to solve the problems plaguing health care coverage and insurance in the United States.
On the other side of the debate are more moderate Republicans who find themselves being pulled by constituents who have benefited from many of the PPACA's provisions and who have expressed reluctance at the idea of repealing many of the PPACA's more popular provisions. Many of these moderates, and many Republican Senators, also come from states that have relied upon the PPACA to expand Medicaid coverage and have expressed concern about how repealing the PPACA is going to impact their state and the people there who have come to rely upon expanded Medicaid coverage for their health insurance. Others have are opposed to the repeal of the popular provisions of the PPACA noted above, although they haven't quite explained how a health insurance system that doesn't really fine people for not having insurance, thus making insurance pools a riskier bet for insurance companies and virtually guaranteeing that premiums will increase for people who do want insurance. Finally, others in this group are concerned about the extent to which plans such as the AHCA would add to the budget deficit and what that means for future efforts at tax reform, spending reform, and infrastructure spending.
In the middle of all of this, of course, is the Republican leadership in the House which is clearly smarting from the defeat they suffered last week and eager to either move on to something else or come up with another solution on the fly that is likely to end in disaster. Many of them, like Paul Ryan, are probably closer to the GOP moderates on the specifics of that plan than the Freedom Caucus if only because they are well aware of what could actually make it through the Senate and to the President. However, they are also well aware of the fact that their own caucus would not support a bill that would accomplish that. Indeed, thanks to some of the same divisions that we see in the House it's unlikely anything like the AHCA would pass the Senate in any case. More importantly, the leadership knows that they've been damaged by such a massive legislative defeat so early in the year, and are likely torn between the idea of trying to move on to something allegedly easier like tax reform, or the debt ceiling deadline coming up very soon. Bouncing back from that defeat with a quick and easy win would be ideal, but right now there doesn't appear to be anything the House can do quickly that would allow them to get the AHCA failure behind them,
All of this suggests that when it comes health care reform, what we're seeing right now is a lot of talk, but there's not likely to be any real action because the Republicans on Capitol Hill simply can't come to an agreement. That appears to be Mitch McConnell's opinon as well:
Senate Majority Leader Mitch McConnell (R-KY) shot down the idea that Republicans would be able to revive their Obamacare repeal effort, after a House replacement bill was pulled from the floor Friday.

McConnell's remarks Tuesday afternoon threw cold water on optimism coming from the House GOP earlier in the day that lawmakers would be able to come to a deal on the bill.

"I think where we are on Obamacare, regretfully at the moment, is where the Democrats wanted us to be, which is the status quo," McConnell said a press conference on Capitol Hill when asked if the Senate would be able to pass major health care legislation this year without 60 votes.

"It's pretty obvious we were not able, in the House, to pass a replacement. Our Democratic friends ought to be pretty happy about that because we have the existing law in place and I think we are just going to have to see how that works out," McConnell said. "We believe it will not work out well, but we'll see. They'll have an opportunity now to have the status quo, regretfully."
I don't know about you, but to me that sounds like McConnell admitting that the PPACA is here to stay and that health care reform is unlikely during this current session of Congress, and likely through the 2018 midterms as well.