Republicans Haven't Reformed But May Win Anyway
Republican leaders continue to say stupid things. They may still retake the Senate in November.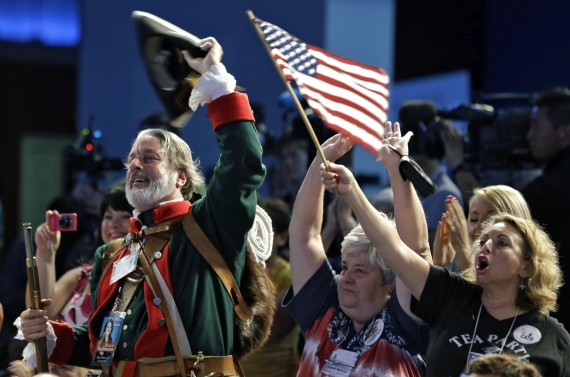 Mike Huckabee's viral remark about women being "unable to control their libido" is yet the latest in a seemingly endless stream of cringeworthy comments from prominent Republicans that paint the party as out of touch and unlikely to ever appeal to women. Yet, a number of commenters point out, the trend lines aren't as bad as the headlines.
Molly Ball asks, "Does the Republican Party Have to Change?" Her answer is that, if the only goal is to win back the Senate in November and the White House in 2016, it doesn't.
Without changing a thing, Republicans are very well positioned for the midterm elections this year and even for the 2016 presidential election. As the University of Virginia political analyst Larry Sabato recently noted, Republicans are almost guaranteed to keep the House of Representatives in November; they have about a 50-50 chance of taking the majority in the U.S. Senate; and they are likely to keep their majority of the nation's governor's mansions. The erosion of public trust in Obama and Democrats spurred by the botched introduction of the healthcare exchanges continues to reverberate in public polling of contests up and down the ballot, erasing the public-opinion edge Democrats gained from the government shutdown and tilting more and more contests in the GOP's favor, according to Sabato, who on Thursday revised his ratings of three Senate contests, tilting all of them more toward Republicans.

A good year in 2014 is somewhat to be expected; the rap on the GOP is that the party can't win presidential elections. But even there, Republicans are not doomed. The political scientist John Sides recently ran a back-of-the-envelopecalculation using a model that, taking into account just three factors—economic growth, the president's approval rating, and whether there's an incumbent on the ballot—previously predicted the result of the 2012 election within a percentage point. (Though Republicans believed 2012 was theirs to lose, most political-science models consistently gave Obama the advantage.) If the first two factors look in 2016 the way they look now, and with no incumbent a given, Republicans will have a 64 percent chance of victory, according to the model. Political scientists will tell you that these underlying factors have a much greater influence on who wins elections than tactics or gaffes. And based on them, it is Democrats, not the GOP, who currently have an uphill battle to win the next presidential election, Sides contends.
RealClearPolitics' Sean Trende ("Obama's Job Approval Points to 2014 Trouble for Democrats") agrees:
[T]he journalistic narrative hasn't yet caught up with the deterioration of the Democrats' political standing since the early summer. Polls showing tight Senate races in New Hampshire, Iowa, Colorado and Michigan are met with surprise and disbelief. But they are exactly what we'd expect to see given the president's national job approval rating. I think they're accurate barometers of the state of the races.

[…]

It's no secret that I think elections are largely referenda on the party in power. Jay Cost noted in late 2011 that the state-by-state outcomes in the 2004 election corresponded heavily to President Bush's job approval in the state as measured by exit polls. Bush lost only four states where his job approval was positive, and won zero states where his job approval was negative. Going back to 1972, incumbents rarely win the votes of those who do not approve of them.

This correlation makes perfect sense for presidential elections, but in fact it extends beyond those races. As I've noted, presidential job approval is one of the best predictors of House election outcomes. In 2010, Nate Silver's postmortem took this down to the individual race level, observing that the Democrats' debacle might best be thought of as an "aligning election," where right-of-center congressional districts elected Republicans while left-of-center congressional districts continued to elect Democrats (indeed, you could probably characterize the entire 2006-to-2010 series as "an alignment").
Trend's post is long and rich with charts and numbers, all of which are admittedly speculative at this stage of the game. And he issues a rather important caveat:
If the president's job approval is still around 43 percent in November — lower than it was on Election Day in 2010 — the question would probably not be whether the Democrats will hold the Senate, but whether Republicans can win 54 or 55 seats. Given the numbers right now, that should not be unthinkable.

But there's a flip side to this. If Obama's job approval does bounce back — which is exactly what happened in 2012 — there's a reasonable chance that Republicans could walk away from this cycle with just a handful of pickups.
As a political scientist, I find this sort of analysis compelling. The fact of the matter is that, while political journalists and pundits (and I wear that hat more often than I wear my Americanist political scientist hat these days) most emphasize candidates, campaigns, and political strategies, the fact of the matter is the election results hew rather closely to background numbers like the unemployment rate and "right direction/wrong direction" tracking.
Further, while the retrograde rhetoric of the GOP exasperates people like myself, enough so that I no longer feel comfortable identifying myself with the party despite more than three decades voting almost exclusively for its candidates, I'm not sure it matters as much as the political commentariat makes out. First, because people increasingly are either tuning out political coverage altogether or are consuming it at venues that reinforce their partisan biases. Second, because, as some excellent recent posts at Monkey Cage point out, we've realigned so starkly politically.
The Maxwell School's Jeff Stonecash argues persuasively that American politics changed radically twenty years ago but it went largely undetected.
The paramount debate in American politics is how much government should help individuals and who will pay for this. This debate has grown in intensity alongside several trends. Ideas changed about how much individuals can be held responsible for their situation. More studies concluded that many people are overwhelmed by circumstances they cannot control. Inequality has steadily increased. Social programs have become increasingly costly. More of the tax burden has shifted to the affluent.

The reactions of liberals and conservatives to these developments have been vastly different and those divergent reactions are driving the debate. Liberals have become steadily more supportive of programs to help people. They support expansion of an array of social programs that provide benefits- disability benefits, Medicaid and Obamacare, grants to attend college – and higher taxes on the most affluent. Their presumption is that people have needs, opportunity has been unfairly distributed, and government is the vehicle to respond.

Conservatives have reacted by gradually becoming more adamant that government is doing too much. They still see individualism as central to how America should operate.They argue that a concern for expanding opportunity has morphed into untouchable entitlements. They see the emergence of welfare and other social programs asdestructive of what made America successful. Their central concern is that government is coming to support too many people, creating dependency rather than hard-working individuals. In this view, the reason many people are failing is because they are losing the inclination to adopt the behaviors that help people achieve.

Furthermore, these programs are increasingly paid for by those who achieve. The percentage of federal income tax revenues from the top 10 percent has steadily increased, creating a more progressive income tax system. They also argue that when the distribution of the benefits of social programs is included, the overall impact of the tax system is now significantly redistributive. The position of stopping tax increases has become entrenched, and no Republican in Congress has voted for a tax increase since 1993.

The result is a fundamental difference between liberals and conservatives regarding how much government should help people. It is the basis for an increase in ideological conflict and creates intense battles over the legitimacy and funding of social programs. The battle has involved changes in welfare programs, limits on the ability to declare personal bankruptcy, tax cuts and Obamacare. It is not a debate that is likely to go away because none of the precipitating conditions are likely to change in the near future.

Washington is different from 30, 40 and 50 years ago because the substance of the debate and the social and policy conditions are different. Government does more. Tax burdens are distributed differently. There are those who suggest that policy differences are largely the same and the only difference over time is that voters have sorted themselves out more between the two parties. To make that argument is to dismiss the policy developments of the last 50 years and to assume the context of the 1950s and 1960s still prevails. The debate is more intense because the stakes have changed.
Because of the intensity of this debate and the ensuing realignment, what seems like crazy talk to one side of the debate seems perfectly banal and obvious to the other. The sort of people inclined to listen to Mike Huckabee, therefore, aren't embarrassed by his gaffe; they don't understand what the fuss is over.
Maryland's Frances Lee, meanwhile, notes a related, reinforcing trend:

[T]he period since 1980 stands out as the longest sustained period of competitive balance between the parties since the Civil War. Our politics is distinctive for its narrow and switching national majorities. Nearly every recent election has held out the possibility of a shift in party control of one institution or another.
This matters:
Competition fuels party conflict by raising the political stakes of every policy dispute. When control of national institutions hangs in the balance, no party wants to grant political legitimacy to its opposition by voting for the measures it champions. After all, how can a party wage an effective campaign after supporting or collaborating with its opposition on public policy? Instead, parties in a competitive environment will want to amplify the differences voters perceive between themselves and their opposition. They will continually strive to give voters an answer to the key question: "Why should you support us instead of them?" Even when the parties do not disagree in substantive terms, they still have political motivations to actively seek and find reasons to oppose one another. In an environment as closely competitive as the present, even small political advantages can be decisive in winning or losing institutional majorities.

During the long years of Democratic dominance following the New Deal, politics was less contentious in part because the national political stakes were so much lower. Democrats did not perceive themselves in danger of losing their outsized majorities. The "permanent minority" Republicans did not see a path to majority status. In such an environment, members of the minority party were more willing to bargain over legislative initiatives in which they would vote "yea" in exchange for substantive policy concessions, because such support did not grant political legitimacy to an opposition that they hoped to vanquish at the next election. Meanwhile, members of the majority party were more willing to fight about public policies internally among themselves, rather than attempting to close ranks against an opponent that had little perceived chance of winning power.

Competition for power, not only ideological polarization, contributes to our confrontational contemporary politics. As Sarah Binder and I emphasize in our contribution to the recent APSA Report on Negotiating Agreement in Politics, today's political context disincentivizes successful bipartisan negotiation. The permanent campaign and politicians' continual eye on the next election pervasively discourage efforts to work across party lines.

In short, the difficulties of the present moment stem from politicians' quest for partisan advantage in an extraordinarily competitive context, as well as from their opposing political ideologies.
All that said, though, the electorate is changing. Most notably, it's becoming less rural and less white. The cohorts where stay-at-home moms were the norm are dying off. It's just hard to fathom that continuing to appeal to values that seem bizarre to most people under 40 is a strategy that's survivable in the long term. Realignments aren't permanent. Neither is competitiveness. Indeed, Lee's own graphs would seem to indicate that we're due for a shift soon.