Roy Moore's Senate Bid Not Going So Well
Roy Moore's second bid for the Senate isn't going so well.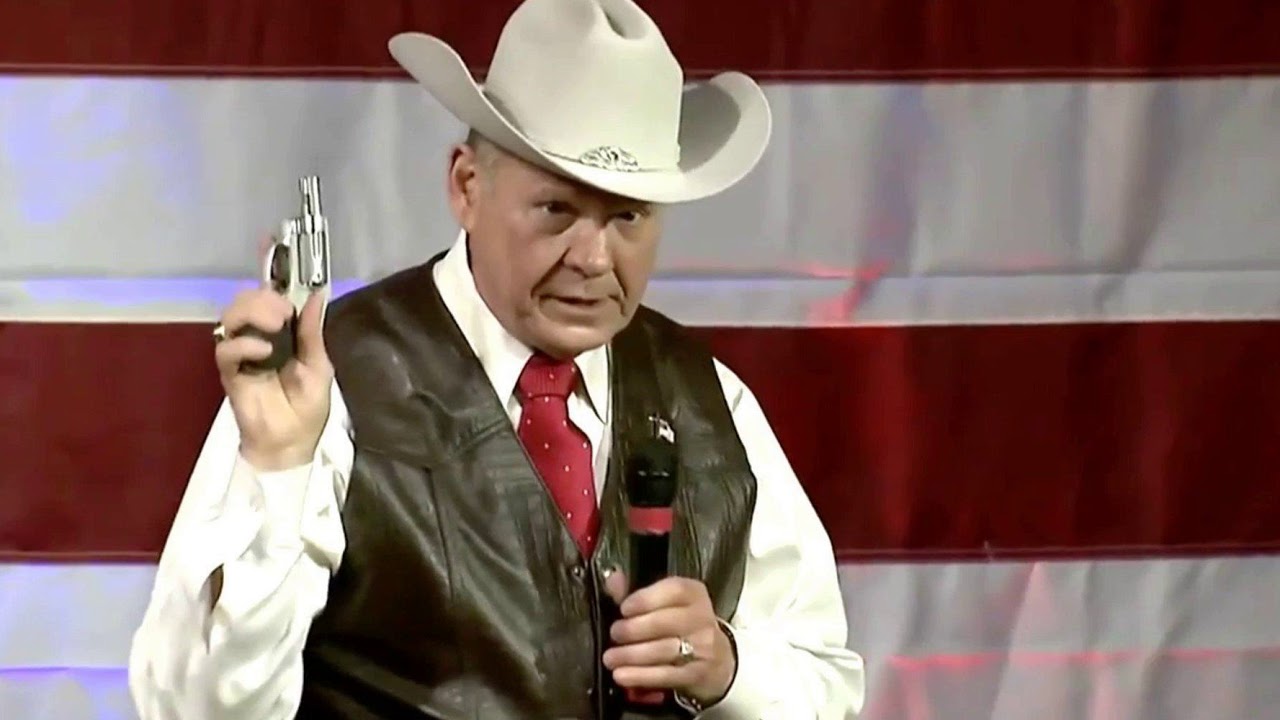 At the start of the summer, former Alabama Chief Justice Roy Moore announced that he was running for the Senate seat currently held by Democratic Senator Doug Jones. This news understandably came much to the chagrin of state and national Republicans who remember quite well exactly what kind of impact Moore could have in a race that, at least by the numbers, a generic Republican should be able to win easily.
In 2017, of course, Moore, who had a controversial history as Chief Justice and had been removed from office twice for refusing to comply with the orders of a Federal Court. It started with his surprising performance in the first round of the Republican Primary to fill the seat that had been vacated by Jeff Sessions when he became Attorney General and then his victory in the runoff over a candidate that had been endorsed by national Republicans including President Trump. Shortly after he won that nomination, though, a series of reports came out that accused him of improper behavior, including what amounted to sexual assault, toward much younger women and even minors when he was a young prosecutor in his 30s as detailed here, here, and here. Moore denied the charges, but the reports were widely deemed credible and Moore ended up narrowly losing the race to Jones. It was the first time that a Democrat had won a Senate race in Alabama since Howell Heflin was re-elected in 1990 and Richard Shelby, who later changed parties from Democratic to Republican,  was re-elected in 1992.  Had it not been for the scandal regarding the sexual allegations against him, Moore most likely would have won the election and be a Senator today.
Notwithstanding that loss, Moore refused to remove himself from the public stage. For example, he has filed a number of lawsuits against his accusers and other parties alleging that they had defamed him with what he still maintains are false claims of sexual impropriety. When 2019 rolled around, he began openly speculating about running for Senate again notwithstanding the 2017 outcome and his advanced age.
Early on when it was being reported that Moore was "seriously considering" another Senate run, that process was beginning. President Trump, for example, took to Twitter to argue against a Moore candidacy, as did his son Donald Jr. That didn't deter Moore at all, who responded to Trump's call to stay out of the race by largely dismissing them and arguing that the President was being misled by Republican Party insiders opposed to Moore. Around that same time, Moore's continued strength inside the Alabama Republican Party was emphasized by a poll showing Moore leading the other candidates for the GOP nomination. After this, it was reported that Moore was likely that Moore would enter the race and that he would be a strong candidate if he did.
As it turns out, though, Moore's second try for a Senate seat in Alabama isn't going quite so well, no doubt to the relief of state and national Republicans:
After losing his Senate bid in Alabama's 2017 special election amid accusations that as a young man he sexually assaulted multiple teenage girls, disgraced former Alabama Judge Roy Moore decided to run again in 2020.

Judging by his fundraising totals, this latest campaign is not going well.

From July 1 through Sept. 30, Moore raised $63,000 and spent $45,000, leaving him with about $34,000 cash on hand, a Federal Election Commission report filed Tuesday shows.

That's substantially less than his rivals for the Republican nomination to take on Sen. Doug Jones (D). U.S. Rep. Bradley Byrne ended the period with $2.5 million cash on hand, Alabama Secretary of State John Merrill finished with $738,429, and former Auburn head coach Tommy Tuberville wrapped up the quarter with $1.4 million.

President Donald Trump urged Moore, 72, not to run again, warning in a late May tweet that he "cannot win." Moore dismissed the comments as having been foisted on Trump, who campaigned for him in the 2017 race, by the National Republican Senatorial Committee.

"I don't know what he's thinking," Moore said. "I can't speak for him. But I can say I don't disagree with him in lots of his policies."
In addition to the fact that his fundraising numbers aren't anywhere close to where they need to be to fund a credible Senate campaign, Moore is not faring all that well in the polls either. While he was leading in a poll that was taken prior to his getting into the race, one taken in the immediate aftermath of his announcement showed him in third place behind Tommy Tuberville, the former head coach of Auburn University's football team, and Congressman Bradley Byrne. A more recent poll shows Tuberville at 33%, followed by Bradley Byrne at 17%, Moore at 15%, Alabama Secretary of State John Merrill at 13%. The same poll shows 17% of respondents as being undecided.

While it's still a long way off until the first round of the GOP primary on March 3, 2020, and a hypothetical runoff on March 31st of that year, these numbers suggest that Alabama Republicans have come to their senses at least to some degree.